College Admissions & the Impact of COVID
Bonus Material: Get Access to Our College Admissions Seminar (+Presentation Slides)
The pandemic has profoundly impacted the world of education as we know it, but what can we expect when it comes to COVID and college admissions?
We certainly don't claim to have all the answers.
BUT… we do have some thoughts and recommendations – based on data, recent research, and 15+ years of industry experience.
We recently presented a live seminar on this topic. Want to watch the video? Get access to the video link below. As an added bonus, we'll include the presentation slides as well.
Here's what we cover in this post:
---
1. How the College Admissions Process Works
Foundational to understanding how COVID has impacted college admissions lies in first understanding how this process generally works.
It's also important to understand how the landscape of college admissions has been changing in recent years, before the pandemic began.
If you haven't done so already, we strongly encourage you to check out our post on what college admissions officers look for in applications and how they read your application.
We summarize the key facts of this guide below.
Fact #1: College admissions officers assess both quantitative and qualitative factors in applications
Most college applications contain some combination of the following factors:
Quantitative

Test scores
Transcripts & GPA
Resume

Qualitative

Recommendation letters
Personal essay(s)
Portfolio(s)
Admission officers will review both quantitative and qualitative factors. Typically, this boils down to the review of three core "pillars":
Academic achievement
Extracurricular distinction
Character
Fact #2: Selective schools are looking for students with potential
Admissions officers of selective institutions look for students of exceptional potential who will become successful leaders.
How do we know this?
Admissions officers want to admit students who will advance their college's mission(s).
Princeton University's mission, for example, is as follows:
"Princeton University has a longstanding commitment to service, reflected in Princeton's informal motto — Princeton in the nation's service and the service of humanity — and exemplified by the extraordinary contributions that Princetonians make to society."
So we analyzed the mission statements of selective institutions and found some common ground in their themes:
Fact #3: Every school has its own approach to admissions
Every institution has its own individual mission statement or vision. This means that every institution has its specific priorities, and might weigh certain parts of applications differently.
Larger public schools, for example, place more emphasis on quantitative factors, while smaller private schools will place more emphasis on qualitative.
How can you learn more about what schools value?
Mission statements are a great place to start. School admission officers sometimes offer general insight into how they review applications as well. For insight into quantitative factors and their weight in admissions, we recommend looking at school Common Data Sets.
We recently delivered a presentation on COVID and college admissions. Download a copy of this presentation's slides below.
---
2. The Changing Landscape of College Admissions
The college admissions process has been changing. We've been following these changes closely, and summarize the most important trends below.
Fact #1: More students are applying to college
College application numbers are increasing. They are also increasing faster than growth in available spots. This means that college admissions rates are falling across the board (COVID aside).
As you can see in this chart, over the last 20 years, increasing numbers of students have been submitting 3+ or 7+ applications.
This results in colleges having lower admission rates and higher selectivity.
Fact #2: Selective schools often get disproportionate attention
That being said, more selective schools get the spotlight here, and disproportionately so.
Only about 19% of national institutions accept fewer than 50 percent of applicants, even though they receive about 36% of all applications.
Fact #3: Character is becoming more important in admissions
We're seeing a general shift in college admissions towards character evaluation in applicants. The three pillars of admissions–character, extracurricular distinction, and academic achievement–are still important.
But admissions officers are increasingly emphasizing components like student essays and recommendation letters, as the below chart demonstrates.
These are not far behind grades, strength of curriculum, and test scores.
---
3. COVID and College Admissions: The Impact
Academics are a large piece of every college application. And COVID has significantly impacted many areas of academic life, including:
Grades / Transcripts
Standardized tests
Extracurriculars
Campus visits and
Other important factors (e.g. wellness, finances)
Many high schools reverted to a Pass/Fail system in the spring of 2020.
Students taking AP exams this spring ran into many difficulties, and online learning has been incredibly challenging for even the brightest scholars.
Colleges have been scrambling to adjust their admissions policies related to standardized testing, given the fact that students had incredibly limited SAT and ACT testing options. Many students experienced repeated test center closures and administration cancellations. Two-thirds of colleges are now test-optional.
What's more, scores of students have been unable to participate in volunteering experiences, internships, employment, extracurricular activities, and college campus visits. As a result, it's fundamentally difficult to show extracurricular distinction and demonstrated interest in applications.
In sum, almost every single important admissions factor has been affected by COVID. We've indicated these factors in red arrows below.
What does this mean? Colleges must adapt to these new circumstances in order to continue admitting students in a fair and equitable manner still in line with their mission.
The good news is that colleges have been speaking out about the ways that they are choosing to adapt to these circumstances. We've compiled some concrete data on what they've been saying in the next section.
What Admissions Officers Are Saying
Here is what admissions officers at selective institutions have been saying about COVID and college admissions.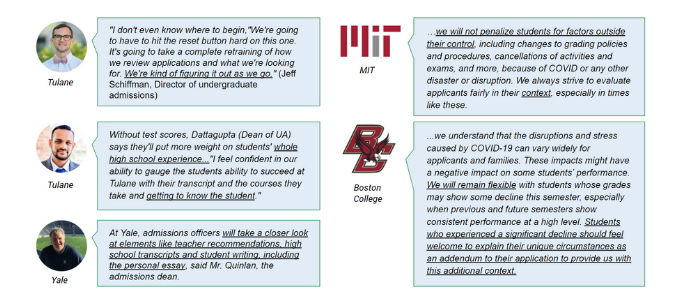 We want to point out that these officers are HUMAN. As Tulane's Director of undergraduate admissions admitted during the earlier stages of the pandemic, they're "figuring it out as [they] go," just like applicants, teachers, and parents.
Notice how most of these responses demonstrate a shift in admissions' officers focus on character distinction and qualitative factors in the application review process.
Historically, character has been one of the three pillars of admissions, but its role is likely more significant, as we discussed above.
How do officers assess character?
They infer it from these elements of an application:
Personal statement and essays (most important)
Recommendation letters
Nature of extracurricular and work activities
Interviews
The chart below indicates results from a survey of 447 admissions officers in response to the question: how do you assess character attributes of applicants?
Officers very much understand the extraordinary challenges students have been facing because of COVID, as they emphasize in this "Care Counts in Crisis" report. They will be reading applications in this context.
The Care Counts in Crisis Report is endorsed by over 360 U.S. institutions. It outlines what admission officers value during this time, what they expect from students, and what they don't expect.
Most importantly, they value:
Self care (#1 priority)
Academic work (assessed in context)
Service and contribution to others (meaningful and authentic)
Family contributions (i.e., supervising siblings, caring for sick relatives)
Extracurricular and summer activities (no student will be disadvantaged here)
The COVID Essay
Coalition and the Common App both give students the chance to write about how COVID has impacted them personally in an optional essay.
Here's the Common App's COVID essay prompt:
We give pointers for responding to this essay in a separate post. Yet we encourage students to use this essay prompt as an opportunity to deeply reflect on something that has influenced everyone's lives – in a specific, authentic way that demonstrates significant awareness.
---
COVID's Initial Effects on Admissions
Initial data (from November 2020) from the Common App and FAFSA on early decision and early action applications has revealed the following data points:
Colleges have seen 8% fewer ED / EA applications
60% of colleges have seen a decline in applications overall
First generation applications are down by 16%
FAFSA completion rates are falling (by at least 15.5%)
Many colleges have indicated that their greatest concerns are related to:
Fall or summer enrollment
Finances
Online learning environments
Laying off faculty or staff
Mental well-being of students
This means that application rates are falling and low-income and first-generation students have been disproportionately impacted. It's important to note that applications from this group might rebound later in the process.
It also means that colleges are doing the best that they can to navigate financial concerns, enrollment challenges, online learning, and student need.
So, what do we recommend that applicants and families do in terms of navigating COVID and college admissions?
We weigh in in the next section.
---
4. Our Recommendations
We are encouraging all of our students and families right now to focus on what is most important and what you can control.
Keep in mind that colleges are definitely very aware of context. They are adapting to these changing circumstances and doing their best to admit applicants with the pandemic's context in mind!
They are also placing an emphasis on what cannot be measured in concrete data points: character, personality traits, and individual potential.
We also recommend that students make use of the guidance offered by the "Making Caring Common" Project, which places high emphasis on the following (in this order):
Self care
Academic work
Service and contributions to others
Family contributions
Extracurricular or summer activities
Lastly, students should prioritize reading, writing, and thinking.
Applicants who can express themselves extremely well on the page are at an advantage in admissions, as this quote shows:
"Your ability to write well is critical to our decision because your writing reflects your thinking. No matter what question is asked on a college application, admission officers are looking to see how well you convey your ideas and express yourself in writing. It is our window to your world."

Janet Rapelye (former Princeton University Dean of Admissions)
Students should spend a significant amount of time working on their personal statement and supplemental essays, for example. We've also compiled a reading list for all four levels in high school for students preparing for college.
We understand that these are challenging times. We are here to help! Send us a note for any questions or thoughts you have about COVID and college admission. We want to hear from you.
---
5. Get Access to Our COVID & College Admissions Seminar
We recently delivered a presentation to our families and students about COVID and college admissions.
You can download the slides we used in this presentation and get access to the seminar's recording below.
---
Greg & Kevin
Greg and Kevin are brothers and the co-founders of PrepMaven and Princeton Tutoring. They are Princeton engineering graduates with over 20 years of education experience. They apply their data and research-backed problem-solving skills to the test prep and college preparation process. Their unique approach places a heavy emphasis on personal development, character, and service as key components of college admissions success.
---