How to format and structure a college essay: A definitive guide
Bonus Material: Download 30 essays that worked for Princeton
Are you a rising high school senior preparing for the admissions process and aiming for one of those coveted spots at selective universities? Are you looking for help figuring out how to structure your college admissions essay to maximize your chances of acceptance?
We've guided countless students through the application process to acceptances at the country's most selective colleges. In this blog post, we'll share some of our proven advice on how to structure and format your college admissions essay to make the best impression on admissions officers.
We've also included a set of 30 successful college application essays that helped students get into Princeton. There are few better resources to help your brainstorming than essays that you know worked!
Jump to section:
What makes a successful college essay
Types of College Essay Formats
The Narrative Essay Format and Example
The Montage Essay Format and Example
The "I am…" Essay Format and Example
The Creative/Artistic Format and Example
Next Steps
---
What makes a successful college essay?
You can think of a college essay's effectiveness as being made up of two things: the content, and the narrative structure. In other words, you need to have a strong topic, but you also need to structure and format the way you write about that topic in a specific way. Without the right format, even the most unique and moving topic won't wow the admission committee.
We've written extensively about our step-by-step process for ensuring that you have the right topic in our post on the Diamond Strategy here. It's a proven method for topic selection, and we encourage everyone to read it and use it.
Your choice of topic is going to heavily influence what format will work best for your college essay. Below, we'll go into several specific college essay formats (with successful college admissions essay examples!), and we'll discuss when to use each one.
---
Types of College Essay Formats
In this post, we'll talk about four kinds of structures or formats that have been proven to work again and again for successful college admission essays.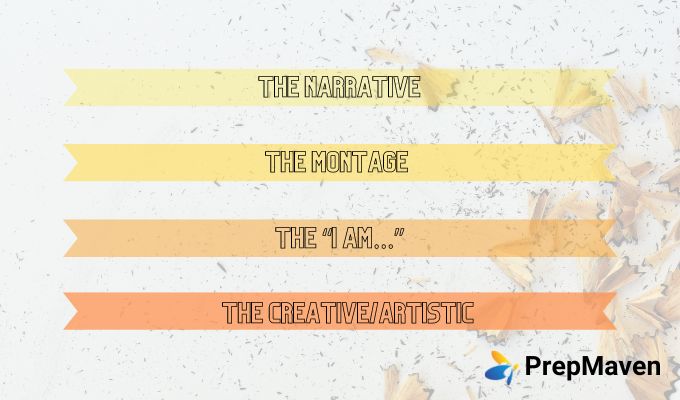 The Narrative – best if you want to describe one key moment in your life.
The Montage – best if you have an eclectic mix of interests/experiences.
The "I am…" – best if you have an identity or belief that's important to you.
The Creative/Artistic – Best if you have an unusual topic and like taking risks.
Remember: although each of these formats can be broken down into something like a template, it will always get its power from the specifics of your story and your experiences. Take a look at any of these successful college essays that worked and you'll see that, no matter the format, the key to each is tons and tons of specific detail.
Also remember that these formats are not always interchangeable: if you want to write about what you learned from a pivotal moment in your life, you'll probably want The Narrative and not, say, The Montage.
---
The Narrative Essay Format and Example (best if you want to describe one key moment in your life).
The Narrative Essay format is one of the most popular and one of the most commonly seen on "Essays that Worked" blogs–and with good reason! This essay structure lets you tell a detailed story, keeping admissions counselors engaged while also conveying key insights about you as an applicant.
Here are the typical components of a Narrative Essay:
Start in the middle of the story
Zoom out
Show personal growth
Reflect on what's changed
So what does it look like? Let's take a look at an actual sample essay from our Thirty College Essays that Worked for Princeton and break it down.
1 – Start in the middle of the story (media res)
Drop the reader right into the middle of a crucial moment, describing it like a scene in a film or movie.
To him, I was a stranger. He could not recall that I had fervently cared for him every day for the past five weeks. As I laughed at his trademark joke for the third time that day, he felt a familiar, but unidentifiable gratitude. When I mentioned a detail about his past, he blushed, realizing that I, a perceived stranger, knew him better than himself. The only recollection he had of me was of a girl with an unmatched dedication to his happiness. This man was one of the patients I encountered during my volunteer internship at Expressions, a hospital program for adults with Alzheimer's disease and dementia.
Notice how this begins the story with no preamble. If your essay topic is about a major event in your life, one of the strongest ways to begin your college essay is by jumping right into it.
2 – Zoom out
Once you've hooked the reader with your story, zoom out and provide more context and background information. How did you get there? What brought you to that moment?
On the second day of the internship, I strode through the door, eager to delve into my new daily responsibilities. As I approached the patients, I anticipated, somewhat naively, a chorus of welcomes and friendly receptions. But instead, I was met with puzzled glances and polite, but reserved greetings. I realized that no one remembered who I was. For the next several minutes, I questioned my purpose in a program where I could not permanently impact the participants. What motivation did I have to go beyond mediocrity when, no matter the quality of my service, I would be forgotten? But it was that morning, as I poured each patient a cup of coffee, smiled, and reintroduced myself, that I constructed my personal motto: "Initiative requires no incentive." Throughout the rest of the day, I found motivation through mundane, yet meaningful moments, like helping a patient complete a crossword or color a picture. It was in those moments that I learned that dedication is not derived from a desire to make memorable change, but from a will to contribute to your community no matter the reward.
You want to maintain a high level of detail and specificity, but you also want to zoom out enough to make sure your reader understands the background and context of your story. This essay does that perfectly by explaining the internship and the student's initial involvement. More importantly, it shows us what the student was thinking at the beginning, which provides an opportunity for growth and learning.
3 – Show personal growth/development/change
The narrative works because it's about how you, as a student, college applicant, and human, have changed and grown through the experience you describe. So the next part of your essay should describe some element of change as it develops through this story. Take a look below:
Over the next few weeks, I discovered that because the patients had no recollection of the past, they cherished the present moment. It was this principle of mindful existence that taught me to love the moments of doing, rather than linger in the memories of "I have done." To fulfill this principle, I sought to paint each moment with cheer and consideration. Through all their bursts of frustration, shivers of discomfort, and tears of untraceable nostalgia, I strove to offer warmth and support. On several occasions, I brought in my tutu and pointe shoes and performed a ballet variation. As I taught the participants ballet steps, the room rang with laughter and amusement. Hoping to inspire the creativity I find so empowering, I also orchestrated events from poetry slams to watercolor classes to recipe exchanges. By incorporating my individuality into the program, I reinvented my role as a volunteer, a community member, and an individual.
This process of "discovery" is one of the keys to the Narrative Structure. This college essay format is designed to let you bring out the personal growth that accompanied this event. In the body paragraphs, the author shows how she developed and "reinvented" her role through this experience.
4 – Reflect on what's changed
As you bring your essay to a close, you should actively reflect on what has changed throughout this narrative. The closing can be short and sweet, and often refers back to the original story you told in the first paragraph.
On my last day at the program, I was leading a jewelry-making activity, when I noticed one of the participants becoming agitated. She was, among all the group members, the patient in the most advanced stage of memory loss and the patient I accompanied most often. I drew up a chair next to her and offered my help. Her head, previously hunched over scattered bracelet pieces, slowly lifted and her eyes turned to meet mine. As her eyes flickered across my face, I saw in her expression that she was searching for a thought, creeping to the forefront of her mind. Then, carefully she said, "Your name is Dana, right?" It had been nearly a year since she had remembered the last five minutes, yet she had remembered my name. As I smiled and nodded, she began to tear up, and we both silently rejoiced in the realization that she had momentarily overcome her disease. In that instant, my continuous acts of compassion, whether previously forgotten or anonymous, came to fruition. Service became more than the completion of routine tasks or the collection of volunteer hours; it became the responsibility to foster hope and prosperity within my community, the nation, and humanity.
This final paragraph beautifully brings the entire essay to a close: it recalls the opening paragraph, but now gives it a new and more positive spin. It also tells the admissions committee what this student has learned through this narrative. This student comes away from the experience with a new understanding of service.
This is one of the best examples of a successfully executed college essay in the Narrative style. It hooks the reader in from the beginning, making us want to figure out what's going on. Then, it gives us the context we need to understand how the writer got to this point and who they are. Most importantly, it concludes the narrative by showing real, impressive personal growth in the student's perspective on the world, ending with a reflection on what this writer values and brings to a college.
Yours will look different, of course. But if you want to understand why the narrative essay structure works, this impactful essay is a great place to start.
You can find more successful narrative essay examples in our Thirty College Essays that Worked for Princeton.
---
The Montage Essay Format and Example (best if you have an eclectic mix of interests/experiences)
The Narrative Structure is great if your essay topic can be conveyed through a single crucial moment or experience. But what if you want to show the admissions committee at your dream university some aspect(s) of your personality that can only be conveyed through multiple moments?
Here are the key elements of a Montage Essay:
Introduce your theme
Present a series of snapshots related to the theme
Tie the snapshots to the theme
That's the kind of topic the Montage Essay Format is designed for. You won't go into as much detail as you would in the Narrative Essay. Instead, you will present the admissions committee with a series of snapshots from your life, all connected by a common theme.
These snapshots can be actual events, or they can be creatively selected items from your life that tell universities something about you–you might create a montage of what's on your bookshelf or what kind of bumper stickers are on your car, for example.
1 – Start with the unifying thread or theme
Give us a bit of context for whatever unites the montage by setting it up. Alternatively, you can just jump right into one of the montage moments (like in the Narrative Format). The best option here will depend on your specific essay.
We can see an example from our collection of thirty actual sample essays below:
"You know nothing, Jon Snow"

Being an avid Game of Thrones fanatic, I fancy every character, scene, and line. However,Ygritte's famous line proves to be just slightly more relatable than the incest, corruption, and sorcery that characterizes Westeros.

Numerous theories explore the true meaning of these five words, but I prefer to think they criticize seventeen-year-old Jon's lack of life experience. Growing up in a lord's castle, he has seen little about the real world; thus, he struggles to see the bigger picture until he evaluates all angles.

Being in a relatively privileged community myself, I can affirm the lack of diverse perspectives —and even more, the scarcity of real-world problems. Instead, my life has been horrifically plagued by first world problems.
This introductory paragraph opens with something creative and catchy, then explains the purpose. It also sets up the montage that will follow: "the first world problems."
2 – Present the montage!
Naturally, this is the biggest part of the Montage Format. The pieces of your montage can be short (as in the below example) or fairly long. The most important thing is that they are detailed, unique, and come together to tell the university admissions officers something about you.
I've written a eulogy and held a funeral for my phone charger.

I've thrown tantrums when my knitted sweaters shrunk in the dryer. And yes, I actually have cried over spilled (organic) milk.

Well, shouldn't I be happy with the trivial "problems" I've faced? Shouldn't I appreciate the opportunities and the people around me?

Past the "feminism v. menimism" and "memes" of the internet, are heartbreaking stories and photos of life outside my metaphorical "Bethpage Bubble." How can I be content when I am utterly oblivious to the perspectives of others? Like Jon Snow, I've never lived a day in another person's shoes.

Fewer than three meals a day. No extra blanket during record-breaking winter cold. No clean water. I may be parched after an intense practice, but I know nothing of poverty.

Losing a loved one overseas. Being forced to leave your home. Coups d'état and dictatorial governments. I battle with my peers during class discussions, but I know nothing of war.

Denial of education. Denial of religion. Denial of speech. I have an endless list of freedoms, and I know nothing of oppression.

Malaria. Cholera. Cancer. I watch how Alzheimer's progresses in my grandmother, but I know nothing of disease.

Living under a strict caste system. Being stereotyped because of one's race. Unwarranted prejudice. I may be in a minority group, yet I know nothing of discrimination.

Flappers, speakeasies, and jazz. Two world wars. Pagers, hippies, and disco. I'm barely a 90's kid who relishes SpongeBob episodes, and I know nothing of prior generations.

Royal weddings, tribal ceremonies, and Chinese New Years. I fast during Ramadan, but I know nothing of other cultures.

Hostile political parties. Progressive versus retrospective. Right and wrong. I am seventeen, and I know nothing of politics.
This montage is really a list of the first-world problems of the writer and the things the writer "knows nothing" about. In writing this list, however, the student is making clear that they're aware of the limits of their own experience, and that kind of self-reflection is crucial for a winning college essay.
3 – Tie the moments of the montage together
Each montage essay must end by clearly drawing a lesson. The question every admissions officer will be asking is: what do all of these moments tell us about you?
Is ignorance really bliss?

Beyond my community and lifetime exists myriad events I'll never witness, people I'll never meet, and beliefs I'll never understand. Being unexposed to the culture and perspectives that comprise this world, I know I can never fully understand anyone or anything. Yet, irony is beautiful.

Embarking on any career requires making decisions on behalf of a community, whether that be a group of students, or a patient, or the solar system.

I am pleased to admit like Jon Snow, I know nothing, but that will change in college.
This reflection really doesn't have to take up a lot of space. In just a few sentences, this author shows us why the montage matters: this student understands the limits of their experiences and knowledge, and, most importantly, is eager and willing to work to overcome them.
For more successful college application essays like this, check out our collection of actual sample essays below:
---
The "I am…" Essay Format (best if you have an identity or belief that's important to you)
This format is the most direct way to approach a personal essay. By using this structure, you will directly present the admissions officers with some crucial aspect of your personality, background, or interests.
This essay format is best for students who want to highlight a particular quirk, lifelong challenge, or important aspects of their demographic background.
This kind of essay generally follows this structure:
A surprising "I am…" statement
Explanation of the statement with specific examples
Reflection on how this has shaped you
Like all college admissions essays, this will require you to be specific and detailed. But, it might not involve much of an actual story or narrative (though it can!). Take a look at the breakdown of the example below to see how it's done.
1 – Start with a surprising "I am…" statement
This essay structure depends on hooking your reader's attention from the first line, so you want to start with something memorable, unexpected, and maybe even a bit confusing. Though often this means saying "I am…" it could just as easily be "I believe…" or "I have…"
I am an aspiring hot sauce sommelier. Ever since I was a child, I have been in search for all that is spicy. I began by dabbling in peppers of the jarred variety. Pepperoncini, giardiniera, sports peppers, and jalapeños became not only toppings, but appetizers, complete entrées, and desserts. As my palate matured, I delved into a more aggressive assortment of spicy fare. I'm not referring to Flamin' Hot Cheetos, the crunchy snack devoured by dilettantes. No, it was bottles of infernal magma that came next in my tasting curriculum.
Here's a classic example of how to start. "Hot sauce sommelier" is unusual and quirky enough that it holds the reader's attention. Admissions officers will want to keep reading to see why this matters.
2 – Expand on the "I am…"
This can take different forms: you can explain how you came to be, say, a hot sauce sommelier. Or you can tell us what that looks like in your everyday life. It'll depend in large part on what your individual story is, but the key is specifics, specifics, specifics.
Despite the current lack of certification offered for the profession which I am seeking, I am unquestionably qualified. I can tell you that a cayenne pepper sauce infused with hints of lime and passion fruit is the perfect pairing to bring out the subtle earthy undertones of your microwave ramen. I can also tell you that a drizzle of full-bodied Louisiana habanero on my homemade vanilla bean ice cream serves as an appetizing complement. For the truly brave connoisseur, I suggest sprinkling a few generous drops of Bhut Jolokia sauce atop a bowl of chili. Be warned, though; one drop too many and you might find yourself like I did, crying over a heaping bowl of kidney beans at the dining room table.

Although I consistently attempt to cultivate the rarest and most expertly crafted bottles of molten spice, like an oenophile who occasionally sips on five dollar bottles of wine, I am neither fussy nor finicky. I have no qualms about dousing my omelets with Cholula, dipping my tofu in pools of Sriracha, or soaking my vegetarian chicken nuggets in the Frank's Red Hot that my mom bought from the dollar store. No matter the quality or cost, when gently swirled, wafted, and swished; the sauces excite my senses. Each initial taste, both surprising yet subtly familiar, has taught me the joy of the unknown and the possibility contained within the unexpected.
Check out all specific details the writer uses in this portion of the essay! These moments both show the student's skill as a writer and, more importantly, convey their very real passion for hot sauce. It doesn't matter that it's a little bit silly: what matters is showing the university that this student is dedicated to something.
3 – End by reflecting on how this aspect of your identity shapes who you are as a person and student
As always, these essays have to end with a bit of introspection: you've told us the story, now explain why it matters, as this student does.
My ceaseless quest for piquancy has inspired many journeys, both gustatory and otherwise. It has dragged me into the depths of the souks of Marrakech, where I purchased tin cans filled with Harissa. Although the chili sauce certainly augmented the robust aroma of my tagine, my food was not the only thing enriched by this excursion. My conquest has also brought me south, to the valleys of Chile, where I dined among the Mapuche and flavored my empanadas with a smoky seasoning of Merkén. Perhaps the ultimate test of my sensory strength occurred in Kolkata, India. After making the fatal mistake of revealing my penchant for spicy food to my friend's grandmother, I spent the night with a raw tongue and cold sweats. I have learned that spice isn't always easy to digest. It is the distilled essence of a culture, burning with rich history. It is a universal language that communicates passion, pain, and renewal. Like an artfully concocted hot sauce, my being contains alternating layers of sweetness and daring which surround a core that is constantly being molded by my experiences and adventures.

I'm not sure what it is about spiciness that intrigues me. Maybe my fungiform papillae are mapped out in a geography uniquely designed to appreciate bold seasonings. Maybe these taste buds are especially receptive to the intricacies of the savors and zests that they observe. Or maybe it's simply my burning sense of curiosity. My desire to challenge myself, to stimulate my mind, to experience the fullness of life in all of its varieties and flavors.
This student makes clear to colleges why this aspect of their personality matters. It has helped them learn and travel; it shows the student's desire to "challenge" themselves and to "stimulate their mind," which is exactly what a top-tier university is looking for.
---
The Creative/Artistic Format (Best if you have an unusual topic and like taking risks)
I'm cheating a little bit here: by definition, there's no real format to these Creative/Artistic Essays. These are the most unique, the toughest to pull off, and the riskiest essays. But for certain students, they're undoubtedly the right choice.
Although these essays aren't as easy to bulletpoint out as the above, creative personal essays will always contain the following elements:
A unique gimmick
Meaningful information about the writer's life or identity
A mature reflection
The Creative/Artistic Essays make your essay stand out to colleges, but require careful planning and editing to pull off. If you're an artist type, or, alternatively, if you feel your application needs something to separate you from the pack, these can be the right choice.
Consulting with one of our expert college essay coaches can be the best way to ensure that your Creative/Artistic Essay helps and not hurts your application.
Below is a successful example, and some analysis of why this essay works:
"Is it bigger than a breadbox?"

"Yes."

I have always been tall, decidedly tall. Yet, my curiosity has always surpassed my height. Starting at a young age, I would ask countless questions, from "How heavy is the Earth?" to "Where does rain come from?" My curiosity, displayed in questions like these, has truly defined me as a person and as a student. Therefore, it is not surprising that I became transfixed the first time I played 20Q (the electronic version of Twenty Questions). Somehow, a little spherical device guessed what I was thinking. The piece of technology sparked my curiosity and instilled in me a unique interest in 20Q. This interest would later reveal valuable character traits of mine while also paralleling various facets of my life.

"Does it strive to learn?"

"Yes."

I became determined to discover how 20Q guessed correctly. After some research, I discovered artificial intelligence, more specifically, artificial neural networks—systems which learn and improve themselves. This idea fascinated me. I wanted to learn more. I read avidly, seeking and absorbing as much information as I could. When given the opportunity years later, I signed up for the first computer programming class available to me. I found myself in an environment I loved. I would stay after class, go in during free periods, make my own apps, and work over Cloud-based IDEs. I prized the freedom and the possibilities.

"Is it driven?"

"Yes."

After my introduction to 20Q, I began to play Twenty Questions (the traditional parlor game) and became determined to rival the guessing accuracy of the artificial intelligence. At first I was mediocre. However, through long car rides with family, good-natured yet heated competitions with friends, logical strategy, and time, I became more effective. I discovered the "secrets" to success: practice and perseverance.

"Does it apply what it learns?"

"Yes."

As 20Q implements what it learns, so do I. Throughout high school, I applied the "secret" of practice to my basketball career. I spent countless hours sharpening my skills in 90° summer heat to 20° late-winter cold, countless afternoons playing pickup games with my friends, and countless weekends traveling to AAU basketball tournaments. As a result, I became a starter for my school's varsity team. I applied another "secret," this time the "secret" of perseverance, by dedicating myself to physical therapy after knee surgery in order to quickly return to football. Later that year, I became the first player in my grade to score a varsity touchdown.

"Does it attempt to better itself?"

"Yes."

Once I became proficient at Twenty Questions, I strengthened my resolve to become masterful. To do so, I needed to become a skillful inquisitor and to combine that with my analytical nature and interpersonal skills, all of which are vital for success in Twenty Questions. Because I had been debating politics with my friends since the 8th grade, I recognized that debate could sharpen these skills. I began to debate more frequently (and later more effectively) in English and government class, at the lunch table and family gatherings, and whenever the opportunity presented itself. This spurred in me an interest for how public policy and government work, leading me to attend Boys State and receive a nomination for The United States Senate Youth Program.

"Does it think deeply?"

"Yes."

So far, I have realized that thriving at Twenty Questions, just like life, is all about tenacity, rationality and interpersonal skills. I have found that, as in Twenty Questions, always succeeding is impossible; however, by persevering through difficulties and obstacles, favorable outcomes are often attainable. As I have become better at Twenty Questions, so too have I improved in many other aspects of my life. Nonetheless, I realize that I still have unbounded room to grow. And much like 20Q, I will continue to learn throughout my life and apply my knowledge to everything I do.

"Are you thinking of me?"

"Yes."

Source: Johns Hopkins Essays that Worked
Framing this essay as a round of 20 questions is the kind of risky creative move that, in this case, can really pay off.
It works here because it isn't just being creative or artsy for the sake of it: this format really allows the student to express multiple important aspects of their personality as it relates to their application.
You'll notice that, like most creative essays, it combines elements of the other essay formats. But it does so in a unique way that can't be replicated: nobody else can write a 20 Questions style essay without ripping off this author.
If you can find a creative idea like this one that lets you express unique elements of your story or personality in a fun, attention-grabbing structure, then this option might be the best one for you.
---
Next steps
You should think of the steps outlined in this blogpost as the middle of the essay writing process. First, you need to brainstorm and select your topic (see our guide on that here). Then, based on that topic, you can use this post to identify what structure and format will work best for crafting your essay.
If you've settled on an essay format, it's time to move on to actually writing the essay itself. We recommend starting by reviewing some of the past successful essays linked below and by first reading our post on the Diamond Strategy for topic selection.
Of course, there's no substitute for professional help: our expert essay coaches have helped countless students with brainstorming, topic choice, organization, crafting, and final touches on essays that have helped these students gain admission to Ivies and other elite colleges. If you're interested in working with one of our college essay coaches, reach out to us here!
Related College Essay Posts
---
Mike
Mike is a PhD candidate studying English literature at Duke University. Mike is an expert test prep tutor (SAT/ACT/LSAT) and college essay consultant. Nearly all of Mike's SAT/ACT students score in the top 5% of test takers; many even score above 1500 on the SAT. His college essay students routinely earn admission into their top-choice schools, including Harvard, Brown, and Dartmouth. And his LSAT students have been accepted In into the top law schools in the country, including Harvard, Yale, and Columbia Law.