7 Qualities of a Successful College Essay
Bonus Material: 30 College Essays That Worked
The college essay is one of the most important aspects of a student's application.
It gives applicants an opportunity to articulate their personal values, character traits, and perspectives. It's also a chance to add more value to your application, simply by demonstrating who you are outside of your resume and transcript.
A "successful" college essay is one that makes the most of these opportunities and, in many cases, earns an acceptance.
We've demystified what most admissions officers look for in college applications. But what are these officers looking for in the college essay itself? What are the top qualities of a successful application essay?
In analyzing various essays of admitted applicants, we've come up with a list of the characteristics that most of these pieces have in common. We'll be referring to some of these pieces throughout the post.
Plus, we give you access to 30 college essays that earned their writers acceptance into Ivy League schools. Grab these below.
Here's what we cover:
---
The College Application Essay In a Nutshell
Most students applying to a college or university in the U.S. must submit an application essay (or "personal statement") with their application.
Depending on the application platform the college uses (typically either Coalition or the Common App), students have 500-650 words to craft a response. While each of these platforms has college essay prompts, it's helpful to view these prompts as general guidelines as to what colleges are looking for in a response.
Based on these prompts and our own experience coaching college essay students, the application essay is:
the chance to say what the rest of your application doesn't say
a demonstration of your character, values, and/or voice
the platform to show who you are outside of a resume/transcript
an introspective personal essay
The college essay is NOT:
a rehashing of your resume
an excuse or explanation of other components of your application
a formal, five-paragraph essay
what you think "colleges want to hear"
A standard college application includes an academic transcript, recommendation letters, extracurricular / activities section, an optional resume, and standardized test scores. The essay is an addition to these 4 general components, so it makes sense that it should complement them by saying something new.
That's why we like to define the essay as a "demonstration of character, values, and/or voice." True, these elements can be inferred from other components of the application. But the essay is your opportunity to clearly and personally demonstrate what matters to you, who you are at the core, and/or your essential perspectives of the world.
For this reason, the college essay is introspective and personal. Colleges want to hear that "I" voice in the application essay, loud and clear, and they want active, intelligent reflection.
You can see this in action in the 30 college essays that worked, which you can download below.
(Note: Some colleges might require applicants to submit supplemental essays in addition to their personal statement. These often have very specific prompts and different word lengths. Here are 8 great tips for approaching supplemental essays.)
---
 7 Qualities of a Successful College Essay
We've assessed several college essays of applicants admitted to a wide range of schools, including Ivy League institutions. While extremely diverse, these pieces generally had the following characteristics in common.
1. Introspective and reflective
Many English teachers tell their students not to use the first-person "I" in their essays. While this might be the standard for some academic essays, the college essay should include that "I." What's more, it should include a lot of that "I"!
This can be understandably uncomfortable for students, many of whom may simply not be used to talking about themselves openly and declaratively on a page. It can also feel awkward from a stylistic point of view for students who are not used to writing in the first-person.
Yet colleges want to hear your words in your own voice, and they are especially interested in learning more about your perspectives on the world and insights gleaned from your various life experiences. That's why many successful college essays are highly introspective, full of the writer's active reflections on what they've learned, how they view the world, and who they are.
We typically see the bulk of such introspection at the end of an essay, where the writer summarizes these reflections (although this is by no means standard), as we can see in the conclusion to Erica's essay here, which describes her earlier attempt to write and publish a novel:
Sometimes, when I'm feeling insecure about my ability as a novelist I open up my first draft again, turn to a random chapter, and read it aloud. Publishing that first draft would have been a horrible embarrassment that would have haunted me for the rest of my life. Over the past half-decade, I've been able to explore my own literary voice, and develop a truly original work that I will be proud to display. This experience taught me that "following your dreams" requires more than just wishing upon a star. It takes sacrifice, persistence, and grueling work to turn fantasy into reality.
In her personal statement, Aja reflects deeply on what she specifically learned from an experience described earlier on in the piece:
I found from my experiment and questioning within my mind that my practices distinguished me from others, thereby allowing me to form relationships on the basis of common interest or personality, rather than cultural similarities, that summer. I valued the relationships more, and formed a deep connection with my lab partner, whom I had found was similar to me in many ways. 
Notice how both of these selections contain a lot of that first-person voice, which is critical to elaborating perspectives, learning points, and introspective thoughts. And did we mention that admissions officers are looking for those specific perspectives, learning points, and thoughts that compose who you are?
2. Full of a student's voice
An academic transcript can be revealing to admissions officers. The same goes for recommendation letters and resumes. But it's hard to convey an individual voice in these application components. The college essay is your prime vehicle for speaking directly to colleges in your own words about what matters to you.
Successful college essays thus veer away from the formal voice many students employ when writing academic essays. Rather, they showcase a student's unique way of expressing themselves on a page, which can be, for example, humorous, informal, intimate, lyrical, and/or speculative.
Voice is at the forefront of Elizabeth's essay about her love for "all that is spicy:"
I am an aspiring hot sauce sommelier. Ever since I was a child, I have been in search for all that is spicy. I began by dabbling in peppers of the jarred variety. Pepperoncini, giardiniera, sports peppers, and jalapeños became not only toppings, but appetizers, complete entrées, and desserts. As my palate matured, I delved into a more aggressive assortment of spicy fare. I'm not referring to Flamin' Hot Cheetos, the crunchy snack devoured by dilettantes. No, it was bottles of infernal magma that came next in my tasting curriculum.
Notice how Elizabeth's descriptions of her passion for spice are rich with her voice: playful, intelligent, and humorous. This also gives us insight into a specific aspect of her character–that's the power of voice when it comes to personal essay writing, and college admissions officers are very interested in applicants' characters.
3. Descriptive and engaging
You don't have to be a natural creative writer to compose a successful college essay. Yet competitive essays aren't afraid to dive deeply into a subject and describe it, whether that description relates to imagery, emotions, perspectives, or insights. A college essay shouldn't leave the reader guessing in any way–it should be highly specific and it should tell your story in an engaging fashion.
Harry's more intellectual essay presents his views on common values in society. He is careful to be very specific and descriptive in these views, incorporating both a relevant incident from history and his own direct relationship to the issue:
Admittedly, the problem of social integration is one I feel can be widely overstated – for example, when I was looking into some research for a similar topic a couple of years ago, I found numerous surveys indicating that ethnic minorities (especially Islam) identify much more closely with Britain than do the population at large. Still though, I, like many others, find myself constantly troubled by the prospect of the war from within that seems to be developing. This fear is fuelled by events such as the brutal killing of the soldier Lee Rigby at the hands of two British Muslims a couple of years ago.
In her essay, Amanda is extremely detailed in describing her experience as a caretaker for a difficult child. The result is a clear portrait of the challenge itself and Amanda's relationship to this challenge, told from the perspective of an engaging storyteller:
Then I met Robyn, and I realized how wrong I was. Prone to anger, aggressive, sometimes violent (I have the scar to prove it). Every Sunday with Robyn was a challenge. Yoga, dancing, cooking, art, tennis – none of these activities held her interest for long before she would inevitably throw a tantrum or stalk over to a corner to sulk or fight with the other children. She alternated between wrapping her arms around my neck, declaring to anyone who passed by that she loved me, and clawing at my arms, screaming at me to leave her alone.
4. Honest
The successful college essays we see always emerge from a place of honesty. Writing with honesty also is more likely to accurately convey a student's unique voice, inspire reflection and introspection, and result in a descriptive, meaningful piece (all of the qualities listed in this post!).
Sometimes this means adopting a candid or direct voice on the page. James starts his essay frankly in this singular statement:
Simply put, my place of inner peace is the seat of that 50 foot sliver of carbon and kevlar called a rowing shell, cutting through the water in the middle of a race.
Or it might mean describing a challenge, vulnerability, or perspective truthfully, as Martin does in his essay about the experiences that have molded his character over the years:
Looking back, I have never been the "masculine boy" as society says my role to be. I have always thought I do not fit the social definition of a male as one who is "manly" and "sporty" and this alienating feeling of being different still persists today at times. However, I also have become more comfortable with myself, and I see my growth firsthand throughout high school.
Given that many universities value "truth" in their own mission statements and mottos, admissions officers will prioritize those essays that ring with a student's honest voice.
5. Unconventional & distinct
This is by no means a requirement of a successful college essay. But many of the essays that earn students acceptance at their dream schools veer away from the predictable or expected, as we saw in Elizabeth's essay above ("I am an aspiring hot sauce sommelier"). They are, in a nutshell, 100% unique.
We've seen some essays, for example, that follow more radical structures, such as list formats or experimental narratives. Others focus on unexpected subjects, like Shanaz's piece on the relevance of Game of Thrones in her life and trajectory of learning.
And, time and again, successful college essays step away from what admissions officers already see in applications–academics, standardized tests, extracurricular activities, and classes. They may focus on something very specific (hot sauce or Game of Thrones), seemingly ordinary (eating a kosher meal in public or working on a problem set), or personally interesting (a historic murder or wrestling game).
Regardless, the essays that "work" emphasize the unexpected, as opposed to the expected. Distinct essays will also feel as if they could not have been written by anyone else.
6. Well-written
This might also sound like an obvious quality of a successful essay, but it's still worth mentioning. The most competitive application essays showcase strong writing skills, providing evidence of a student's ability to tell a specific story artfully and well. 
Essays should also be error-free, grammatically precise, and stylistically on point. Successful pieces also might demonstrate versatility through varied sentence structure, word choice, and rhetorical or literary devices. Lastly, well-written essays typically adhere to a specific storytelling structure.
This excerpt from Justin's essay about his experience in the California Cadet Corps, for example, displays a high command of language, word choice, and sentence structure:
Through Survival, I learned many things about myself and the way I approach the world. I realized that I take for granted innumerable small privileges and conveniences and that I undervalue what I do have. Now that I had experienced true and sustained hunger, I felt regret for times when I threw away food and behaved with unconscious waste. 
7. Meaningful
Above all, a successful college essay adds value to a student's holistic college application. It is full of meaning, in that it
showcases a student's unique voice
elucidates an applicant's particular perspective(s), character trait(s), and/or belief(s) and
honestly conveys a significant component of who a student is
It might be difficult to compress the entirety of who you are into 650 words. Yet it is most certainly possible to craft 650 words that add significant meaning to an overall application in terms of a student's personal potential for the future. This is exactly what admissions officers are looking for. 
---
Download 30 College Essays That Worked
What can you do to ensure that your college essay aligns with these successful qualities? You can check out examples of essays that do!
You can download 30 actual college essays that earned their writers acceptance into Ivy League schools, right now, for free.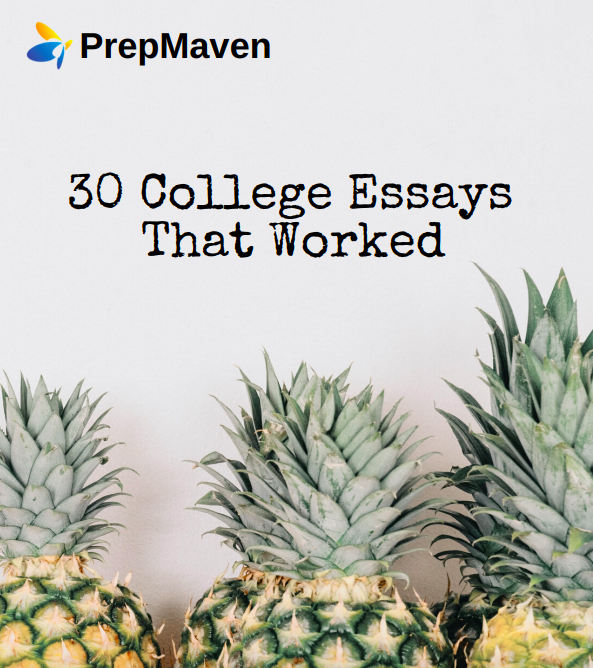 ---
Kate
Kate is a graduate of Princeton University. Over the last decade, Kate has successfully mentored hundreds of students in all aspects of the college admissions process, including the SAT, ACT, and college application essay.
---
CHECK OUT THESE RELATED POSTS