What is the College Essay? Your Complete Guide for 2023
Bonus Material: 30 College Essays That Worked
The college essay is one of the most important parts of your college application.
As important as it is, however, it's very different from the essays you're used to writing in high school.
From word count to genre, the college essay is in a category entirely of its own–and one that can be unfamiliar for most students applying to college.
So, what is the college essay? What role does it play in college admissions?
And, most importantly, how do you get started writing an amazing essay?
We answer all of these questions in this complete college essay guide.
Plus, we give readers access to 30 college essays that earned applicants acceptance into the nation's top colleges. They're free and you can grab them below right now!
Here's what we cover in this guide:
---
What is the College Essay?
Most students will use the Common App to apply to U.S. colleges and universities. A smaller number of colleges require students to submit applications through Coalition.
Regardless, both platforms require students to submit a personal statement or essay response as part of their application. Students choose to respond to one of the following prompts in 650 words or fewer.
College Essay Prompts 2022-2023
| | |
| --- | --- |
| The Common App | Coalition |
| Some students have a background, identity, interest, or talent that is so meaningful they believe their application would be incomplete without it. If this sounds like you, then please share your story. | Tell a story from your life, describing an experience that either demonstrates your character or helped to shape it. |
| The lessons we take from obstacles we encounter can be fundamental to later success. Recount a time when you faced a challenge, setback, or failure. How did it affect you, and what did you learn from the experience? | What interests or excites you? How does it shape who you are now or who you might become in the future? |
| Reflect on a time when you questioned or challenged a belief or idea. What prompted your thinking? What was the outcome? | Describe a time when you had a positive impact on others. What were the challenges? What were the rewards? |
| Reflect on something that someone has done for you that has made you happy or thankful in a surprising way. How has this gratitude affected or motivated you? | Has there been a time when an idea or belief of yours was questioned? How did you respond? What did you learn? |
| Discuss an accomplishment, event, or realization that sparked a period of personal growth and a new understanding of yourself or others. | What success have you achieved or obstacle have you faced? What advice would you give a sibling or friend going through a similar experience? |
| Describe a topic, idea, or concept you find so engaging that it makes you lose all track of time. Why does it captivate you? What or who do you turn to when you want to learn more? | Submit an essay on the topic of your choice. |
| Share an essay on any topic of your choice. It can be one you've already written, one that responds to a different prompt, or one of your own design. | |
What do these questions all have in common? They all require answers that are introspective, reflective, and personal.
Take a look at some of these buzzwords from these prompts to see what we mean:
Story
Growth
Understanding
Learning
Motivation
Challenge
Belief / Idea
Contribution
Identity
Experience
These are big words attached to big, personal concepts. That's the point!
But because that's the case, that means the college essay is not an academic essay. It's not something you write in five paragraphs for English class. Nor is it a formal statement, an outline of a resume, or a list of accomplishments.
It's something else entirely.
Our Definition of the College Essay
How do we define the college essay? We'll keep it short and sweet.
The college essay is a personal essay that tells an engaging story in 650 words or fewer. It is comparable to memoir or creative nonfiction writing, which relate the author's personal experiences.
The college essay is fundamentally personal and creative. It is rich with introspection, reflection, and statements of self-awareness. It can have elements of academic writing in it, such as logical organization, thesis statements, and transition words. But it is not an academic essay that fits comfortably into five paragraphs.
Your task with the college essay is to become a storyteller–and, in the process, provide admissions officers with a valuable glimpse into your world, perspective, and/or experiences.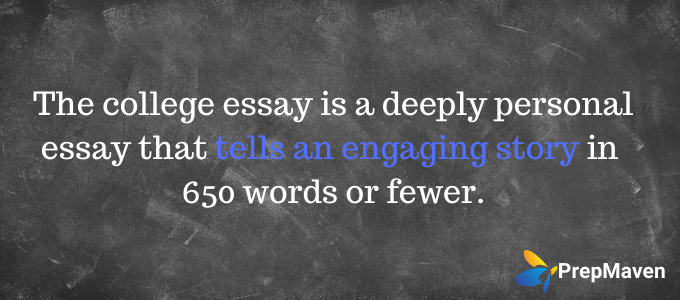 Example of a College Essay That Worked
Take a look at this essay that earned its writer acceptance into Princeton. We won't take a super deep dive into the components that make it great.
But we do want to point out a handful of things that align with our definition of the college essay. This essay:
Tells an engaging story
Clearly conveys the author's voice
Is rich with introspection and reflection
Provides insight into the author's character, values, and perspective
Is not an academic essay or list of accomplishments
Is deeply personal
It also exemplifies the 7 qualities of a successful college essay.
Here's the full essay:
"So long as you have food in your mouth, you have solved all questions for the time being." –Franz Kafka
Kafka, I'm afraid, has drastically overestimated the power of food. And though it pains me to undermine a statement by arguably the greatest writer of the 20th century, I recognize it as a solemn duty. Perhaps Kafka has never sat, tongue wild in an effort to scrape residual peanut butter off his molars, and contemplated the almost ridiculous but nevertheless significant role of peanut butter in crafting his identity. Oh, did I just describe myself by accident? Without further ado, the questions (and lack of answers, I point out) that I contemplate with peanut butter in my mouth.
When I was three and a half years old, my tongue was not yet versed in the complex palate of my peers, consisting mainly of peanut butter and jelly sandwiches. (It did not help my transition into pre-school that I did not speak English, but Russian and that my name, which had been hurriedly switched from Alya to Alex, was unpronounceable to me.) But it is most worth noting that I refused lunch for months, waited at the windowsill with tear-stained cheeks every day unless my mom left law school midday to bring my own comfort food: borscht, katlety, kampot.
I slowly assimilated into American culture, like most immigrant kids. I began to eat the peanut butter sandwiches at pre-school in the presence of my mom, and then did not need her altogether. She must have been elated that I was comfortable, that she could stay at school all day without worrying. She must have been destroyed when I waved her away the first time and told her I did not need her to come anymore.
I realized much later that the Russian food my mother brought me in pre-school made me comfortable enough to learn the language of the children there, to share their lunches, to make friends. Ironically, my Russian culture enabled the rise and dominance of American culture. When my parents wanted to visit their birthplace, my birthplace, Odessa, Ukraine, I rolled my eyes and proclaimed Disney Land, Florida. I rolled my eyes when I spoke too fast for my parents to understand. I rolled my eyes when I checked my mom's grammar and when she argued with customer service in her thick Russian accent.
Peanut butter, and foods like it, represented not only my entrance into American culture, but the swift rejection of anything Russian that followed. Chicken noodle soup replaced borscht, meatballs replaced katlety, Sunny D triumphed over kampot. I became embarrassed by the snacks packed in my brown paper bag, begged for Cheetos, lime Jell-O cups, and that creamy spread between two damp pieces of Wonder Bread. My American identity tried to eclipse the Russian one altogether.
I realized later still that the identity battle I fought must have been more difficult to watch for my parents than it could have ever been for me to experience. They let me figure myself out, even though it meant I spent years rolling my eyes at them. Though I do not claim to have discovered a perfect balance of Russian and American, I would venture that a healthy start is eating peanut butter for lunch and katlety at dinner.
So, Kafka, I hope that next time a memorable quote comes to mind, you think before you speak. Because when peanut butter cleaves to the roof of my mouth, I think about what it means "to cleave:" both to adhere closely to and to divide, as if by a cutting blow, especially along a natural weakness. And I think about my dual identity, how the Russian side and American side simultaneously force each other apart and bring each other together. I think about my past, feeling a little ashamed, and about my present and future, asking how I can create harmony between these two sides of me. That, Kafka, does not sound like solved questions to me.
Want to read more essays that worked? Download our 30 college essays that earned their writers Ivy League acceptance for free below.
---
The College Essay's Role in Admissions
In our post about what college admissions officers are looking for, we outline the Golden Rule of Admissions.
We also define "a student of exceptional potential." In general, competitive applicants to top U.S. colleges and universities exemplify three pillars:
Character and personal values
Extracurricular distinction
Academic achievement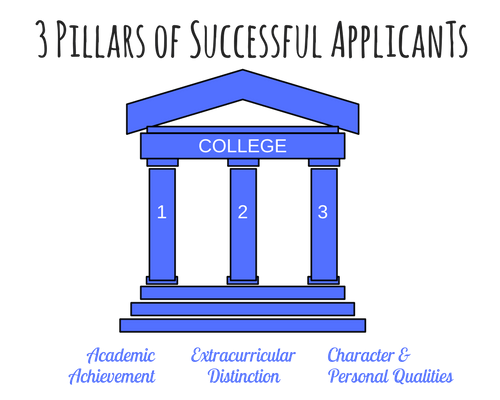 Admissions officers have a lot at their disposal when it comes to assessing extracurricular distinction and academic achievement. They've got transcripts, test scores, resumes, and letters of recommendation.
But how do they assess character and personal values?
A recent survey of admissions officers revealed some interesting answers to this question.
Source: National Association for College Admissions Counseling
Notice how an overwhelming 87% of officers surveyed reported that they infer character and personal qualities of an applicant from the content of the college essay!
The Common Data Set for individual colleges further supports this notion that officers infer character and values through the college essay, teacher recommendations, and other application components. The CDS for Cornell, for example, reveals that the application essay and character/personal qualities are "very important" in admission decisions.
What's more, the COVID-19 pandemic profoundly altered the college application landscape by introducing some serious inequity in the realm of extracurricular activities, academics, and general access.
Many admissions officers have stressed their focus on character and personal values (more qualitative components) in recent admissions cycles as a result.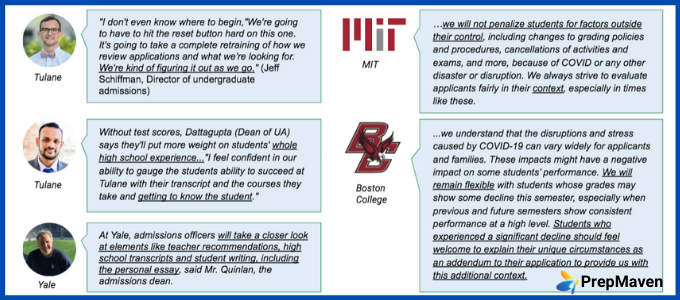 Schools are hungry for as much material as possible that they can use to assess students' character and values! This is one of the reasons why many top colleges require applicants to answer supplemental essay questions — ones in addition to the college essay. These essays can range from 50-650 words, and many colleges have more than one.
For example, Princeton requires applicants to respond to six supplemental essay questions. Here's one of them from the 2022-2023 admissions cycle:
At Princeton, we value diverse perspectives and the ability to have respectful dialogue about difficult issues. Share a time when you had a conversation with a person or a group of people about a difficult topic. What insight did you gain, and how would you incorporate that knowledge into your thinking in the future?
So how important is the college essay in the application process?
Extremely!
Princeton's former Dean of Admissions summed it up nicely with this quote about the college essay in a conversation with the New York Times:
Your ability to write well is critical to our decision because your writing reflects your thinking. No matter what question is asked on a college application, admission officers are looking to see how well you convey your ideas and express yourself in writing. It is our window to your world.
---
The 7 Common Challenges in Writing the College Essay
Now that you know what the college essay is and how it influences college admissions, let's discuss the challenges in writing it. This list isn't comprehensive, but it does compile some of the most common challenges most students face when preparing to write their personal statement.
Challenge #1: The Pressure
The college essay is integral to the college admissions process. It's only likely to carry more weight in coming admission cycles in the wake of COVID-19.
There is immense pressure on students to write essays that will make them competitive in admissions! This essay can also very much feel like uncharted territory for students given their lack of experience in the world of personal writing. This pressure can become a veritable roadblock in writing the college essay.
Challenge #2: What's Introspection?
Successful college essays are deeply personal and full of introspection. We define introspection as reflection on what's important in your life — values, beliefs, opinions, experiences, etc. It also can have a lot to do with what makes you you.
To some students, introspection might come naturally. To others, it might not! This is understandable. The high school classroom doesn't necessarily give space for students to reflect on what they've learned from certain experiences or what they believe are their core values. However, this is exactly what admissions officers are looking for in essays!
Challenge #3: You Just Don't Write Personal Essays in School
Most English classes spend a lot of time on the academic essay. But most don't include many units on writing personal essays or creative nonfiction–if any!
Many students writing the college essay thus face an entirely unfamiliar genre that comes with its own word limit, structure, and style of writing.
Challenge #4: The Word Limit
Both the Common App and Coalition require students to limit their essays to 650 words. That's a little over a page of writing, single-spaced.
This means that students have to be incredibly concise in crafting their responses. This can be a tall order given what the college essay often includes: big ideas, big themes, and big reflection!
Challenge #5: Choosing a Topic
Given the college essay's requirements, it can be tough to choose the "right" topic. Should you discuss an extracurricular activity? Personal experience? An important mentorship figure?
Some students have a wide variety of experiences and personal stories to choose from. Others might feel that they have a limited number.
Challenge #6: Choosing a Structure
Let's say that you've chosen your college essay topic. Now how do you fit it into a concise structure that gives ample air space to what college admissions officers are looking for?
Choosing a structure can be critical for telling your specific story in a compelling fashion. But once again, this is unfamiliar terrain for most students who haven't really written a personal essay before.
And when we say that structure really is critical for college essay writing, we mean it–we've written an entire post on college essay structure.
Challenge #7: Getting Started
Last but not least, it can be incredibly difficult simply to start the college essay writing process. From choosing a topic to writing that first draft, there's a lot to navigate. Many students also have a lot going on in general when they get around to writing their essays, including AP exams, summer programs, and the chaos of senior fall schedules.
If this sounds like where you're at in the college essay writing journey, keep reading. We've got 6 tips coming up to help you take those first steps.
---
How To Write an Amazing College Essay – 6 Tips
You've learned what a college essay is and the weight it carries in college admissions. You've also heard a bit about what makes this essay challenging. Now what?
It's time to get started writing your very own.
The following tips are designed to help you begin the journey towards an amazing college essay, regardless of your story, college aspirations, or timeline. Let's dive in.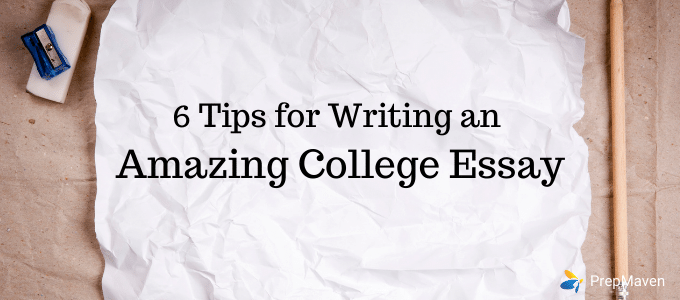 Tip #1: Give Yourself Time & Get Organized
Good college essays take time, and we mean time. We recommend that students establish a generous timeline for writing their personal statements. Ideally, students should start thinking about their essays seriously in the spring of their junior year or summer immediately following.
It's also important to get organized. Create separate documents for brainstorming and free-writes, for example, and clearly mark your drafts based on where you're at in the writing process.
We also recommend researching supplemental essay prompts for the colleges on your list and keeping track of these–including deadlines and word limits–in a spreadsheet. This is especially important for students applying early.
Tip #2: Practice Introspection
You can start flexing your introspective muscles before writing your essay! Practice journaling, for example, or responding to daily reflective prompts like the following:
What is your greatest strength? Weakness?
What is one of your core beliefs? Why is it core?
What is your best quality?
What matters to you? Why?
What challenges you? Why?
The New York Times has even released 1,000 free writing prompts for students that range from identity and family to social life and technology.
With introspection, focus on using "I" as much as possible. This can feel awkward, especially as most English teachers encourage students to avoid using "I" in academic essays. But it's the key to deep reflection.
You can also check out our post on College Essay Brainstorming or download 30 FREE college essay brainstorming questions right here.
Tip #3: Familiarize Yourself with Personal Writing & Storytelling
Immerse yourself in examples of powerful personal writing and storytelling. A great place to start is by downloading our 30 examples of college essays that earned students Ivy League acceptance or checking out our 11 College Essays That Worked post.
Otherwise, check out memoirs or creative essay collections.
The Moth, a storytelling radio project, is another great resource for students looking to learn more about how people tell personal stories in an engaging fashion. Plus, it's just plain fun to listen to!
Tip #4: Know What Makes for An Amazing Essay
What qualities do most successful college essays have?
We've done the research. A successful college essay is often:
Introspective and reflective
Full of a student's voice
Descriptive and engaging
Honest
Unconventional and distinct
Well-written
Meaningful
We take a deeper dive into these 7 qualities of a successful college essay in a separate post.
Tip #5: Review Supplemental Essay Questions
Don't forget about supplemental essay questions! It's easy to overlook these or assume that they are less important than the college essay.
But remember–many colleges require supplemental essays as a means of gaining more information about competitive applicants. The Common App and Coalition also now have optional COVID-19 essay questions (learn our tips for answering these COVID-related questions here).
Don't save your supplemental essays for the last minute! Review questions well in advance through the Common App or Coalition platform so that you are aware of the other responses you'll have to write.
We've actually compiled the supplemental essay questions for the top 50 U.S. colleges and universities right here.
You can also check out our 8 tips for writing amazing supplemental essay responses.
Tip #6: Work with a Mentor
Yes, it is possible to write your college essay, personal as it is, under the right one-on-one guidance. Mentors can help you with all stages of the college essay writing process, from topic brainstorms to final draft polishing.
They can also help create an actionable timeline for tackling both the college essay and all of those supplements, and hold students accountable!
You can sign up to work with one of PrepMaven's master essay consultants if you'd like. Or check out our summer College Essay Workshops.
---
Download 30 College Essays That Worked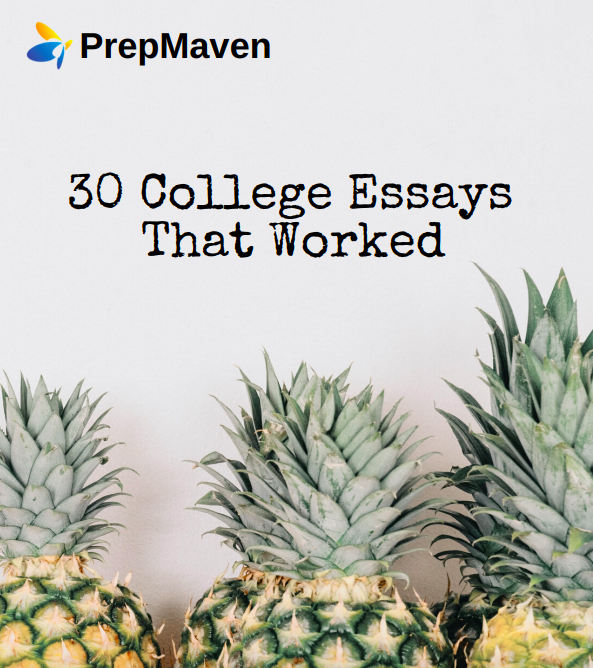 One of the best ways to start the college essay writing process is to look at examples of successful essays. But these examples can be hard to find, and few and far between.
That's why we compiled 30 college essays that earned their writers acceptance into Ivy League schools. You can download these examples for FREE below.
---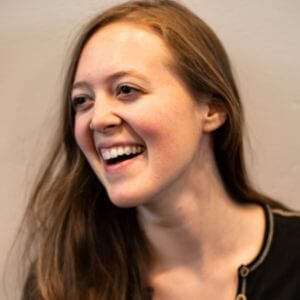 Kate
Kate is a graduate of Princeton University. Over the last decade, Kate has successfully mentored hundreds of students in all aspects of the college admissions process, including the SAT, ACT, and college application essay.