How I Got Into Princeton – Story #15
Elizabeth's Story
"I genuinely like learning because I was raised to value intelligence and hard work. I also thrive in competitive learning environments."
Meet Elizabeth*, a member of Princeton's class of 2020. (*Name has been changed)
In high school, Elizabeth furthered her passions for art and field hockey, volunteered for Relay For Life, and became an Illinois State Scholar and National Merit Semifinalist. She also traveled widely before and during high school.
"Most of my pressure to succeed came from myself," says Elizabeth. "I enjoyed seeing my efforts pay off, regardless of whether it pleased my parents and teachers."
Elizabeth additionally attributes her success to her time management skills, commitment to mental well-being, and academic independence.
Please read below to learn more about Elizabeth and the personal qualities, values, and support system that have allowed her to succeed.
We recommend reading from beginning to end but feel free to skip around. Our favorite section is the "What Makes You You" section, where Elizabeth discusses the impact of family and travel.
About this Series

In our "How I got Into" series, we share the stories of successful applicants to Princeton and other great colleges.
Our profiles go beyond a simple list of academic and extracurricular achievements. We also delve into the "how" and the qualities that successful applicants exhibit.
We provide a rare look into what drives these students, how they've overcome their challenges, how they've been shaped by significant events in their lives, how they deal with the pressure to succeed, and much more.
TABLE OF CONTENTS:
SECTION 1 – FAMILY
SECTION 2 – SCHOOLING
SECTION 3 – ACTIVITIES
SECTION 4 – ACADEMICS
SECTION 5 – THE COLLEGE APPLICATION
SECTION 6 – DAY IN THE LIFE
SECTION 7 – WHAT MAKES YOU YOU
SECTION 8 – CONCLUSION
Disclaimer
Here's what we're NOT doing with this series:
We are NOT prescribing an over-engineered approach to college admissions
We are NOT presenting a blueprint for how you should get into college
We are NOT suggesting that you must gain admissions to a selective school to be successful (you most certainly do not)
Here's what we ARE doing:
We are presenting data and sharing stories
We are providing context that you usually don't see to highlight that we are more than just our grades and GPA
Our

ultimate goal

is to uncover the values and personal qualities that drive successful applicants
Whether you are considering selective colleges or not, it is our unwavering belief that our values and personal qualities (and luck) are the major contributors to success.
---
SECTION 1 – FAMILY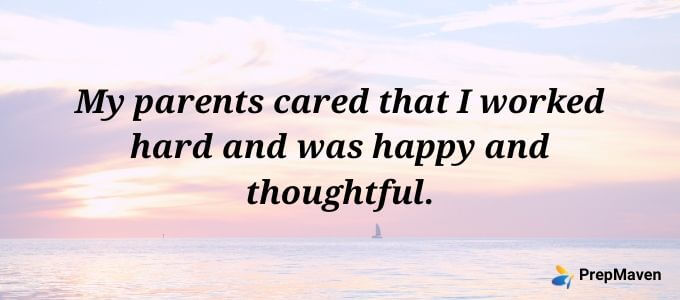 Geography
| | |
| --- | --- |
| Birthplace: | Evanston, IL |
| Where did you grow up? | Lincolnshire, IL |
Siblings
| | |
| --- | --- |
| # of older siblings:  | 1 |
| # of younger siblings: | 0 |
| Sibling Education Levels:  | Undergraduate |
| Where did your siblings go to college?  | University of Illinois Urbana Champaign |
Parents
| | |
| --- | --- |
| Parent's Marital Status: | Widowed |
| With whom do you make your permanent home? | Parent 1 |
| Parent 1 Current/Former Occupation: | Hospice Social Worker |
| Parent 1 Highest Level of Education: | Masters |
| Parent 2 Current/Former Occupation: | Business Systems Analyst |
| Parent 2 Highest Level of Education: | Bachelor's Degree |
Parent Beliefs
How would you characterize your parents' parenting style(s)?
Strict
On a scale of 1 to 5 (with 5 being the most important), how important to your parents was:
| | |
| --- | --- |
| Academics | 4 |
| Extracurriculars | 3 |
| Service | 4 |
| Family | 5 |
| Friends | 4 |
| Physical Health/ Fitness | 3 |
| Mental Health | 4 |
Did your parents have specific philosophies regarding any of the areas above?
My parents cared mostly that I worked hard and was happy and thoughtful. They encouraged me to succeed academically but they didn't pressure me or get involved in my academics.
---
SECTION 2 – SCHOOLING

Middle School
| | |
| --- | --- |
| Middle School: | Woodlawn Middle School |
| Type of School: | Public |
High School
---
SECTION 3 – ACTIVITIES
Jobs
| | |
| --- | --- |
| Did you work in high school?  | Yes |
| What kind of job/s did you have? | Tutor |
| Average hours/week worked? | 10 |
| Why did you work? | To save money and for my resume |
Extracurriculars/Passions & Interests
What were your major passions/ interests in high school?
Art, Field Hockey

How much time did you spend on these things?
10 hours/week on art, 20 hours/week on field hockey
When did these passions/interests first come about?
I started doing art when I was very young. I started field hockey the summer before high school.

How were these passions/interests developed over time?
My dad was an artist so he encouraged this hobby and gave me supplies when I was young.

What level of achievement did you reach?
I took AP Art. I had my artwork featured in my school's literary magazine and school art shows. This gave me experience in showcasing my work, with which I have continued to have success in college. I also created a large art portfolio that I submitted as a supplement to my Princeton application.
I was captain of the JV field hockey team.

Tell us a little bit about how you achieved these achievements?
I put in a lot of time and demonstrated strong leadership skills. By choosing activities I genuinely enjoyed, my passion showed through to others. Because of my passion for field hockey, I consistently dedicated my time and energy to each practice and game. This dedication was expressed through my enthusiasm and leadership, and I was voted by my peers to be captain of the field hockey team. Likewise, the enjoyment I got from art pushed me to create a large breadth of artwork from which I could assemble a portfolio of pieces that showcased my skills and personality.

What kind of support did you have?
My parents bought me equipment/supplies and drove me to practices, games, and other events before I got my license.
What kind of sacrifices/challenges did you overcome to achieve these extracurricular results?
It was challenging to balance sports and art with work, homework, and many responsibilities at home.

Service
What were your major service-related activities?
Relay For Life and National Honor Society

How much time did you spend?
5 hours/week on service
Why did you choose this activity?
I have had close family members affected by cancer so it was a personal cause to me. It was a rewarding way to spend my time because I could see my efforts pay off in a tangible way (i.e., through fundraising and event planning).
Summers
What did you do in the summers during high school?
I traveled to Morocco and played field hockey in the summer league after 9th grade. After 10th grade, I was involved with Save-A-Pet as a volunteer, participated in Field Hockey League and a STEM Careers Summer School course, and worked as a tutor. During the summer after 11th grade, I had a Northwestern University Applied Physics Internship and a tutoring job.
---
SECTION 4 – ACADEMICS

Grades/GPA/Awards
| | |
| --- | --- |
| Class Ranking: | n/a |
| GPA – Weighted: | 4.0 |
| GPA – Unweighted | 4.79 |
SAT/ACT
| | |
| --- | --- |
| How many times did you take the SAT? | 1 |
| How many times did you take the ACT? | 2 |
| What were your SAT and/or ACT scores? | 2330, 36 |
| Did you take a class or receive private tutoring? | No |
| How many hours did you study in total? | 5 |
| When did you start preparing for the test? | End of sophomore year |
| When did you take the test? | Summer after sophomore year |
Do you know which test to take? Check out our recommendations here – Should I Take the SAT or the ACT?
Not sure WHEN to take the test? We created 9 Sample Testing Schedules to help get you started
SAT Subject Tests & AP/IBs
Which SAT Subject tests did you take? 
Physics: 800, Math II: 760
Which AP/IBs did you take?
Euro 5, Physics 5, Physics C Mechanics 5, Physics C E&M 5, Calculus BC 5, US History 5, Macroeconomics 5, Spanish Language and Culture 5, Junior English 5, Biology 3, Chemistry 3, Themes 5, Statistics 5, US Government 5, Microeconomics 4, Art 5
What were your major academic achievements in high school?
Illinois State Scholar, National Merit Semifinalist, Presidential Scholar Candidate
What do you attribute your academic success to?
I attribute it to having a lot of practice in test-taking from an early age. Reading was also helpful with respect to developing academic success and focus.
What kind of support did you have?
My school had peer tutors available and teachers had office hours before class for assistance.
Did you ever receive private tutoring?
No.
What kind of sacrifices/challenges did you overcome to achieve these academic results?
In my junior and senior years, I struggled with stress and lack of sleep. I overcame this by lessening the pressure I put on myself and seeking help from academic resources.

Any specific approaches/tips & tricks to studying that were particularly helpful for you?
I found that having a busy schedule improved my time management. I also did all my studying at a reasonable hour and slept early.
---
SECTION 5 – THE COLLEGE APPLICATION

Applications & Acceptances
| | |
| --- | --- |
| Did you apply as an international or domestic student? | Domestic |
| Did you apply regular or early? | Early |
| How many schools did you apply to? | ~16 |
| Were you a legacy applicant at any of these schools? | No |
| Were you recruited for athletics, arts, music, etc…? | No |
| Did you declare a major? Did this end up being your actual major? | Yes / No |
Which schools did you apply to (that you remember)?
Princeton, Duke, Northwestern, Cornell, University of Virginia, University of North Carolina, Harvard, UPenn, MIT, University of Pennsylvania (Engineering School), Columbia, Yale, Stanford, Berkeley.
Which schools did you get into?
Princeton, MIT, University of Maryland, Stern College for Women, Queens College, and City College
Letters of Recommendations
Who did you ask for letters of recommendation?
Math teacher, Physics teacher, English teacher
Why did you ask these specific people?
They knew me the best and I got along well with them. I only asked my English teacher because MIT asked for a breadth of subjects.
Common App Essay
What did you write about in your common app essay?
I wrote about hot sauce and connected it to my personality/experiences.
Why Princeton
Why did you choose Princeton?
I have family in the area, and Princeton is known for its financial aid program, sciences, and liberal arts.
Gap Year
Did you take a gap year?
No.
Curious about what happens after you submit your college application? Check out our in-depth guide – How Colleges Read Your Application: A 4 Step Process
---
SECTION 6 – DAY IN THE LIFE

Typical Day
What was a typical weekday like in your junior year of high school?
I went to school, attended field hockey practice, ate dinner, worked on homework until 8, watched TV with my family, finished my homework, then went to bed.
On average, how many hours of HW and studying did you do every night?
3 hours max.
What time did you usually go to sleep?
10-11pm
What was a typical weekend like in high school?
I worked for three hours Saturday mornings, did most of my homework in the afternoon, and spent time with family/friends. Sundays: I helped with chores, finished homework, did art, and relaxed.
---
SECTION 7 – WHAT MAKES YOU YOU

Drive/Motivation
What drove you to succeed in high school? Where did this drive come from?
I was very motivated to go to an elite college because I knew it would provide me with the best financial aid and I didn't want my parents to struggle to pay for my education. I also genuinely liked learning because I was raised to value intelligence and hard work. I also thrived in competitive learning environments.
Pressure/Stress/Expectations
What kind of expectations did your parents have for you?
They expected me to work hard and also to have fun and spend time with family and friends. They expected me to have a good balance.
What kind of pressure did you feel to succeed? Where did this pressure come from?
Most of my pressure to succeed came from myself. My parents didn't pressure me but they gave me positive feedback when I succeeded academically and they encouraged me to be intellectual. I internalized this positive reinforcement and found that I enjoyed seeing my efforts pay off, regardless of whether it pleased my parents and teachers. I think because a lot of my identity revolved around my academic success, I felt pressure to maintain these standards and not let myself down.
How did you deal with this pressure?
I tried to not be too hard on myself and not get let down when I failed, so the pressure was never harmful.
Balance
How did you balance everything going on in high school?
Time management and organization.
Any strategies, tips, tools, types of support that helped you?
Keep an organized calendar/to do list. Seek help from tutors and teachers. Schedule time to relax and decompress. I would sleep by midnight even if my homework wasn't completed so I could be well-rested at school.
Significant Events
Any major events growing up that helped shape your high school self?
I had opportunities to travel with my uncle to many continents by the time I left high school. Through having the opportunity to travel to places like India, Morocco, and Europe before reaching high school, I entered high school with a broad worldview and a greater appreciation for subjects like world history and European history. I also learned a lot about myself and that I wanted to pursue a future career that involves travel and working abroad. These were very formative and educational experiences.
Other Challenges/Struggles
Any other struggles/challenges (that we didn't discuss so far) that you faced in high school? While growing up?
No

Culture/Identity
| | |
| --- | --- |
| How do you identify yourself? | White |
| Which languages does your family speak at home? | English |
| How many languages are you proficient in? | 2: English and Spanish |
| Do you identify with multiple cultures? | Yes, Irish and American |
How has your culture or identity influenced you during your middle school or high school years?
It has shaped my values, religion, outlook, etc.
Character/Personal Qualities
What values were most important to you in high school?
Independence, family, integrity, organization.
What was your #1 core value?
Independence.
How did you demonstrate those values in high school?
By taking control of my own activities and academics, not depending on my parents for help with managing my life.
What do you consider your most important personal qualities?
I am thoughtful, independent, resilient, and caring.
How would you characterize your personality growing up?
I was reserved, studious, focused, kind, mature, and creative.
Uniqueness
Was there anything special or different about your family when you were growing up that helped shape who you were in high school?
My dad was physically disabled and my mom worked full-time so I was forced to be very independent from a young age. I think this independence translated into my being very academically independent. My parents were also quite old fashioned. I never had video games and I didn't get a cell phone until high school. I think this made me more well-read, social, and active than I would have been otherwise.
What do you think makes you unique?
My maturity and life experiences.
Influences/Mentors/Support
Did you have any major influences growing up? If so, who/what were your they?
My parents were very influential. We ate dinner together every night and discussed academics/books/world events.
If you had a question or needed some advice, who would you go to?
My parents or my older sister.
---
SECTION 8 – CONCLUSION

Important Lessons
Most important lessons that you learned or were taught while growing up?
I was taught to be independent, responsible, and generous.
Advice
Any advice you would give to your high school self?
Take some more time to think about what you genuinely enjoy, not just what you're good at. Pursue your hobbies earlier so they have more time to develop. Figure out how you can turn these interests into a course of study/career.
---
NEXT STEPS
Check out our first profile and learn about Erica's journey.
Like what you read? Subscribe to our mailing list, and we'll let you know when we release similar articles and other in-depth guides. Please also share using the buttons on the side.
At PrepMaven, our mission is not only to help your child increase their test scores and get into a great college but also to put them on the right track for long-term personal and professional success.
---
Greg & Kevin
Greg and Kevin are brothers and the co-founders of PrepMaven and Princeton Tutoring. They are Princeton engineering graduates with over 20 years of education experience. They apply their data and research-backed problem-solving skills to the test prep and college preparation process. Their unique approach places a heavy emphasis on personal development, character, and service as key components of college admissions success.
---
CHECK OUT THESE RELATED POSTS