How to Write a College Essay That Stands Out in 10 Steps
Bonus Material: 30 College Essays That Worked
The college essay is your opportunity to show colleges who you are outside of your grades, resume, and test scores.
In a post COVID-19 college application world, the college essay is only likely to become more important!
There's a lot of pressure to get this part of your application right! So how do you go about writing a stand-out college essay?
We've helped students navigate all aspects of college admissions for 20+ years, so we've learned a fair number of things about the college essay. We've seen the common challenges students face in writing the essay and discovered fail proof ways to overcome these.
Every college essay writing journey is individual, because your story is individual. But following these steps can help you get closer to a stand-out college essay in an organized fashion.
You can also get a head start on the process by downloading 30 College Essays That Worked–you'll get access to 30 personal statements that earned their writers acceptance into Ivy League schools.
Here's what we cover in this post:
---
How to Write a College Essay That Works in 10 Steps
Step #1: Know What You're Up Against
What is the college essay? We've written an entire post that answers this question. Why? The college essay is very different from essays most high school students are accustomed to writing in class.
We define the college essay as a deeply personal essay, written in 650 words or fewer, that gives readers insight into your character, perspectives, identity, values, and/or worldview.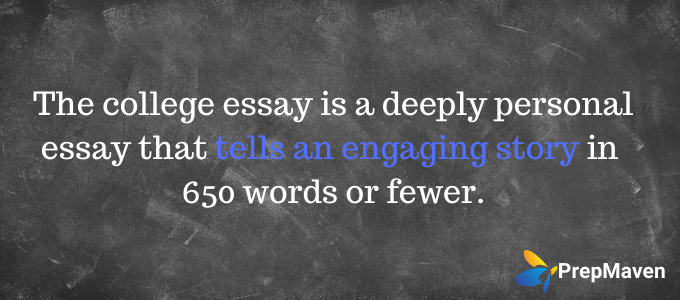 This type of essay is very challenging to write for the following reasons:
Word count
Unfamiliar genre
The weight it carries in admissions
Its requirements for introspection
That's why we recommend that students check out examples of essays that worked–personal statements that earned writers acceptance into top-tier schools. You can download 30 of these essays right now, for free!
Step #2: Establish Your Timeline
One thing students often underestimate is how much time it takes to write a college essay. It takes even more time to write a stand-out one.
So when should you actually start thinking about your college essay? How long does it take to write an excellent one?
We recommend that students allot as much time as possible for the college essay writing process. This typically means starting towards the end of junior year and definitely at the start of senior summer.
If you're applying early to any school on your list, this is particularly important. That November 1st deadline can sneak up very quickly, especially if you have a full senior fall schedule in the mix! Many schools also require students to respond to supplemental essay prompts, which require additional effort.
The good news is that some English teachers have students start drafting personal statements as assignments during their junior year (typically spring). If your teacher does this, don't miss out on this opportunity to work on your essay in class, and receive valuable feedback from your peers!
When building your timeline, make sure to think about the following things:
Application deadlines (are you applying early? Regular? Both?)
Supplemental essay requirements (

find the prompts for the top 50 U.S. schools here

)
ACT/SAT testing (determine

when you'll be testing, and how many times

)
Other application requirements (like portfolios, resumes, etc.)
The college essay is not something that can be rushed, so plan for it early!
Step #3: Gather Your Materials
There are a few things we recommend students gather before they start brainstorming.
College essay prompts
Examples of essays that have worked
Any drafts you've already written, if applicable
College list
Application deadlines
Writing system
We've put together the college essay prompts for 2021-2022 for both the Common App and Coalition here:
College Essay Prompts 2021-2022
| | |
| --- | --- |
| The Common App | Coalition |
| Some students have a background, identity, interest, or talent that is so meaningful they believe their application would be incomplete without it. If this sounds like you, then please share your story. | Tell a story from your life, describing an experience that either demonstrates your character or helped to shape it. |
| The lessons we take from obstacles we encounter can be fundamental to later success. Recount a time when you faced a challenge, setback, or failure. How did it affect you, and what did you learn from the experience? | Describe a time when you made a meaningful contribution to others in which the greater good was your focus. Discuss the challenges and rewards of making your contribution. |
| Reflect on a time when you questioned or challenged a belief or idea. What prompted your thinking? What was the outcome? | Has there been a time when you've had a long-cherished or accepted belief challenged? How did you respond? How did the challenge affect your beliefs? |
| Reflect on something that someone has done for you that has made you happy or thankful in a surprising way. How has this gratitude affected or motivated you? | What is the hardest part of being a student now? What's the best part? What advice would you give a younger sibling or friend (assuming they would listen to you)? |
| Discuss an accomplishment, event, or realization that sparked a period of personal growth and a new understanding of yourself or others. | Submit an essay on the topic of your choice. |
| Describe a topic, idea, or concept you find so engaging that it makes you lose all track of time. Why does it captivate you? What or who do you turn to when you want to learn more? | |
| Share an essay on any topic of your choice. It can be one you've already written, one that responds to a different prompt, or one of your own design. | |
You can also download 30 examples of college essays that worked right now. This is a great resource for any student curious about the full range of possibilities out there when crafting personal statements.
Some high school English teachers give their students opportunities to write college essay drafts in class. This material is important, even if you end up taking an entirely different direction with your essay! Bring it to the brainstorming table.
We also encourage students to have a rough idea of the colleges they're applying to before writing their essays, as well as their anticipated application deadlines. This is critical for building a timeline and planning for any supplemental essays.
Lastly, choose a writing system that works for you and gets you organized. Some students use a series of unique Google Docs, for example, when brainstorming, free-writing, and drafting. Others might prefer handwriting when brainstorming or recording voice memos of stream-of-consciousness reflection. Whatever works for you!
Step #4: Brainstorming Time
You know what you're up against. You've established your timeline and assembled your materials. Now it's time to brainstorm!
This might feel like a challenging step to execute, which is why we've written an entire post on brainstorming for the college essay.
After checking that out, ask yourself these 30 questions. For each of these, write as much as possible. It doesn't have to be perfect. It can be in shorthand and incomplete sentences–as long as you write down everything you know in response to each question.
In some cases, you'll find that one question makes you think of another question or idea of your own. Great! Write those down as well.
We also encourage students to think about their responses in terms of introspection. See how much you can use the pronoun "I" in your brainstorming! Think about emotions, lessons learned, beliefs, perspectives, etc.
Step #5: Choose Your Topic
At this point, you should have a lot of material in front of you. Now what? How do you parse through all of those experiences and introspective thoughts and choose the right topic for your college essay?
Once again, we've written a post on choosing the right college essay topic. Check out those 6 steps now.
If you're short on time, though, here are the nutshell facts of that post:
The "right" essay topic is the one most likely to result in a piece that will add significant value to your application, among other things.
It's also likely to be exciting to you personally and have a lot of storytelling potential.
The "right" essay topic will set you up to write a successful college essay, one that is meaningful, engaging, introspective, and distinct.
Remember: Hold on to all of that brainstorming material after you've chosen your topic. You'll want it on hand for answering supplemental essay questions!
Step #6: Free-Write
After choosing your college essay topic, it's time to pull as much material out of that topic as possible! Spend some serious time free-writing–writing down everything that you know about that topic.
For example, let's say that your topic is your enthusiasm for collecting rocks. A free-write for this one might list out all the types of rocks in your collection, their visual descriptions, and their personal associations. It might also include specific stories and anecdotes related to this collection, what you feel your collection says about you, and a timeline of your collection.
This free-write doesn't have to be perfect! It can consist of the same shorthand and scribbles from your brainstorms. The key part is to have it down on paper.
Step #7: Choose Your Structure and Build an Outline
Now that you have your free-writes in front of you, it's time to shape them into an outline that tells a story.
Remember: your job as a college essay writer is to tell a specific story in an engaging fashion (and 650 words or fewer).
There are many ways to structure your college essay. The important thing is to give the right amount of airtime to the important parts of your story!
How do you do that? We've analyzed countless essays of successful applicants and come up with 5 winning college essay structures designed to tell a story in a concise, engaging fashion–and give you ample room to include those juicy introspective details admissions officers really love.
Choose one of these structures and build a rough outline of your essay, relying heavily on your free-writes. Feel free to go through several rounds of your outline, because organization is key to a successful essay.
Step #8: Draft, Draft, Draft
The first draft you write is likely to be the first of many! Go into it with this mindset, and don't be shy about making it a very rough draft.
How many drafts can you expect to write of your college essay?
The answer to this question depends. We've worked with students who have drafted anywhere from five to twenty college essay drafts (and that's a very approximate number).
It all hinges on what you've brainstormed, the topic you've chosen, your timeline, and your familiarity with the genre of creative personal essay writing–among other things!
A great way to assess individual drafts for further revision is to hold them up to the 7 qualities of a successful essay. Is your draft:
Full of your voice?
Honest?
Introspective and reflective?
Descriptive and engaging?
Distinct?
Well-written?
Meaningful?
It's also to think about word count when you're drafting. Many students end up needing to cut extra verbiage between drafts to fit their essays into that 650-word limit. The good news is that you can use the 7 qualities above to help with this, too!
Step #9: Polish and Selectively Crowdsource
Once you're close to a final draft of your college essay, it's time to apply some serious polish. Now is a great time to ensure that your essay is free of grammatical errors, for example, and that it expresses exactly what you wish to express.
We put together 9 tips to quickly improve your college essay that can help with this polishing step.
Otherwise, we also encourage students to send final drafts of their essays to specific readers. It's always good to have a pair of eyes on your work at this stage! But we want to stress that you should choose your readers wisely at this stage.
It's important to have readers who aren't emotionally invested in where you end up going to college, such as an English teacher, a mentor, or a guidance counselor. That way they can read your essay objectively and provide feedback on things like grammar, flow, and writing style.
For readers who are emotionally invested, ask them to specifically read your essay for voice. Ask them: How much of me is on the page here? What is powerful to you? What do you want more of?
This is not a time to drastically change your essay. If anything, this crowdsourcing stage should be a validating experience!
Step #10: Supplemental Essays
You've finalized your college essay–congratulations! But you might not be completely finished with essays for your college application. Don't forget that many colleges, especially more selective ones, now require applicants to submit additional essay responses.
These can range from 50-650 word essays, and some colleges have more than one. Princeton, for example, has six. Here's an example:
At Princeton, we value diverse perspectives and the ability to have respectful dialogue about difficult issues. Share a time when you had a conversation with a person or a group of people about a difficult topic. What insight did you gain, and how would you incorporate that knowledge into your thinking in the future? (250 words)
We encouraged you to think about supplementals in step #2, establishing your timeline, so hopefully by the time you get to this step they won't come as a surprise!
You can find 8 great tips for writing stellar supplemental essays here.
How Do I Know if I Need College Essay Help?
You don't have to navigate the college essay journey alone! It is possible to work with a mentor throughout all stages of the writing process, from brainstorming to polishing.
How do you know if you need college essay help?
We recommend that students work with a mentor if any of the following scenarios apply:
Creative writing is difficult for you or just doesn't come naturally
You struggle to stay on task or follow a specific timeline
You're applying to colleges with a lot of supplemental essays
You really need help choosing the "right" college essay topic
You want to write a statement that has the

7 qualities of a successful college essay
At PrepMaven, we offer a Summer College Essay Workshop and one-on-one college essay help to help you write an amazing essay on an efficient timeline.
Download 30 College Essays That Worked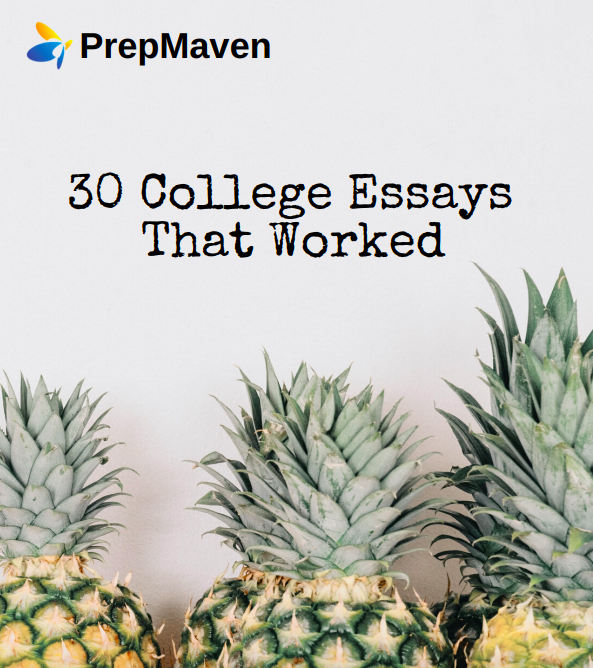 One of the best places to start when writing your college essay is to check out examples of essays that worked! These can be hard to find on the internet, and colleges aren't always forthcoming about releasing them.
That's why we assembled 30 college essays that earned their writers acceptance into top-tier U.S. colleges and universities, including Princeton.
You can grab these for free right now.
---
Greg & Kevin
Greg and Kevin are brothers and the co-founders of PrepMaven and Princeton Tutoring. They are Princeton engineering graduates with over 20 years of education experience. They apply their data and research-backed problem-solving skills to the test prep and college preparation process. Their unique approach places a heavy emphasis on personal development, character, and service as key components of college admissions success.
---