SAT Testing Accommodations: A Guide
1 in 5 children in the U.S. have learning and attention challenges. Such challenges include ADHD, dyslexia, dysgraphia, processing deficits, and others.
Such learning and attention challenges can be hard enough in a general education classroom! Many educators simply do not have the resources necessary to support students navigating learning challenges.
When it comes to college admissions, students face a potentially greater challenge: standardized testing.
With tests like the SAT and ACT, students are expected to work through a large amount of material in a short amount of time. For students with learning challenges, this can feel virtually impossible–even if they are well-versed in content and strategies.
The good news is that students with learning challenges and/or documented disabilities may be able to qualify for SAT testing accommodations, which can enable extended time, online testing, and more.
Going about acquiring SAT testing accommodations can be a complex process. The College Board requires specific documentation, and there are lots of nuances to the process that most parents are simply unaware of.
We get asked about testing accommodations all the time as test prep experts, and we're here to give you everything you need to understand and pursue SAT accommodations.
Here's what we cover in this post:
---
What are SAT Testing Accommodations?
The SAT is a marathon of a standardized test, requiring test-takers to work through the following five sections in just under four hours, with only 15 minutes of "breaks:"
Evidence-Based Reading (52 questions, 65 minutes)

Writing & Language (44 questions, 35 minutes)

Math, No-Calculator (20 questions, 25 minutes)

Math, Calculator (38 questions, 55 minutes)

Essay, optional

(1 question, 50 minutes)
For students with learning challenges, it can be incredibly difficult to get through each of these sections in the time and minimal breaks allotted. 
The generic paper-and-pencil format of the SAT may also be an obstacle for students with sight impairment and/or other disabilities.
To ensure that such students are not at a disadvantage when taking the test, the SAT offers testing accommodations. These may include extended time, for example, or extra breaks, as well as accommodations for seeing and reading.
Here's what the College Board says, in general, about SAT accommodations:
"The College Board is committed to making sure that students with disabilities can take tests with the accommodations they need. All reasonable requests are considered."
Accommodations apply to any test the College Board publishes, including the SAT, AP exams, SAT subject tests, PSAT 10, and PSAT/NMSQT.
---
Is My Student Eligible for Accommodations?
Students must meet the College Board's eligibility requirements in order to apply for (and ultimately receive) testing accommodations.
According to the College Board,
"Some students with documented disabilities are eligible for accommodations on College Board exams. Students cannot take the SAT, SAT Subject Tests, PSAT/NMSQT, PSAT 10, or AP Exams with accommodations unless their request for accommodations has been approved by Services for Students with Disabilities (SSD)."
The College Board boils this eligibility down to four criteria:
Applicants must have a documented disability

Participation in a College Board exam is impacted

Students need the requested accommodation

Applicants receive accommodation on school tests
"Applicants must have a documented disability"
This is probably the most important eligibility requirement for College Board testing accommodations. Without documentation, students will not be approved for accommodations.
While the type of documentation depends on the specific disability, examples include a medical report or psychoeducational evaluation.
We'll talk more about documentation later on in this post. (Jump there now.)
"Participation in a College Board exam is impacted"
Basically, this requirement means that a student's disability limits "functionality" on some or all aspects of a College Board exam. 
A student may not be able to sit for an extended period of time, for example, or may have trouble reading small-print exam material. Medical issues may require a student to take breaks as needed during a standardized test.
"The student needs the requested accommodation"
Applicants have to show that they actually need (and could benefit from) testing accommodations. Again, this is where documentation comes into the picture.
"The student receives accommodation on school tests"
Most test-takers approved for College Board accommodations already get accommodations on exams in high school. 
But, just because you receive accommodations on school exams does not immediately qualify you for CB accommodations. You'll still have to provide adequate documentation to support your need and go through the College Board's request and approval process.
---
Types of SAT Testing Accommodations
What kinds of testing accommodations are available to students? 
These are the most common:
Extended time (time and a half, double-time, or more time)

Extended breaks and/or extra breaks (breaks between test sections, breaks as needed)

Using the computer for the SAT essay component

Reading and seeing accommodations (such as Braille or large-print text)

Four-function calculator

(for use on non-calculator sections)
However, the College Board makes clear that this list is not finite. It's willing to provide any accommodation according to documented need.
Keep in mind that accommodations don't necessarily apply to all sections of the SAT. 
Students must demonstrate a need for individual and/or all sections (Reading, Writing/Language, Math, Essay) to receive full test accommodations.
If a student earns reading accommodations, however, they earn accommodations on all sections, given that reading is an inherent component of the entire SAT.
---
Documentation Guidelines
Proper documentation is probably the single most important component of requesting SAT testing accommodations!
Be sure to follow the College Board's documentation guidelines carefully, even if you're working with your student's school. 
Basically, this means submitting the appropriate, extensive documentation for the following two things:
The disability itself (diagnoses, evaluations, etc.)
Keep in mind that doctor's notes and/or IEPs don't guarantee testing accommodations. If you don't have an IEP, you can still request accommodations with other documentation (this just requires a formal documentation review).
Here's what documentation is needed for a student with ADHD requesting testing accommodations:
Clearly stated ADHD diagnosis by a licensed professional, with reference to the

Diagnostic and Statistical Manual of Mental Disorders

Current evaluations and testing (i.e., no more than five years old for educational evaluations)

Detailed history of ADHD, through teacher observations, medical reports, etc.

Evaluator's full

report of the diagnosis

Common Diagnostic Test results

Description of functional limitation

Rationale for accommodations

Professional credentials (for all evaluators, etc.)
This likely sounds like a lot! For this reason, working with school coordinators/personnel is essential to ensuring you have the documentation needed to get approved for accommodations (see below).
The College Board has different documentation guidelines for different disabilities. Find the full list here.
---
Requesting SAT Testing Accommodations
Documentation is the hardest part of requesting accommodations. The actual process of submitting a request is relatively straightforward.
1) Work with your school
The College Board strongly encourages families to work with their student's school to request accommodations. Quite simply, it's a lot easier to do so and enables a more streamlined process.
(It is possible to request accommodations on your own. Here's how.)
Parents will work with a school-appointed SSD Online Disability Accommodation Management coordinator, who will submit a request for accommodations (including all viable documentation) using SSD Online.
Please note that parents must sign a parental consent form prior to this process if the student is under 18 years of age.
The College Board notifies the SSD coordinator and the student when a decision is made. If approved for accommodations, you'll receive an eligibility code, which students will need when they register for a College Board test.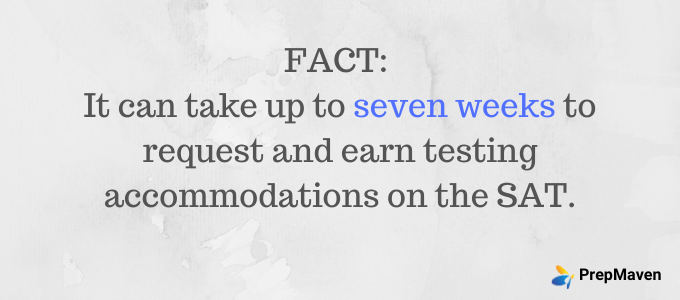 2) Request accommodations as soon as possible
This is a long process–in fact, it can take seven weeks to request and earn accommodations! This is true even if you work with your school to request accommodations.
We strongly encourage families to request testing accommodations as soon as they can, preferably at least three months out from the testing date.
---
Registering for the SAT With Accommodations
If you are approved for testing accommodations, congrats! Now, it's important to register for the SAT with those accommodations.
When approved, students receive a seven-digit SSD Eligibility Code. SSD coordinators also have this code on their online dashboards.
When registering for the SAT online, all you need to do is input this code when prompted. Your SAT admission ticket should also specify this code. (If it does not for any reason, contact SSD online.)
On Test Day, it's essential to bring your SSD Eligibility Letter with you. Depending on the accommodations requested, you'll either take the SAT at your school or a local testing center.
Once approved for SAT testing accommodations, a student enjoys accommodations until one year after they graduate.
Remember: accommodations apply to any College Board test–not just the SAT!
---
What Happens if I'm Not Approved?
If you aren't approved for accommodations, don't worry! You may still have a shot at getting approved.
The College Board will explain its reasoning for rejection in a follow-up letter. Most often, the CB denies students' requests for accommodations because of the following:
Insufficient or non-supportive documentation
"More information is needed"
In some cases, the College Board may partially approve a request. This means that the College Board may grant only some of a student's requested accommodations.
If you need to provide more sufficient documentation, you can resubmit a request with your SSD coordinator. You can also resubmit a request with your coordinator that supplies more information or "appeals" the decision for partial approval.
---
A Counselor Weighs In
We recognize that the process of requesting SAT testing accommodations can be strenuous. So we spoke with Princeton High School counselor, Nipurna Shah, about the components of the process.
What are the best resources available to parents navigating testing accommodations?
Typically to receive accommodations, a student usually has to have either a 504 plan or an IEP.  A 504 is not special education.
What are the common challenges you see in the process of getting accommodations?  
The most common difficulty is documentation that does not identify the specific diagnosis and reason for the diagnosis.
What is your best advice for getting SAT testing accommodations?
Speak to your school personnel as soon as you can. They can support and advise you throughout the process.
---
SAT Testing Accommodations: Final Thoughts
Students with documented learning challenges and/or disabilities can apply for SAT testing accommodations. These can enable a student to sit for the SAT with extended time, extra breaks, and other modifications.
The process of requesting accommodations can be fairly involved, even if you work with your school. For this reason, we strongly encourage our families to start this process as soon as possible!
Accommodations are valid until one year after a student graduates.
As the test prep experts, we are here to assist with your student's journey to a competitive SAT score. Learn more about our SAT programs and services here!
---
Kate
Kate is a graduate of Princeton University. Over the last decade, Kate has successfully mentored hundreds of students in all aspects of the college admissions process, including the SAT, ACT, and college application essay.
---
CHECK OUT THESE RELATED POSTS