4 Essential Social Media Tips for College Applicants
Are you on Tik-Tok or Instagram? Facebook or Snapchat?
Most students will respond to these questions with a resounding "yes."
In 2020, social media platforms continue to be all the rage, especially amongst young people. In 2019, 90% of American adults aged 18-29 used at least one social media site.
These days, sharing our activities and opinions online is simply an everyday part of life.
However, it can be easy to forget that the content you put out into the world can potentially be viewed by anyone — including college admissions officers!
It's also easy to overlook the fact that some social media posts can compromise parts of your college application, including that stellar essay that you've crafted.
We encourage all college applicants to keep these social media tips in mind as they go about preparing their applications.
---
Social Media Posts and College Admissions
Can a college rescind an admissions offer because of questionable social media content?
Yes!
Over the past few years, there have been several instances of students having their acceptance at various colleges rescinded due to content they posted online.
With the benefit of hindsight, the mistakes those students made might seem obvious. Some of them posted racist jokes. Another lied on her college application and then posted details on social media that exposed these lies.
However, in the moment, it may not always be clear to students that they're doing something wrong. Some students may not think that the things they say privately with friends can make their way to a faraway admissions office. The thing is–they actually can.
What College Admissions Officers Look For
Yet do college admissions officers scrutinize Instagram profiles of applicants?
The answer is a bit hazy.
In fact, a decreasing number of colleges say that they look at applicants' social media platforms and activity. A 2018 Kaplan Test Prep survey, for example, found that roughly 25% of college admissions officers review social media profiles, down from 40% in 2015.
However, that still leaves plenty of people who could potentially stumble across a questionable post you wrote, even if it was posted years ago!
After all, college admissions officers aren't just on the hunt for good test scores and standout essays, as we've discussed in the past.
They're also looking for signs of strong character, qualities a school may feel will set a student up for success at their institution and beyond. Social media feeds are a great way to get a sense of those extra little qualities that help officers understand a person, like what they do in their spare time, or what kind of interests they have. 
It can be helpful to think of social media content as a supplementary essay (or two) to a college application. This is how some colleges might actually view this content.
For example, Marilyn Hesser, executive director of admissions at the University of Richmond in Virginia, told Josh Moody of US News and World Report that if something in a college application is unclear, admissions staff will look to social media for clarity on a matter.
This can sound rather intimidating, especially if you are very active on social media.
That's why we've compiled 4 essential social media tips for keeping your platforms spotless as you navigate college admissions.
1. Check out schools' social media policies for current students
Unsure how to approach social media?
You could review the social media policy for current students that your dream university adheres to.
Marilyn Hesser told US News that the University of Richmond considers its code of conduct for enrolled students when weighing social media posts. The University of Richmond expelled a student who had lied on her application about being homeschooled, after her private school noticed her social media posts talking about enrolling at the university even though they had never been asked to send the university her transcripts.
"The (social media) review that happens at Richmond is similar to the review that would happen if a current student did the same thing," Hesser says.
In its social media guidelines, Brown University advises that students be confidential, authentic, and thoughtful when utilizing social media for personal use. "Remember that what you post on your personal page could haunt you professionally," the university cautions its students and staff.
2. Watch out for humor and slang
News flash: Things you find funny may not be viewed the same way outside your friend circle!
For example, perhaps you and your friends frequently insult each other as a friendly form of joking. However, if a parent walking by were to overhear you, they might think you're genuinely bullying each other. 
That's the way you should think of speech on social media. The number of ways someone outside your bubble could misinterpret an in-joke or slang-filled comment is endless.
When posting something, you should consider how your grandmother, or a friend's grandmother, would react if she were to see it. Could it come off sounding rude or offensive? Then reconsider your language.
3. Remember that nothing is truly private
Right now, some of you may be thinking, No problem, I'll keep my edgier humor and off-color comments limited to private accounts and closed chats with friends.
However, even within your friend circle, it's not always safe to assume you're not offending anyone.
Kyle Kashuv, the Parkland shooting survivor who had his acceptance to Harvard University rescinded, was chatting in a Google Doc among friends at school when someone screenshotted his offensive and racist language. Those screenshots eventually made their way to Harvard and media organizations. 
Even a close friend who laughs at your comments when you're hanging out could be secretly upset or disturbed by something you wrote. And, these days, exposing a person's comments to the world is as easy as taking a screenshot.
4. Make social media work for you
Amid all this talk of the pitfalls of social media, don't forget that it can also be a net positive for your application.
Alan Katzman, CEO and founder of Social Assurity, which trains students on how to use social media to their advantage, told US News he advises students to use social media to emphasize skills and interests that might be of value to higher education institutions.
For example, LinkedIn can be used as a digital resume of sorts, displaying extracurricular activities, early work experience, internships, and more. Students who are artistically inclined can use Instagram as a way to present a digital portfolio of their work, which can be essential for college admissions officers.
Don't forget Facebook! This platform is a great way to highlight relevant community service experiences, or even trips abroad. The trick is, naturally, choosing what you want to emphasize on these platforms, which can require a fair bit of self-awareness and social savvy. 
---
Social Media Tips: Next Steps
We love helping our students identify the components of a successful college application. Part of this process involves learning how college admissions officers actually read your application, which we discuss in this post.
It also can be valuable to hear from students who've made it into top colleges, like Princeton University. We encourage all prospective college applicants to spend time reading our How I Got Into Princeton series to learn more about the character traits, experiences, and aspirations that earned these students that coveted acceptance.
And, of course, if you have any questions whatsoever, feel free to contact us!
---
Greg & Kevin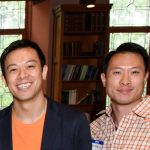 Greg and Kevin are brothers and the co-founders of PrepMaven and Princeton Tutoring. They are Princeton engineering graduates with over 20 years of education experience. They apply their data and research-backed problem-solving skills to the test prep and college preparation process. Their unique approach places a heavy emphasis on personal development, character, and service as key components of college admissions success.