How Important Are SSAT Scores to Private Schools?
Bonus Material: PrepMaven's SSAT Guidebook
Most private school applicants are required to submit SSAT scores as part of their application.
The Secondary School Admission Test (SSAT) is designed to help admissions officers "assess the abilities of students seeking to enroll in an independent school."
U.S. private schools vary widely in their educational philosophies and institutional priorities. For this reason, every school is likely to value standardized test scores differently in the admissions process.
In fact, some do not even require standardized test scores from applicants!
Historically, however, many of the most popular private schools require the SSAT as part of a student's application. What's more, these schools are a bit reticent when it comes to publicly sharing the weight they place on these scores.
If you are seeking admission to one of these schools, you're likely curious about how important those SSAT scores actually are. That's what we discuss in this post! We also give readers access to our free SSAT guidebook, which you can grab below.
In this post, we cover the following:
---
SSAT Scores and Private Schools: The Basics
In a separate post, we discuss several answers to a question many SSAT students ask at the start of their prep: "What is a good SSAT score?"
We emphasize that a "good" SSAT score often depends on so much–the student's educational aspirations, test prep history, content preparedness, and more.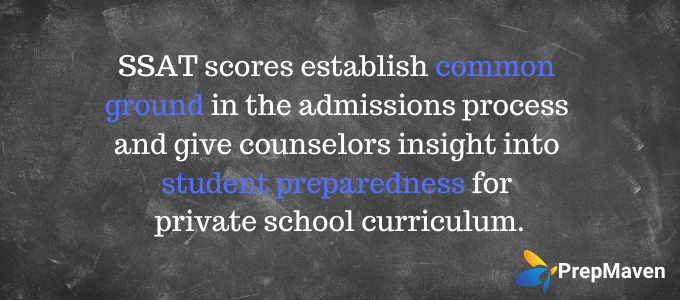 Similarly, SSAT scores' importance to private schools almost always depends on the school in question!
But first, let's talk about why SSAT scores are important in general. Why do schools even need SSAT scores when there are plenty of other records available regarding students' academic performance?
The Common Ground in Private School Admissions
The most valuable role of the SSAT is that it provides a standardized indication of a student's academic level. This provides some level of consistency, as the SSAT itself confirms:
A standardized test is a test that is developed, administered and scored in a consistent (or standard) manner.
Transcripts and teacher recommendations are unique to the school that provides them, and many pre-secondary schools have different grading systems. Some don't give grades at all! So, the SSAT attempts to establish a common ground for comparing applicants' academic aptitudes.
Thus, SSAT scores can be an added factor with which to compare two applicants who might be similar in many other respects.
Are You Prepared for Private School?
The SSAT also provides insight into a student's preparedness for the rigors of secondary school academics. The SSAT tests content and learning strategy, both of which are of interest to admissions counselors for their student body. According to the SSAT itself,
The test measures the basic verbal, math, and reading skills students need for successful performance in independent schools.
As much as you have your heart set on your dream school, you won't have an all too dreamy time if you are struggling academically every step of the way!
The SSAT tells admissions departments whether an applicant has a strong chance of succeeding in their particular educational environment.
We discuss secondary school admission, SSAT test prep, and more in our comprehensive SSAT Guidebook. It's available for free below!
---
Is the SSAT the Most Important Part of My Application?
Most private school applications require students to submit some combination of the following:
Application essay

School interview

Academic transcript

Teacher recommendation letter(s)

SSAT scores
So how significant is the SSAT versus all of these other components?
It can be hard to assess this, especially as many private schools are reluctant to publicly release this information. Yet it's still worth examining school websites and even contacting admissions departments themselves to learn more about SSAT scores.
Here's what a few prominent private schools have to say with respect to the SSAT and admissions, for example:
"The average SSAT score for accepted students has historically been around the 85th percentile. We do not have an SSAT score cut-off, and we recognize that each applicant comes from a different background when it comes to test preparation. We aim to evaluate an entire applicant's profile, with the SSAT being one part of the process."
Noble and Greenough School

(Dedham, MA):

What are the

standardized testing requirements

for a Nobles application?
"Every application to Nobles is reviewed in its entirety by our application review committees no matter what the submitted test scores happen to be. It is true that we receive a number of applications every year from students with test scores in the top percentile ranges. Even though that is the case, please know that in every accepted class to Nobles there are students with a range of submitted standardized test scores."
Lakeside School (

Seattle, WA):

What kind of

SSAT score

does my child need to have?
"Lakeside has no minimum SSAT score for admission and we enroll students who score across a wide spectrum. A perfect score on the SSAT does not guarantee admission. The SSAT is one part of the application process and is not more important than any other piece. As educators, we know what a standardized test can and cannot tell us about an applicant, therefore we consider all aspects of the application through our review process."
There are some common takeaways here:
Some schools give precise average SSAT scores of successful applicants

Others leave it more open, but assert that their applicant pool is highly competitive

Still others recognize that standardized tests only say so much about an applicant
Almost all schools mention that the SSAT is just one part of the admissions equation.
---
SSAT Scores: It's Still All About The Average
Sometimes the language on a school's website differs from what a representative might say in a phone call!
Many schools do not include the average SSAT scores of successful applicants online. Nonetheless, many do have records of this information and will tell you if you call the admissions office.
What's more, schools often have very different and nuanced criteria for their admissions.
The takeaway? Make sure to call the school's admissions department and verify!
---
Download PrepMaven's SSAT Guidebook
We know how tough it can be to navigate secondary school admissions, especially when it comes to the SSAT. That's why we created the SSAT Guidebook, an excellent resource for families and students starting their test prep.
Here's what you'll get with our guidebook:
90+ pages of valuable SSAT guidance
Details about SSAT scoring, content, testing options, and more
An introduction to PrepMaven's SSAT strategies for all 5 sections of the test
Information about SSAT prep resources
Application essentials for the top U.S. private high schools
and much more!
---
Jess Welsh

Jess is a Princeton graduate who majored in English and minored in Visual Arts (Film). She has worked as an SAT/ACT/AP/SSAT/ISEE/HSPT tutor as well as a college counselor and loves getting to know students through her work. When not tutoring, she enjoys reading, writing, running, adding to her classic rock music collection, and exploring the West!
---
CHECK OUT THESE RELATED POSTS