12 Strategies to Prepare Students for Remote Learning
As COVID-19 spreads, more schools will be closing and transitioning to remote learning (a.k.a. distance learning, virtual learning, cyber learning, flexible learning).
This will bring an unprecedented level of uncertainty and present a number of challenges for our teachers, students, parents, and school administration.
In this post, we provide some initial thoughts, 12 tips to help students manage the transition to remote instruction, and discuss how the coronavirus will impact college admissions chances.
We have extensive experience with remote learning. One of our co-founders has been working exclusively from home since 2010. From an instructional standpoint, we have over 10 years of experience tutoring students remotely. Furthermore, several of our part-time and full-time tutors work exclusively online.
Here's what we cover in this guide:
---
Some Initial Thoughts
1) The transition to remote instruction will initially be rough for many students. As teachers and students become more familiar with online tools, we believe that instructional quality will be sufficient in the short-term, if only because we MUST make it work. However, it will take time and for many, additional training, before teachers will be able to fully leverage the capabilities of their online tools. 
Under normal circumstances, a transition to distance learning would take months, if not years, to properly roll out and might include:
Hiring consultants experienced with online instruction
Identifying the tools to be used
Training teachers
Collaborating with instructional designers to re-work existing curriculum
Making sure all students have access to the technology and tools
Training students
Instead, for many school districts, this process will now be happening in a matter of days.
This is an enormous task and much of the burden falls disproportionately onto the shoulders of our teachers.
Teachers are scrambling to familiarize themselves with state guidelines, identify the tools that will be most useful for their subjects and grade levels, redesign their curriculum to be delivered online, and meet any other requirements mandated by their school administration.
Even colleges like Princeton University, who have access to instructional designers and more resources than the typical secondary school district, will struggle to get their professors up to speed in such a compressed time period.
Understandably, the transition to remote instruction might not be the smoothest in the beginning, especially for younger students, those with learning differences, and those who don't have reliable access to internet and technology. Some students and teachers will thrive under this new model. Many others will struggle.
We expect that the end result will produce serviceable results in the short-term, which we consider a huge win, and will be the result of the herculean efforts of individual teachers.
2) Schools that are closing first will be the guinea pigs but will provide a template for others to get up to speed more quickly. 
In order for public school districts to have remote instruction days count towards official school days, they must first receive approval from the appropriate state and governmental agencies.
In New Jersey and many other states, this approval process requires school districts to submit written plans that outline specific steps the district will take to support students during an emergency health-related closure.
These contingency plans require school districts to address:
Access to instruction for all learners (e.g. those who don't have access to wifi and computers)
Provisions for special education
Students who are eligible for free or reduced breakfast/lunch
We're seeing that most schools are doing a good job of keeping parents in the loop through website announcements, social media, and direct emails. Guidance might seem vague or confusing at first but should clear up over time.
Private schools and smaller school districts will be more nimble, while larger school districts (e.g. Chicago Public Schools, NYC Public Schools, Los Angeles Unified School District) will understandably take a little bit longer to organize.
We are fortunate from a timing perspective that Spring Break has started or will start relatively soon for many schools. Those schools that have earlier Spring Breaks will have more time to flush out the details and specifics. For others, Spring Break will be a time for evaluation and process improvement.
3) Most schools have initially closed for a couple of weeks and plan to re-evaluate later, but be prepared for remote instruction to continue through the rest of the academic year. 
Many schools are taking a wait-and-see approach, closing for several weeks, and then re-evaluating:
Princeton Public Schools will be closed until 3/27
Hillsborough Township Public Schools will be closed until 3/27
Monroe Township School District will be closed from 3/18 until further notice
West Windsor-Plainsboro School District will be closed until 3/27
South Brunswick Schools will be closed through 3/20
Tenafly Public Schools will be closed through 3/27
Randolph Township Schools will be closed through 3/26
Chicago Public Schools will be closed from 3/17 through 3/30
Los Angeles Unified School District will be closed through 3/27
Boston Public Schools will be closed from 3/17 through 4/27
The Pennington School will be closed from 3/24 through 4/13
Princeton Day School will be closed through 4/17
Hun School of Princeton will be closed through 4/14
The Lawrenceville School will be extending Spring Break by one week to give their faculty time to adapt courses for remote learning and campus will be closed "until further notice"
Perhaps things might get better as we learn more about the coronavirus or as the weather starts to get warmer, but we should be prepared for the possibility that school will be closed until the rest of the academic year.
We can look to universities as a potential predictor. For example, Princeton University has evacuated its campus and will transition to virtual learning for the rest of the semester. We expect other colleges to follow suit.
---
What Remote Learning Might Look Like
The quality of remote instruction can vary significantly.
SCENARIO A – Professional
Let's look at how some universities have successfully created their online Master's programs.
These universities might hire a 3rd party company that specializes in creating online courses.
These 3rd party companies will provide the video equipment needed to create high-quality live and recorded sessions, work with faculty to redesign their curriculum to leverage the new online platform, and create interactive and personalized classroom experiences using their platform and proprietary technologies.
These types of online learning experiences work extremely well.
They're designed from the ground up and leverage the insights of consultants whose only job is to make the online experience as engaging and effective as possible.
SCENARIO B – Advanced
In this scenario, the teacher might not have all the fancy video production hardware (e.g. expensive digital SLR camera, microphones, professional lighting) or access to expensive consultants, but they will have many hours of hands-on experience providing online tutoring through widely available technologies.
They might use Zoom and other online applications to provide a live/online classroom experience with online whiteboards, private and public chat, breakout rooms, etc… They'll have Wacom or similar tablets with styluses that allow them to clearly annotate the screen.
Because these instructors have worked with so many students online, they understand the strengths and limitations of each of the tools they use. They know what works well and doesn't work well for different grade levels and subjects.
Just as importantly, these instructors have intelligently re-worked their curriculum so that it translates well to online delivery.
SCENARIO C – Intermediate
This scenario includes instructors who have less experience with online teaching tools. These teachers might be technologically savvy and already use iPads/Chromebooks in their classroom or communicate with parents through their school's Learning Management System.
However, they might be unfamiliar with online teaching methods and tools. They will either receive training from their school or will take it upon themselves to get up to speed.
It will take a while for these instructors to truly understand the nuances of the tools they're working with and how to adapt their existing curriculum. Some instructors will struggle while others will do quite well.
SCENARIO D – Basic
The "Basic" scenario is one where there is no online component whatsoever.
In this scenario, teachers will prepare a bunch of handouts and assignments.
They will provide your student with physical copies before the break with the expectation that the student will bring all completed assignments back to school after the break.
What Will Remote Instruction Look Like At My School?
Due to the rapid rollout of remote instruction, limited training/familiarity with online tools, and adherence to state requirements for offline access, the remote instruction that your student will experience will most likely span Scenarios C and D, with a lucky few who will have teachers who are more advanced (Scenario B).
You student's experience will most likely be a combination of:
Offline (e.g. work packets) and Online (e.g. Learning Management Systems, Zoom, email)
Asynchronous (Work on your own time) and Synchronous (Live)
Your teacher will most likely schedule regular "Office Hours" and be available for support throughout the day.
Teachers will have a decent amount of flexibility in how they design their curriculum, so your own experience will largely be determined by your teacher and will vary from subject to subject.
Schools with more resources, more time to prepare, or prior familiarity with online platforms will probably have more online and live sessions.
Schools with fewer resources, that have a larger percentage of low-income students, or that have yet to be approved for remote days to count as instructional days, will likely have more offline assignments and work packets.
We expect that much of the work assigned to students across the board will be asynchronous, which means that students will be responsible for completing their assignments on their own time.
Younger students in elementary and middle school will probably have more offline work. We expect that teachers will design these assignments to be done with as little help from parents as possible, but how successful that works is to be seen.
---
Some of Our Concerns
1) Many students are not prepared for self-learning
Many elementary, middle, and high school students lack the discipline, time management, and organizational skills to work on their own. These issues will be more pronounced in younger students.
The physical classroom environment provided this necessary structure. This has been replaced with take-home assignments and a flexible schedule.
Furthermore, many students will have even more time on their hands due to the cancellation of athletics, school plays, concerts, and other extracurricular activities, which exacerbates the situation.
2) Some students will thrive but many will fall behind
Independent students who find that traditional classes move at too slow a pace might thrive in this new environment.
Everyone else, though, will likely fall behind, even those students who are self-disciplined and organized.
Teachers will need some time to figure out the best way to use new tools and transition their curriculum into an online format. Until then, the quality, breadth, and depth of material covered will take a hit.
Elementary school students will fall further behind, as many teachers understandably will be designing lesson plans under the guidance of NOT covering any new content. Instead, they will be creating assignments to reinforce and enhance previously learned content.
3) Equitable access will pose challenges
Remote instruction is great if done well. But what do you do if you can't access the internet?
Many schools will have to grapple with providing equitable access to all learners (e.g. students who don't have wifi or technology) and ensuring that their diverse learning/special education student needs are being met.
In addition to the herculean task of transitioning physical lessons to remote lessons, teachers will have to figure out how to meet the needs of their most vulnerable students.
For special education students, teachers should easily be able to modify their lesson plans and hold conference calls between stakeholders to ensure IEP compliance.
On the technology front, it's encouraging to learn that many schools are loaning out Chromebooks and that some companies are temporarily offering free internet access.
However, what happens when school districts with large populations of low-income students (e.g. Chicago Public Schools, Boston Public Schools, New York City Public Schools, Los Angeles Public Schools) make the transition to remote instruction?
These schools simply won't have the resources to provide every student with an iPad or Chromebook.
What about libraries? They have computers. Even if they're still open, they won't have the necessary capacity.
Some schools are getting creative. For example, Los Angeles Unified School District is teaming up with public television stations to broadcast educational content.
But even then, it won't be enough. Which is why many teachers will have to create remote instruction curricula relying primarily on offline materials (Scenario D) and using online only to supplement. This is a solution, but these lessons will be less engaging and less effective and further highlights social inequities.
---
12 Tips to Help with the Transition to Remote Learning
There are two major aspects to effectively learning from home:
Technological – effectively leverage technology
Behavioral – managing your time effectively
Please read below for 12 strategies your student should consider implementing to make the most out of learning from home.
1) Understand That This Isn't a Vacation
When working from home, it's way too easy to wake up a little later, take a longer lunch break, put things off, take breaks that progressively get longer and longer, etc…
This time period is also not an excuse to binge-watch Netflix/Hulu/Disney+/Youtube/Pick Your Poison.
The first thing you need to do is realize that you're NOT on vacation. Otherwise, things are gonna catch up to you real fast.
2) Establish a Routine and Stick to It
Amidst all of this uncertainty, you need to create your own certainty.
Your school day was very structured. That's now gone, so you'll have to create that structure yourself.
Create a daily schedule. For example:
| Time | Activity |
| --- | --- |
| 7:00 am | Wake up |
| 8:00 am | Check email + Plan my day |
| 8:30 am | Math |
| 9:30 am | English |
| 10:30 am | Chemistry |
| 11:30 am | History |
| 12:30 pm | Lunch |
| 1:30 pm | Break (e.g. video chat with friends) |
| 2:30 pm | Exercise, Meditate, Go outside for fresh air |
| 3:30 pm | Learn something new |
| 4:30 pm | Homework + Check Email |
| 6:30 pm | Relax before dinner |
Plan on sticking to your schedule but feel free to adjust as necessary depending on your household and other obligations.
To create accountability, share this with your parents or even your friends.
3) Create a Daily Checklist
One of the best ways to increase productivity is to create a checklist. Also, It's pretty satisfying to cross things off lists.
Every morning, spend 30 minutes creating a daily To-Do list identifying the major activities you plan on completing in order for you to consider that day to be a productive and successful day.
For example:
My To-Do List
ACADEMIC
  – Math: Finish worksheet
  – English: Draft outline for essay
  – History: Read chapter 3 and 4
  – Spanish: Complete lesson on Por vs Para, memorize 10 new vocab words
  – SAT Prep: Complete a practice reading section in Practice Test 7
  – Check emails (x2)
EXTRACURRICULAR
  – Complete Python lesson on Partial Functions
HEALTH
  – Take a 30 minute walk outside
  – Complete 50 pushups
  – Complete 10 pullups
  – Meditate for 10 minutes using my Headspace app
PRO TIP: Be specific! It also helps to mentally commit to getting your checklist done by a certain time.
4) Incorporate Pomodoros to Improve Your Efficiency
"Pomodoro" means tomato in Italian. 
But it's also a technique to help with focus and time management.
Each Pomodoro consists of 25 minutes of uninterrupted studying/working followed by a 5-minute break. There is no cell phone usage allowed during the 25-minute study sessions.
How to incorporate the Pomodoro technique:
Choose a task to be accomplished.
Set your timer for 25 minutes (this is one Pomodoro)
Work on the task until time is up
Make a checkmark in a notebook for each Pomodoro completed 
Take a 5-minute break
For every 4 Pomodoros completed, take a longer 15-minute break
Try to complete as many Pomodoros per day as possible!
If you are able to consistently incorporate Pomodoros into your daily routine, you'll find that you can be insanely productive.
5) Check Your Email AT LEAST Twice a Day
Whether your school is using Google Classroom, Schoology, Blackboard, Canvas or another Learning Management System, your teacher will primarily be communicating with you through email.
We know that high school students aren't the greatest at checking emails, but it's your responsibility to check your email MULTIPLE times per day.
Incorporate these check-ins into your daily schedule and To-Do lists if necessary.
6) If You Feel Like You're Getting Behind, Reach Out Sooner Rather Than Later
If you feel like you're falling behind in your assignments, or if you're really struggling with understanding concepts, please do not hesitate to reach out to your teachers for support and advice.
Many teachers will have office hours and will be available throughout the day via school-approved messaging platforms.
Additionally, consider putting together virtual study groups with others in your class.
If you feel like additional help is necessary, please reach out to PrepMaven/Princeton Tutoring or other education companies to learn about private tutoring options.
7) Be Flexible
There's a lot of uncertainty on many fronts.
Schools are making unprecedented changes in uncharted territory with little notice.
Realize that things will change. Maybe even on a daily basis. Grading policies might change. Assignments might change. Recommended tools might change.
Just roll with it.
If a lesson or assignment doesn't make sense or is taking way longer than usual, don't dwell on it. Move on to something else and reach out to your teacher for clarification. Chances are other students are having the same issues.
This is an opportunity to learn the important character trait of being flexible.
8) Use Social Media to Stay in Touch With Friends
Human beings are social creatures. Schedule regular times to meet up with your friends through video chat or other tools.
9) Limit Social Media
At the same time, you'll want to limit your social media usage to avoid losing yourself into the bottomless pit of scrolling through news feeds.
Remember to be careful about what you put out there. 
10) Take Care of Yourself Physically
Eat as healthy as you can, go outside and get some fresh air, make sure to exercise, etc…
Stay safe and maintain social distancing to the extent possible.
Even if you feel that the coronavirus is of little concern to your own health, you don't want to pass it along to more vulnerable populations (e.g. elderly, immune-compromised).
11) Take Care of Yourself Emotionally
Social distancing and physical isolation can take a toll. Worrying about the health and safety of loved ones can take a toll. And dwelling on how all of this might negatively impact college admissions can take a toll.
Try your best to keep a positive attitude. Consider meditating using an app like Headspace.
If you're feeling especially anxious, reach out to your friends, parents, or guidance counselors for support. Realize that you're not alone in how you feel and many students will probably feel similarly.
12) Don't Have Access To the Internet or Equipment?
Some internet providers are providing temporary free access. Check your school website or do a Google search.
Your school might have extra Chromebooks, laptops, or iPads that they can loan to you. Reach out directly to your school contacts to check. Or perhaps you might have friends or family members that have hardware they can lend you.
---
How Will COVID-19 Impact Student's Chances of College Admissions?
High school students might be worried about getting behind in their coursework, how grades will be impacted (will schools keep traditional grading, move to Pass/D/Fail, get rid of grades altogether?), whether finals might be canceled, how their athletic season will end, and dealing with SAT and ACT test center closures.
These are certainly viable concerns. However, students should understand that many others across the country are also being similarly impacted.
Rest assured that student grades, test scores, and extracurricular activities will all be considered by college admissions officers within the context of these very special circumstances.
Here's the silver lining. Significant challenges present a HUGE opportunity for those impacted – that's YOU.
At the end of the day, the college essay/personal statement is all about expressing personal growth and values. This is best shown through challenges, beliefs, interests, or identity.
While I would highly recommend against using COVID-19 as a future essay topic because everybody else will be doing it, this is an opportunity for you to step up.
Most students will squander this opportunity, but you have the chance to do something differently. Tackle this new challenge, try something new, and do something creative that sets you apart.
---
Conclusion & Next Steps
School districts, parents, and students across the country are grappling with enormous disruption and venturing into new territory, which for the time being will yield less than stellar student results. But we'll get there eventually.
Unfortunately, much of the burden and pressure will fall on the shoulders of our teachers. Let's try to be supportive and understanding of our educators.
Because of all the uncertainty, there will be lower expectations of our students. Many students will take advantage and opt to just get by. 
However, this is an unprecedented opportunity for students to learn at their own pace, become more independent, and to push themselves beyond what they're comfortable with. 
At the same time, it's incredibly important that we're making sure students are taking care of themselves, both physically and emotionally.
At the end of the day, I believe our students will prove to be more resilient than we expected.
Please do not hesitate to reach out with any questions or if we can help in any way.
---
Greg & Kevin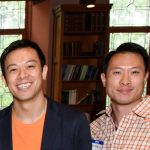 Greg and Kevin are brothers and the co-founders of PrepMaven and Princeton Tutoring. They are Princeton engineering graduates with over 20 years of education experience. They apply their data and research-backed problem-solving skills to the test prep and college preparation process. Their unique approach places a heavy emphasis on personal development, character, and service as key components of college admissions success.
---
CHECK OUT THESE RELATED POSTS