What Are Extracurricular Activities and How Do You Choose the Best Ones?
Bonus Material: Extracurricular Activities Worksheet
Extracurricular activities are an essential part of college applications.
Yes, college admissions officers care a lot about academic performance and character.
But when reading applications, they also pay attention to extracurricular distinction — the impact a student has had in pursuits outside of the classroom.
So what are extracurricular activities? And how do you choose the best ones with college in mind?
Our students ask us these two questions all the time, which is why we've written this comprehensive post. Here, you'll get answers to both of these and clear guidance in the realm of extracurriculars.
We also give readers access to our free Extracurricular Activities Worksheet, designed to help you choose meaningful activities to supplement your college application. Grab this below.
Here's what we cover:
---
What Are Extracurricular Activities?
The Common App, the platform many students use to apply to college, defines an extracurricular activity as activities that demonstrate "your life outside of the classroom."
It gives some examples of these activities, one of which is simply "experiences that have been meaningful to you."
So, according to the Common App, an extracurricular activity:
Happens outside of the classroom
Is meaningful to you in some way
We want to add a few more things based on the work we've done helping students navigate the college admissions process.
For one thing, an extracurricular activity is a pretty broad category. As long as it happens outside of the classroom, it's extracurricular!
An extracurricular activity can be:
A personal pursuit, interest, or hobby
Athletics
School-based (or related)
Community-based (or related)
Online-based
Employment
Family-related and
Anything else that has been meaningful to you!
It can fit into any of these categories, as defined by the Common App:
Academic
Art
Athletics: Club
Athletics: JV/Varsity
Career Oriented
Community Service (Volunteer)
Computer/Technology
Cultural
Dance
Debate/Speech
Environmental
Family Responsibilities
Foreign Language
Internship
Journalism/Publication
Junior ROTC
LGBTQ+
Music: Instrumental
Music: Vocal
Religious
Research
Robotics
School Spirit
Social Justice
Student Government / Politics
Theatre/Drama
Work (paid)
Other Club / Activity
So what's the secret? Consistency.
We define an extracurricular activity as one you pursue outside of the classroom in a consistent fashion.
We like to add that particularly rich extracurricular activities from a college admissions standpoint often have at least one of the following qualities. These activities:
Build or maintain specific skills
Prepare you for a future career
Demonstrate your interest or passion
Provide relevant context
Say something about you and what you care about and/or
Have impact of some kind (on you personally, others, or your community)
This will become clearer in the next section, where we discuss how admissions officers evaluate extracurriculars in your application itself.
You can also download our free Extracurricular Activities Worksheet, which guides you through the process of selecting competitive extracurriculars.
---
How Important Are Extracurricular Activities?
Extracurricular activities matter to colleges. Many top-tier schools list them as "very important" in admissions, as we can see in Cornell's Common Data Set:
In fact, even guidance counselors have to weigh in on a student's extracurriculars when they complete their evaluations that are sent to colleges. They must rate a student's extracurricular accomplishments on a scale of "Below Average" to "One of the top few I've encountered"!
What's more, some applications require students to elaborate on meaningful activities they've pursued in a supplemental essay prompt. The Common App essay prompts for 2021-2022 also leave lots of room for discussing extracurriculars.
So what does extracurricular distinction mean?
In a nutshell, it means the impact you've had outside of the classroom.
Students with exceptional potential don't just distinguish themselves in the classroom. They also distinguish themselves outside of school.
Why is this important to colleges?
They want to know that you will contribute to their community beyond academic pursuits. Colleges seek students who will enhance the experience and education of their classmates.
They also want to know that you are taking advantage of the opportunities available to you. This is an important quality that says a lot about your character, including curiosity, perseverance, and personal passions.
Lastly, extracurricular activities can show colleges what you care about. They can reveal elements of your character and shed light on what matters to you. In many cases, they can demonstrate passion for specific subject areas, and colleges love passion.
We want to emphasize that college admissions officers aren't necessarily looking for quantity of extracurricular activities. In other words, cramming your outside-school hours with activities to build a lengthy resume isn't necessarily going to make your application more competitive.
They're analyzing the quality of your extracurricular activities.
---
The Big Question: How Do I Choose Quality Extracurriculars?
Our students and families have asked this question a lot over the years. Given the weight colleges do place on extracurriculars–and how busy students' schedules are–it's a valid one!
So, how do you choose the best extracurricular activities for your interests and college aspirations?
Our answer boils down to four simple steps:
Reflect
Analyze
Brainstorm
Choose and Pursue
The 4-Step Answer
Step #1 – Reflect
We always encourage students to start with some solid introspection before exploring their options for meaningful extracurriculars. Take out a pencil and a clean sheet of paper, and let's get started!
Because meaningful extracurriculars often say something about what's important to you, consider asking the following questions:
What are my top 5 values? (i.e., empathy, bravery, collaboration, etc.)
What matters to me?
What are my general strengths?
What are my general weaknesses?
What gets me excited?
You can find similar questions and reflection exercises in our Extracurricular Activities Worksheet, designed to guide students through activity selection.
Hint: Your answers to these questions can also be helpful when it comes time to write your college application essay!
Step #2 – Analyze
Keep your answers to the questions above in mind for this next step, which involves assessing your current extracurricular activities.
Some good questions to ask here:
What are your current extracurricular activities?
Which ones (if any) best showcase your strengths?
Which ones (if any) reflect one of your values?
Which ones (if any) reflect excitement, passion, or enthusiasm?
Do you notice any activities that appear multiple times in the last three questions? Circle them! These are gold!
Do you notice any activities that you didn't appear in the last three questions? Note these, too–they might not be ideal for your interests and aspirations.
You can also place your activites into the quadrant below to visually identify activities based on your strengths and interest levels.
What we're doing here is aligning your current activities with the very best parts of you: your values, passions, interests, and character.
The next step is to explore your options to see how you can continue to hone your experience of these activities and/or choose new options.
Step #3 – Brainstorm
Now comes the truly fun part — exploring all the extracurricular possibilities out there! We've put together a handy post that compiles over 500 examples of activities to help with this, organized by Common App category.
You'll also find these examples in our handy Extracurricular Activities Worksheet.
Some good questions to ask here:
How can I hone an existing activity? Can I start a new club, for example? Attend a competition? Hold an office in a program?
What options excite me for new activities?
Step #4 – Choose and Pursue
We recommend choosing a few activities that build off previous activities, and a few new activities that align with your values, interests, passions, and strengths.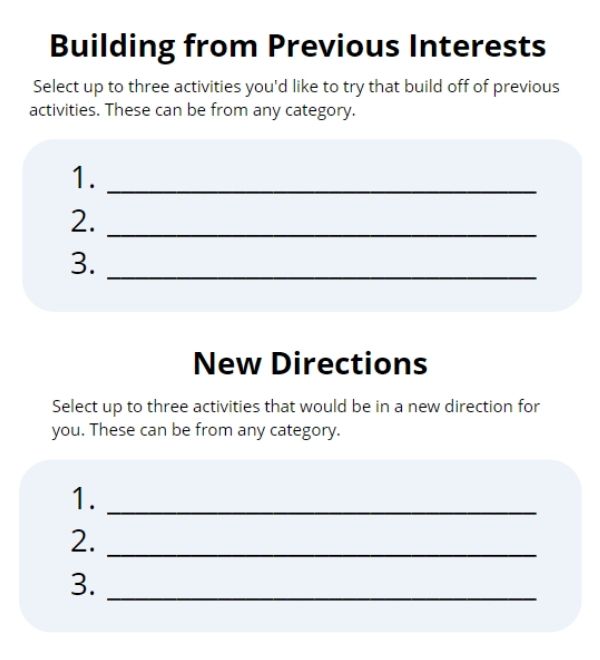 It can also be helpful to set goals within these activities and keep returning to your reflections from the first step to ensure you're pursuing truly meaningful activities. Remember: quantity is not important here. Quality is!
Extracurricular Examples of Princeton Students
Our How I Got Into Princeton Series provides valuable insight into how Princeton students navigated the college admissions process. Each of these profiles includes details about the extracurricular activities these students pursued in high school.
We're not saying that there's a perfect formula for choosing the best extracurricular activities! The process is highly individual.
But it can be helpful to look at these profiles to get a sense of how these students chose to spend their valuable time outside of the classroom.
In the examples below, Shanaz focused on one main extracurricular (Marine Fitness), earning true distinction there. Jonah, on the other hand, deepened independent interests (ceramics and viola) and built some employment experience.
What do these two students have in common? They chose substantive, consistent, and rich extracurriculars — those that held meaning to them personally.
Main extracurricular: Marine Fitness
I joined Marine Fitness sophomore year…My coach was definitely responsible for helping me realize my potential. I remember him pulling me aside my first practice to tell me that Marine Fitness might be a really good fit for me. It also helped that he was my AP Biology teacher and would always ask if I did my workouts outside of practice. I became captain of the team my junior year. As a team, we won the national competition my junior and senior year. As an individual, I placed 4th nationally my junior year and 1st my senior year.
Other extracurriculars: Varsity gymnastics, school spirit club, student civic club, babysitting, teacher's assistant at a summer camp
Profile #2:

Jonah
Main Extracurriculars: Fencing, viola, ceramics, tutoring/teaching
I focused on (very) few extracurriculars, but made sure that the ones I did do were substantive and interesting. All of my passions began in middle school (if not earlier). They were of interest and I stuck with them...
Other Extracurriculars: Minimum-wage job as a dishwasher, camp counselor, physics internship at Smith College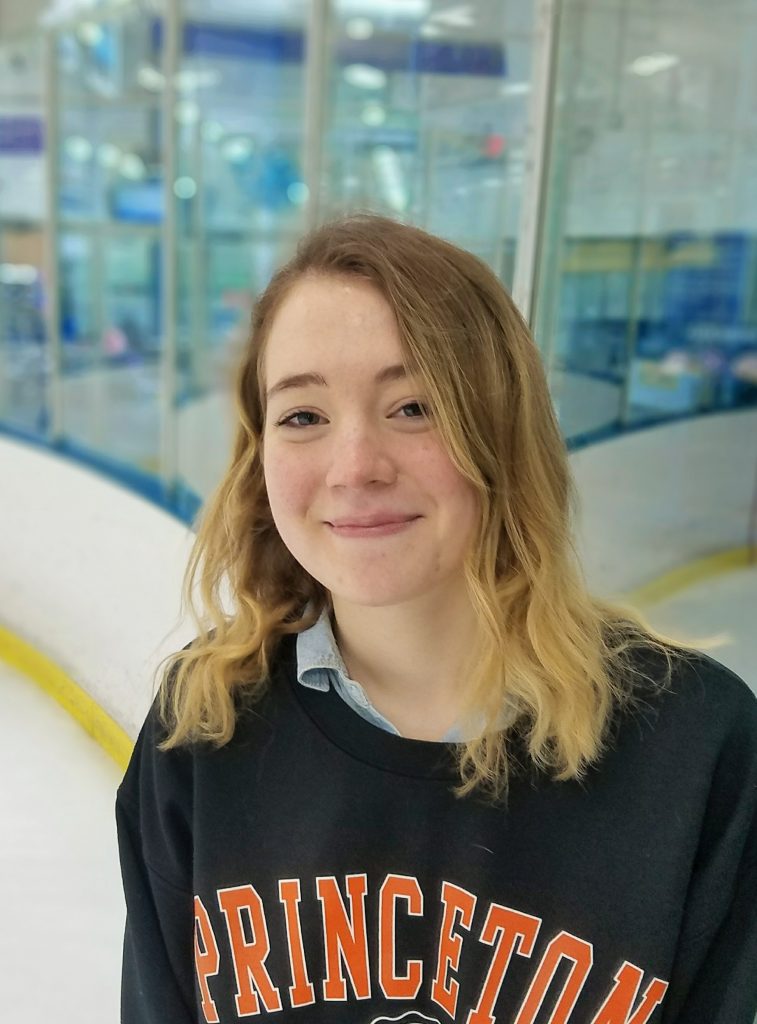 Main Extracurriculars: Art, Field Hockey
By choosing activities I genuinely enjoyed, my passion showed through to others. Because of my passion for field hockey, I consistently dedicated my time and energy to each practice and game. This dedication was expressed through my enthusiasm and leadership, and I was voted by my peers to be captain of the field hockey team. Likewise, the enjoyment I got from art pushed me to create a large breadth of artwork from which I could assemble a portfolio of pieces that showcased my skills and personality.
Other Extracurriculars: National Honor Society, tutoring, physics internship
Download PrepMaven's Extracurricular Worksheet
You can make sure you're picking the right activities for your interests with our free self-guided Extracurricular Activities Worksheet.
This Worksheet incorporates our 4-Step model to help you hone your existing activities and select ones in line with what's important to you.
Here's what you'll get:
Simple and effective exercises
Insight into what's important to you
Questions designed to help you choose meaningful activities
A copy of the 500+ relevant examples of extracurricular activities
---
Greg & Kevin
Greg and Kevin are brothers and the co-founders of PrepMaven and Princeton Tutoring. They are Princeton engineering graduates with over 20 years of education experience. They apply their data and research-backed problem-solving skills to the test prep and college preparation process. Their unique approach places a heavy emphasis on personal development, character, and service as key components of college admissions success.
---