What is a Good SSAT Score in 2023?
Bonus Material: PrepMaven's SSAT Guidebook (2023)
Are you a future SSAT test taker? You're likely wondering what a "good" SSAT score is.
In the U.S., there are 34,576 private schools. Many of these institutions require applicants to take the SSAT, an admissions exam for prospective elementary, middle, and high school students.
Some of these schools specify the SSAT scores of competitive applicants on their websites. Others, however, may be more vague about SSAT requirements.
What is a "good" SSAT score? Most importantly, what score can help students get admitted to their dream schools?
We answer these questions–and several others–in this post! Plus, we give readers access to our comprehensive SSAT Guidebook, which you can download for free below.
Bonus Material: PrepMaven's SSAT Guidebook
Details about SSAT scoring, content, testing options, and more
An introduction to PrepMaven's SSAT strategies
Information about SSAT prep resources
Application essentials for the top U.S. private high schools
Here's what we discuss:
---
SSAT Scores: The Basics
In our article on SSAT scoring, we discuss the ¼ point penalty, percentile rankings, and private schools' consideration of an average SSAT score in admission.
Here's a brief review of the high points:
1) There is a wrong answer penalty on the SSAT.
The SSAT deducts ¼ point for every wrong answer from your raw score (the number of questions you got right and wrong). Students receive 1 point for every question they answer correctly on an individual section.
2) Raw scores become scaled scores and percentile rankings.
For each section, students receive a scaled score between 500 and 800. They also receive a percentile ranking ranging from 1 to 99 for each section.
Your SSAT percentile is not the percent of questions answered correctly on each individual section. The SSAT percentile scoring reflects how you performed compared to other test-takers.
3) Schools prioritize the percentile ranking for sections during admissions.
Rather than looking at the scaled or raw scores for each section, schools emphasize students' SSAT percentiles for the test's sections.
As a reminder, there are three scored sections on the SSAT: Verbal, Reading, and Quantitative. There are two unscored sections: the SSAT writing sample and an experimental section.
**Note: For the purposes of this post, we'll look at Upper-Level SSAT scores.
---
A "Good" SSAT Score
If you score in the 50th percentile on any SSAT section, you will achieve the "median" SSAT score for that test. And if you score higher than the 50th percentile, you perform better than the median.
A good starting place for SSAT test-takers is to surpass the median SSAT score for each individual section.
But what counts as a "good" SSAT score?
Our answer: it depends!
Each student's talents, interests, and goals are entirely unique. What's more, a "good" SSAT score is likely to fluctuate depending on the institution a student is applying to.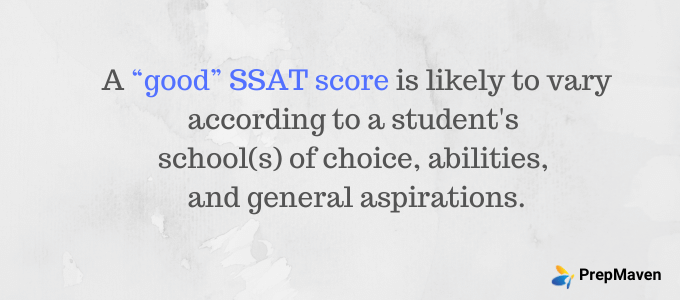 We can still make some general conclusions, however, to guide students in their SSAT test prep journey.
1) Most private schools want to see SSAT scores above the 50th percentile.
One of the SSAT's purposes is to indicate students' preparedness for a competitive private school environment.
According to the SSAT.org, the test is
"an indispensable tool that gives admission professionals an equitable means to assess and compare applicants, regardless of their background or experience."
It is also, according to SSAT.org, an "exceptionally valid indicator of first-year student success."
The SSAT score is often the content/aptitude "benchmark" that qualifies a student for admission at many schools. For this reason, students who score above the 50th percentile are above the median.
Still, as we discuss in another article, SSAT scores are only one piece of the admissions equation.
So if you only crack the 49th percentile, don't automatically count yourself out!
2) Some schools want SSAT scores in the 80-90th+ percentiles.
This is the case for more competitive and/or elite institutions, such as Phillips Exeter Academy, Philips Academy Andover, and Groton School.
Here's what the Lawrenceville School says about SSAT scores on its website:
"The average SSAT score for accepted students has historically been around the 85th percentile. We do not have a SSAT score cut-off, and we recognize that each applicant comes from a different background when it comes to test preparation. We aim to evaluate an entire applicant's profile, with the SSAT being one part of the process."
An SSAT score that is not in the 80-90th+ percentile doesn't necessarily preclude a student from admission to these schools.
However, it does mean that most of the students admitted to these schools will have SSAT scores in this percentile.
3) Some schools may emphasize test scores more than others.
It's challenging to assess the extent to which a school considers a student's SSAT scores in making the admissions decision. It is safe to say, however, that some schools may weigh other parts of the application more heavily than test scores.
These other parts include interviews, transcripts, character & personality, institutional priorities, extracurricular achievements, and overall fit.
Here's what Peddie School's director of admission has to say about selecting applicants, for example:
"We choose our students because we believe that we can help them discover things about themselves that they don't already know, and because they have something to offer Peddie that we don't already have."
Want more helpful information about preparing for the SSAT? We discuss SSAT scoring, private school admissions, and test prep in our comprehensive SSAT Guidebook. It's free and you can download it right now.
---
Your Dream School's Average SSAT Scores
An easy answer to the question "what is a good SSAT score?" is simply the average score of admitted applicants. Yet schools can be very secretive about the SSAT scores of successful applicants, making this information difficult to access!
It is possible to, at the very least, approximate a "good" SSAT score for your schools of choice, however.
Here are some ideas for SSAT score sleuthing:
1) Form a general impression of average SSAT scores from online research.
Certain websites have aggregated data for average SSAT scores of boarding schools across the country. These include Boarding School Review and TestInnovators. While this data is unofficial, it can be helpful for general assessments.
Some schools may also simply specify average SSAT scores of competitive applicants on their websites.
Keep in mind that more competitive institutions, however, may not do so. (Most of these only mention the SSAT in the context of admission materials on their websites.)
2) Call the school and ask for the average SSAT score of successful applicants.
This may sound intimidating, but reaching out to the school directly is always a possibility. The worst thing that can happen is that an admissions department representative declines to answer your questions about SSAT scores!
We recommend first stating your intention to be a competitive applicant when contacting schools. Here's an example:
"I'd love to be a competitive applicant to the Lawrenceville School. Would you be able to give me insight into how I can best do so, especially in terms of my SSAT scores and my application?"
Most school representatives will, at the very least, guide applicants towards a general, competitive SSAT score.
Even if you've found some pretty convincing-sounding information on an average SSAT score from an admissions website, still call and check. Websites can be outdated.
---
Setting Your Target SSAT Score
At the end of the day, it all comes down to you and your own reasonable goals for your SSAT score. If you're at the beginning of your SSAT test prep journey, this means first establishing a target SSAT score.
The best way to do this is by taking a practice SSAT. A diagnostic exam can give you a set of "benchmark" scores (raw & scaled scores and percentiles) and a sense of how far you need to go to reach your dream score. It's wise to take your first practice SSAT as soon as possible–we suggest allocating at least three months to consistent SSAT prep for substantial score increases.
When setting your target score, should you establish a target raw score, scaled score, or percentile?
This is a question our families ask us all the time. We recommend that students set a goal of maximizing their raw scores for each individual section of the SSAT.
Why do we recommend this if schools prioritize percentiles with SSAT scores?
First, keep in mind that the test-makers calculate each SSAT score based off of a unique norm sample. This sample includes data from the last three years of SSAT administration (not including this year's). Because this norm sample is always unique, the distribution of scores will always be different.
This means that it is actually not possible to precisely pinpoint how many questions you need to get right on a section to get a certain percentile ranking! The SSAT actually admits this:
"The same scaled score on the SSAT may have a different percentile rank from year to year or even from test to test, and the SSAT percentile ranks should not be compared to those of other standardized tests because each test is taken by a different group of students."
Here's an example. Let's say that Darla is a rising 9th grader who has taken the SSAT twice to date. Here are her raw and scaled scores and percentile rankings for the SSAT Math section.
First Test
| # Questions | # Correct Answers | # Incorrect Answers | # Blank Answers | Raw Score | Scaled Score | Percentile |
| --- | --- | --- | --- | --- | --- | --- |
| 50 | 40 | 5 | 5 | 38.75 | 776 | 92 |
Second Test
| # Questions | # Correct Answers | # Incorrect Answers | # Blank Answers | Raw Score | Scaled Score | Percentile |
| --- | --- | --- | --- | --- | --- | --- |
| 50 | 38 | 10 | 2 | 35.5 | 761 | 88 |
On the second test, Darla got twice as many questions incorrect as she got wrong on the first test. Even so, she only lost four percentile points. Yet this also means that there are four percentile points at stake, potentially, simply for getting two more questions right on this one section (and for not skipping hard questions!)
Our conclusion?
Because percentile rankings are essentially out of a student's control, the best bet is to focus on maximizing the raw score of each section. Doing so is the safest means of increasing a student's likelihood of earning a higher percentile on each section.
We also strongly encourage SSAT students to take the official SSAT several times, given that test difficulty is likely to fluctuate from exam to exam.
---
A Word About SSAT Superscoring
You may have heard of the term "superscoring," referring to taking the best section scores from separate test dates to combine in an overall score.
The SSAT itself does not superscore (you will have to send multiple tests to school), but school admissions departments might do so.
This is another factor to consider when determining if you have a "good" SSAT score. Call your school of interest to verify if they superscore!
So, what is a good SSAT score? A "good" SSAT score is the score that aligns with your school aspirations and your current abilities.
We recommend investigating the average SSAT scores of successful applicants at your schools of choice and then implementing a regular SSAT study schedule to reach this "good" score.
While arming yourself with information can be a powerful tool, try not to get too caught up in comparing your SSAT score to others'. Focus instead on improving your accuracy in order to achieve your personal goal score.
---
Download PrepMaven's SSAT Guidebook
Navigating the SSAT can be challenging, especially for first-time test-takers. That's why we created our free SSAT Guidebook, an excellent resource for families starting the secondary school admission process.
Bonus Material: PrepMaven's SSAT Guidebook
Details about SSAT scoring, content, testing options, and more
An introduction to PrepMaven's SSAT strategies
Information about SSAT prep resources
Application essentials for the top U.S. private high schools
Here's what you'll get:
90+ pages of valuable SSAT guidance
Details about SSAT scoring, content, testing options, and more
An introduction to PrepMaven's SSAT strategies for all 5 sections of the test
Information about SSAT prep resources
Application essentials for the top U.S. private high schools
and much more!
---
Jess Welsh

Jess is a Princeton graduate who majored in English and minored in Visual Arts (Film). She has worked as an SAT/ACT/AP/SSAT/ISEE/HSPT tutor as well as a college counselor and loves getting to know students through her work. When not tutoring, she enjoys reading, writing, running, adding to her classic rock music collection, and exploring the West!
---
CHECK OUT THESE RELATED POSTS