How to Make a College List
Bonus Material: PrepMaven's Step-by-Step Guide to Making a College List
Applying to colleges is an exciting process, but with nearly 4,000 degree-granting colleges and universities in the U.S. alone, choosing the right colleges can be overwhelming!
Learn about our 6 steps to build a balanced college list that's perfect for you.
Then download our free worksheet to follow each step in the process. We'll guide you in using data to make sure your list is balanced with the right mix of safety, target, and reach schools.
In this article:
Step 1: Start early
Step 2: Think about what matters most to you
Step 3: Research potential colleges
Step 4: Make a long list
Step 5: Categorize your admissions chances
Step 6: Shorten your list
3 Example college lists
Common college list mistakes
Next steps
---
Step 1: Start early
It can be a good idea to start thinking about college early, especially since this is the fun stage!
Even as a middle school student or freshman in high school, start exploring your hopes and dreams for college. Imagine yourself on campus and earning your degree. Think big!
Visiting college campuses can help you to get a feel for what life in college might look like.
Students can check out schools nearby, or visit older siblings, cousins, and friends who are in college. At this stage, don't worry about only visiting specific schools that interest you — any experience can give you a sense of what qualities you might seek out or avoid in a school.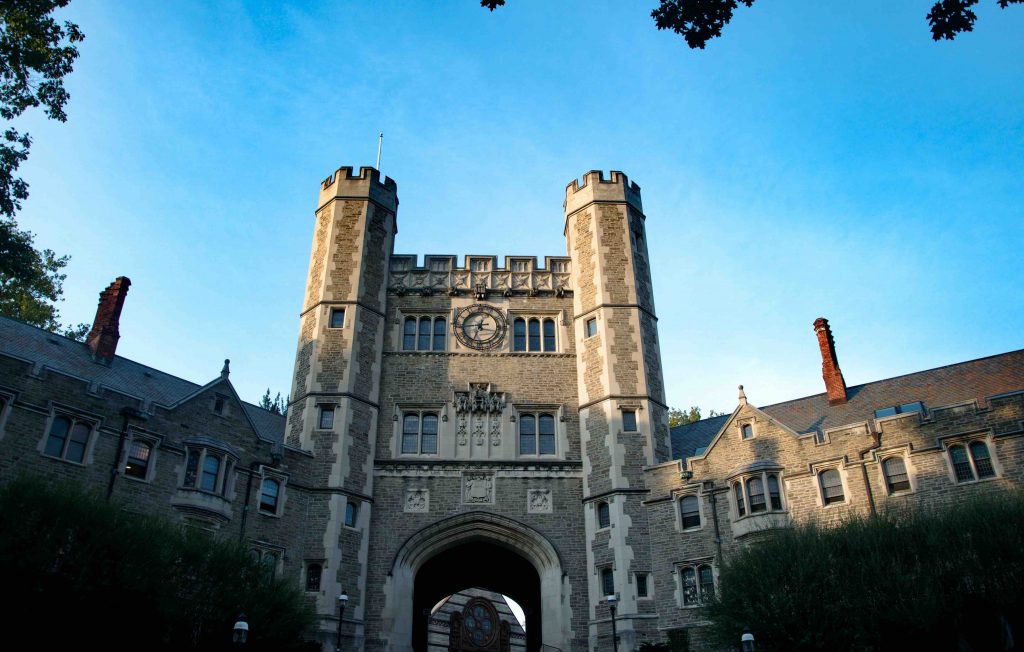 Students can also participate in summer programs on college campuses, and advanced students might even take a real college course. While some of these programs may be expensive, there are some amazing summer programs that are free of cost for admitted students, and some programs also have scholarships available.
Get excited about going to college! It's a major step in your life and can be an amazing time for many students.
---
Step 2: Think about what matters most to you
By your junior year of high school, start brainstorming about the qualities you might want in a school.
Remember, you'll spend about four years of your life at that school, so you want to pick a place that you'd find supportive and enjoyable. College will also be a formative experience for you as a young adult and can provide career opportunities and connections for the rest of your life. There's a lot to consider here, so don't rush this process!
Ask yourself the following questions:
What kind of school size feels most comfortable to you? A big school, a small school? Do you want to be attending large lectures with 300+ students or small seminars with 6–12 students?
Do you want to go to school in a city, suburb, or rural area? A school in the middle of a city will feel very different from a school in the middle of nowhere.
Is there a specific major or program that you know you want to have available? (For example, a major in Environmental Studies, a study abroad program, opportunities for computer engineering students to intern at real tech companies during the semester, a good music performance program, etc.)
Is proximity to home or family important to you?
Is weather and climate important to you? Are there any other landscape features that make you happy or enable activities you enjoy? (Mountains, ocean, natural parks, etc.) What kind of physical environment would make you the happiest?
What kind of campus culture would be the most supportive for you? Are there aspects of your identity (race, gender and sexuality, religion, disability, etc.) that might be supported at some campuses more than others? Do youI want to consider attending a college designed for a specific population like a HBCU or a women's college?
Do you prefer to be academically comfortable or academically challenged? Will you feel okay if you're not the strongest student at the school, or do you want to be a star?
Are there any athletic teams or extracurricular activities that are important to you to continue in college? What kind of balance do you want between studying and having a social life? Do you want to go to a school with a strong sports culture and big games?
Do you want to go to a college where most students live in campus dorms, or a college where many students live off-campus (at home, in shared apartments, on their own)?
Do you want to go to a college where Greek life (fraternities and sororities) are a significant element of campus life?
Do you want to go to a college where it's just undergraduates or a research university with graduate programs? A liberal arts college typically has more of a focus on teaching undergraduates, whereas a big university with graduate programs (like a law school, medical school, business school, etc.) might be more focused on cutting-edge research than on the educational experience for undergrads. Both options are good, but they're very different!
---
Step 3: Research potential colleges and universities
Now that you have some ideas of the qualities that matter to you, it's time to do some research.
Use the resources listed below to learn about different schools. You'll want to make a spreadsheet to keep track of everything, like this:
The qualities of colleges that are important to you are going to be unique to you, so you'll want to modify your spreadsheet accordingly. Here are some things you want to research for each school:
What is the size of the student body?
What is the school location like? Big city, small city, suburb, rural? How hard or expensive is it to reach a campus from your hometown?
What's the cost of the school? Can you get in-state tuition, academic scholarships, athletic scholarships, or scholarships for other achievements (music, community service, etc.)?
What are the graduation rates? What are the retention rates for first-year students?
If you have future career plans already: how well does this school prepare you for the next step in pursuing your career? (For example, do they have any special opportunities for pre-med students or students interested in international business? Mentorship opportunities?)
If you have a sense of your major or program, reach out to current students at that school in that area of study. Experiences can vary hugely depending on the department at a given school.
Are there opportunities for undergraduate research or internships?
How strong is the alumni network or career services at that school? What kind of career resources are available to alumni 1, 5, 10+ years after graduation? (This varies hugely! For example, as a Princeton grad I can get one-on-one career coaching for life.)
When are application deadlines, and what's the timeline for notifications of admissions? Take note of options for early decision, early action, or rolling admission. It can be very calming to get at least once acceptance by December of junior year, so that even if students apply to more schools with January deadlines, they know they already have some options.
What is housing like for that school? Dorms, off-campus housing in groups or individually? Is housing guaranteed for all four years of college? This is an underrated but important thing to consider.
Is the school need-blind? (That means that your family's financial means won't affect your chances of admission.)
Do students at that school tend to help each other or compete to outperform each other? Do students have fun or is campus "where fun goes to die"? What's the general vibe on campus?
Reach out to current students at that school who share your identities (race, gender and sexuality, religion, disability, first-generation, women in STEM, lower-income, international, etc.). What are their experiences, and would they recommend that school to similar students? Check out rankings by tools for specific communities like the Campus Pride Index or Essence.
Be open-minded during this research stage!
Maybe you'd grown up excited about your parents' alma mater or always imagined yourself at Harvard or UNC, but when you consider the actual qualities of your childhood dream college make sure it turns out to be the best fit for you.
Everyone is different, and "good fit" schools are similarly different for everyone!
Tools for college research:
College Scorecard from the US Department of Education
The BigFuture tool from the College Board (makers of the SAT)
The College Navigator from the National Center for Education Statistics
Interactive college search tool from The Education Trust, a nonprofit
Map of Colleges that Change Lives
Comparison tool from US News
"Find your match" quiz and college recommendations from admissions startup Scoir
Search for colleges and scholarships with Greenlight, aimed at first-gen and lower-income students
Websites for individual colleges and universities
Social media, especially viewpoints from current students at that school
Visiting schools in person can really help you get a feel — take a tour, sit in on a class, or just wander around campus and envision yourself there
---
Step 4: Make a long list
Once you've done your initial research, make a long list of about 20–30 schools that interest you. Make an entry for each school on your spreadsheet to stay organized.
At this stage, don't worry about narrowing down your list. Cast your net wide!
---
Step 5: Categorize your admissions chances
Once you have an initial list of 20–30 schools, it's time to make sure your ultimate list is balanced.
A balanced college application list means that you apply to some colleges that are a pretty sure bet ("safety" schools), some colleges where you're pretty typical for one of their admitted students ("target," "match," or "fit" schools), and some colleges where your admission would be a long shot ("reach" schools).
You may dream of going to Harvard, but if you only apply to Ivy League schools, even if you have perfect grades and test scores there will be an element of luck in your admissions results, and you don't want to risk not getting in anywhere.
When categorizing the colleges on your list, you need to evaluate yourself as an applicant to that school. The categories will be unique to each student — one student's reach school might be another student's safety school.
You can use test scores and GPA data to get a rough idea of whether a school is a safety, target/match, or reach school for you.
Safety/likely schools: your test scores and GPA should be above the 75th percentile for that school, and you know that your extracurriculars are strong for that school. Bonus points if you're a legacy student (your parents or siblings attended) or if you have another connection to the school. Basically, you'd be a top student at that school.
Admittance rates for safety schools should be higher than 30%. For schools with acceptance rates lower than 30%, chance will be a significant element, so these can't be a safety schools, regardless of your test scores and GPA.
Target school: your test scores and GPA are within the "middle 50" for that school, which means between the 25th and 75th percentiles. (Ideally your test scores should be above the 50th percentile.) Your extracurricular achievements should be in line with expectations for that school. You'd be a typical student at that school in terms of your academic performance.
Bonus points if you're a legacy student (your parents or siblings attended) or if you have another connection to the school.
Reach schools: any school where your GPA and test scores are below the 25th percentile for the school is a long shot.
Regardless of your GPA and test scores, we would call colleges with admit rates lower than 10% "reach" schools, because luck will always play a significant role. Even if you have perfect grades and perfect test scores, that's unfortunately kind of the bare minimum for admissions officers at highly-selective schools like Harvard or Stanford.
For example, we know from the data that 75% of students at CalTech (California Institute of Technology) scored at least a 790 on the Math section of the SAT. Pretty much all of their students had near-perfect SAT scores!
Similarly, we know from testing data that 75% of students at Harvard, UChicago, Duke, CalTech, and MIT scored at least a 35 on the English section of the ACT. Nearly all of their students had perfect scores on the ACT English!
For each school on your long list, look up the average GPA, average class rank, average SAT scores, and average ACT scores. We walk students and families through each step of this process in our Build Your College List worksheet
When you're evaluating your admissions chances, you can add more nuance by also considering your extracurriculars and your course rigor.
Colleges will look for extracurricular activities where you demonstrated leadership and initiative as well as a high level of skill. Colleges want students who will have a positive impact on their campus. Being "well-rounded" is overrated — dedication and achievement within a specific area are more important than the sheer quantity of activities.
At the most selective colleges, strong extracurriculars will typically mean being outstanding for your state or even nationally, not just the best at your school.
College admissions officers will put your GPA in context by considering the difficulty of your high school classes ("course rigor"). If your school didn't offer AP classes or other advanced subjects, don't worry — admissions officers won't hold that against you. Essentially, they'll ask whether you took the hardest classes available to you at your school.
Once you've used all of this data to categorize the colleges on your long list as safety schools, target schools, or reach schools, you can add this information to your spreadsheet. I like using colors, like this: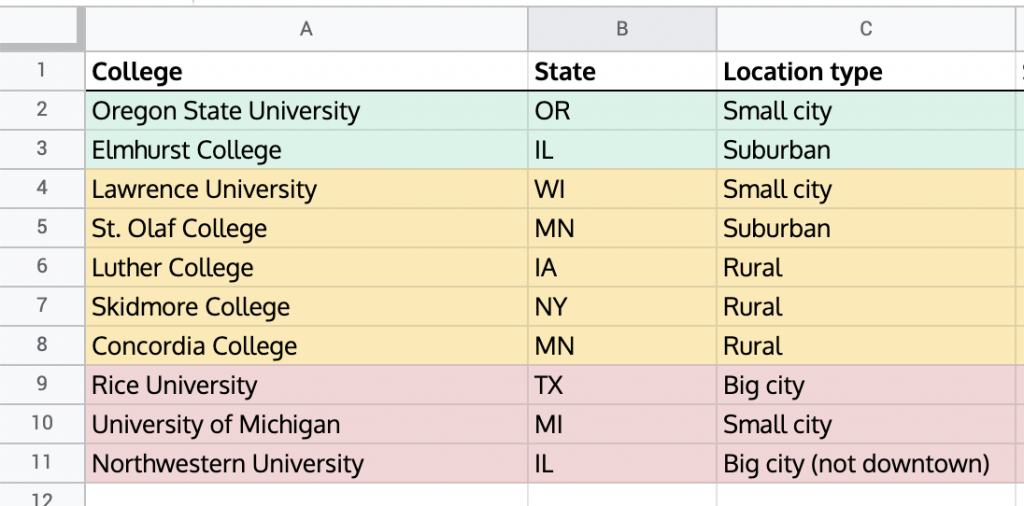 ---
Step 6: Shorten your list to the final selection
Now that you've done the hard work of researching and categorizing the colleges that interest you, it's time to edit your list to the final list of colleges where you'll submit applications.
Make sure that your final list has at least two safety schools and two target schools.
We recommend a final list of around 6–12 colleges and universities. Ambitious students who are aiming at the most selective colleges (Harvard, Stanford, MIT, Pomona, Amherst, and other schools with admissions rates below 10%) might have more than 12 schools on their list, because there's such a significant element of chance at these schools.
According to The American Freshman, a famous annual survey, 40% of students applied to only 4 or fewer colleges, while 61% of students applied to six or fewer colleges. Nationwide, about 10% of students applied to 12 or more colleges.
(Of course, this data is going to include students who applied Early Decision to one college, were accepted, and didn't have to finish and submit the rest of their applications!)
Make sure to have this final list by the end of summer before senior year. Students who start working on their college applications during the summer will have a significant advantage, since they'll be able to concentrate on writing amazing college essays without the distractions of the semester.
(Our Ivy-League essay advisors coach hundreds of students through the essay-writing process each year. Reach out if you'd like help getting started on your essays!)
---
Example college lists
Let's take a look at example college lists for three imaginary students:
Example college list #1
Morgan is a student from the Midwest who is passionate about environmental issues and social justice. She's a strong student with a 3.6 GPA (in the top 10% of her high school class) and scored a 28 on the ACT. She took a few AP classes in high school and scored a 4 on AP Biology, a 5 on AP Political Science, and a 4 on AP US History. She founded an environmental activist club at her high school. She also sings in her school choir and plays trombone in the school band, and she'd like to go to a school with a good music program where she can participate as a non-music major. She's still not sure if she wants a small school or a big university, but she knows she wants to live on campus. Her college list:
Safety: Oregon State University, Elmhurst College
Target: Lawrence University, St. Olaf College, Luther College, Skidmore College, Concordia College
Reach: Rice University, University of Michigan, Northwestern University
Example college list #2
Kai is a high-achieving student who wants to become a computer engineer. They live in the South but dream of attending a school on the West Coast. (They don't like cold weather.) They're in the top 2% of their high school class with a 3.97 GPA (unweighted) and a 1540 SAT (780 Math and 760 Reading & Writing). In high school they worked with a teacher to start a robotics club at school, and they have also created some websites for local charities. They don't want to attend a college is a religious affiliation. Their college list:
Safety: San Diego State University, California State Polytechnic University
Target: UC San Diego, UC Irvine, UC Davis, UC Santa Cruz, UC Santa Barbara (all of the UC schools share the same application), University of Southern California
Reach: CalTech, Harvey Mudd College, Stanford, UCLA
Example college list #3
Ethan wants to study political science at a liberal arts college with small discussion-based classes. He has this mental picture of an East-Coast school with architecture that looks like Hogwarts, and he hopes to study abroad for a semester in college. He was captain of the school debate team as a senior, and also participated in theater and track at his school. He has always done well in language and history classes but struggled with some of his grades in math and science, so his GPA is a 3.1. His SAT was a 1280 (720 Reading & Writing and 560 Math), but his ACT ended up comparatively higher because it "buried" his math score, and he has a 29 ACT. His college list:
Safety: Quinnipiac University, Drew University
Target: Ithaca College, UMass Amherst, Bucknell University, Trinity College, University of Vermont
Reach: Swarthmore College, Lehigh University, Haverford College, Kenyon College
Far Reach: Princeton University, Amherst College, Dartmouth College
---
Common mistakes students make with college lists
Frequent college list mistakes:
Don't focus only on dream schools and ignore safety schools. Try to find safety schools that have a few features that you can be genuinely excited about — close to family, near the beach, have an amazing extracurricular program, exciting honors program, etc.

For me, one of my safety schools was a school I could have seen myself attending happily, even if it was less competitive than Princeton! I had extended family nearby, I would have been able to join a cool honors program with its own dorm, their music program was fantastic, and it would have been less expensive (due to scholarships they offered me). I ended up choosing Princeton, but there was a lot to like about my safety school, too.

Don't focus on only prestige and rankings instead of fit. Do your research thoughtfully, listen to your gut, and really try to picture yourself at that college. Top-ranked schools don't necessarily provide the best education or experience for students. I have several friends who went to MIT but were miserable there and would have been much happier and more successful at another great school!
Don't apply to more colleges than you can manage. Remember, you'll need to make your application customized for each school and write additional supplemental essays (even if they're "optional," you need to do these!). Better to apply to 6 schools with care than to apply to 12 schools sloppily.
Don't focus only on what your parents or family want, and not consider what you want. Remember, your parents aren't attending this college, you are. Choose colleges that will make you feel supported and excited, and be a good springboard for your future career and life as an independent adult.
Don't mix up your colleges! I've heard complaints about this from many admissions officers. The University of Chicago (a highly prestigious private top-10 university) is not the same as University of Illinois at Chicago (a great state school); the University of San Diego is a Catholic liberal arts college, while the University of California San Diego is a leading research university in the UC system, and San Diego State University is a public university in the less-competitive state system.
Some common myths about colleges:
Private colleges are more expensive.
On average, yes, public colleges cost less than private colleges. However, some private colleges and universities are able to offer more money in scholarships and grants that ultimately make their school less expensive!
In fact, there are a small handful of top schools that guarantee to meet 100% of their students' financial need without loans. That means that if your family can't afford college, college might be completely free.
In 2022, the schools that are completely free for students with demonstrated need are:
Amherst College
Berea College
Bowdoin College
Brown University
Colby College
College of the Ozarks
Columbia University
Davidson College
Grinnell College
Harvard University
Johns Hopkins
Massachusetts Institute of Technology (MIT)
Northwestern University
Pomona College
Princeton University
Smith College
Stanford University
Swarthmore College
University of Chicago
University of Pennsylvania
Vanderbilt University
Washington and Lee University
Williams College
Yale University
It's no coincidence that these are some of the most prestigious and highly-selective schools in the country! Scoring admission to one of these top schools can pay off significantly in the form of loan-free aid and even free college.
Note that 6 out of the 8 Ivy-League schools are on this list. That means that Ivy-League colleges and universities may actually be less expensive for students than public universities or less-selective schools. In fact, I've known many students who chose Harvard or Princeton because they were actually the least expensive schools for their families.
Other private colleges guarantee to meet 100% of financial need for students whose families earn below a certain benchmark, with these cutoffs ranging between $40,000/year and $200,000/year.
Public universities are less selective than private universities.
There are some amazing public research universities that are just as good — or better! — than top private universities in the US.
Both UCLA and UC Berkeley rank among the top 50 schools in the country. They're both highly selective schools, and students will need excellent grades, extracurriculars, and essays to win admittance.
Other amazing public universities include Georgia Tech, the University of Virginia, the University of North Carolina, and the University of Michigan. These schools and the other top universities are sometimes called the "public Ivies."
What's more, individual areas of study at some public universities may be the best in the world. The University of Illinois is known for its math and engineering programs, and the University of Virginia is a top place for history.
You have to be rich to get into a top school.
It's true that students who come from affluent backgrounds are over-represented at the top colleges and universities.
However, the best schools are need-blind, which means that they don't look at any financial information when making admissions decisions.
Many colleges have made a commitment to expand opportunities for low-to-moderate income students to access selective undergraduate and graduate education. Universities like Princeton, Harvard, and Yale have some amazing programs to provide extra support to students who are first-generation or lower-income.
If you're a student who is the first in your family to attend college, or whose family is not "rich," but who is able to show strong academic achievements, leadership in your community, and other accomplishments, colleges will be interested in you. The trick is to provide context through your essays and letters of recommendation to signal that you may not have had access to certain opportunities.
Schools close to home are less expensive.
Yes, students who qualify for in-state tuition can get a discount on the cost of public universities. There may also be amazing scholarships to local community colleges for strong students.
However, don't assume that a school will be expensive just because it's across the country! Some top-tier schools even provide lower-income students with funds to travel to and from campus.
Always do the research on costs for every individual school.
Schools across the country are too hard to reach.
Sheer distance is not the same as travel time!
When considering how "far" a school is from home or family, also find out how far a campus is from local airports, bus stations, and other transit.
Travel times can be surprising! For example, my sisters went to Pomono and Harvey Mudd, two of the best small colleges in the country, both located in Claremont, southern California. That's completely across the country from our hometown outside Chicago, but there's a smaller airport only 15 minutes from campus with budget flights, so it was actually pretty quick for them to travel from home to college!
You need to know your major when choosing colleges.
Sure, if you know what you want to study in college or have a plan for your future career, that may influence your college choices.
However, many students have no idea what they'll study or do after graduation at the point when they're applying to college. And even if they do have some plans, these are likely to change! Depending on which statistics you read, between 40 and 75% of undergraduate students change their major at least once before earning their degree.
---
Next steps
Applying to college is an exciting process for students! Do the hard work, but also enjoy thinking about all of the possibilities that await you.
We've created a handy worksheet to help students and families through each step of building a great college list — including using data to make sure your list is balanced.
If you're not yet in the fall of your senior year, there are also lots of things you can do to improve your chances of admission at your dream college!
Our amazing team of Ivy-League tutors has helped thousands of students improve their test scores, grades, and college essays.
Schedule a free short educational consultation to see how you or your student can improve admissions chances with targeted effort.
---
Related Articles
14 Best College Essay Services for 2022 (40 Services Reviewed)
Average SAT Scores: The Latest Data
How Colleges Read Your Application: A 4-Step Process
What is the PSAT? A Princeton grad explains why this "practice" test can matter
Average ACT Scores: The Latest Data
The 15 Best Online SAT Tutoring Services for 2022 (75 Services Reviewed)
What Does Test Optional Mean in 2022? How to Decide Whether to Submit Your Test Scores
11 College Essays that Worked
500+ Extracurricular Activities and Examples for High School Students
When should you take the SAT or ACT?
How to Write a "Why This College" Essay + Examples that Worked for the Ivy League
Bonus Material: Step-by-Step Guide to Make a College List
---
Emily
Emily graduated summa cum laude from Princeton University and holds an MA from the University of Notre Dame. She was a National Merit Scholar and has won numerous academic prizes and fellowships. A veteran of the publishing industry, she has helped professors at Harvard, Yale, and Princeton revise their books and articles. Over the last decade, Emily has successfully mentored hundreds of students in all aspects of the college admissions process, including the SAT, ACT, and college application essay. 
---
CHECK OUT THESE RELATED POSTS