Your Complete ACT Guide for 2023
Bonus Material: PrepMaven's Free ACT Guide
Looking for an industry-leading ACT guide? You've come to the right place!
If you're applying to college, you're likely planning on taking either the ACT or the SAT.
Navigating either test can be challenging, especially for students who are unfamiliar with standardized tests! If you're taking the ACT, you likely have a lot of questions.
What even is the ACT? How is it scored? How do you prepare for the ACT?
We spend a lot of time researching, creating, and publishing high-quality ACT content. Hundreds of people (like you!) consume and download our ACT guides and workbooks. Every day.
As a result, we've become a top resource for the ACT, and we consult with schools and families on a regular basis.
This ACT Guide highlights some of our best research and addresses the most frequently asked questions about taking the ACT. Plus, we give readers access to our free ACT Guidebook, which is even more comprehensive. Grab it below now if you'd like!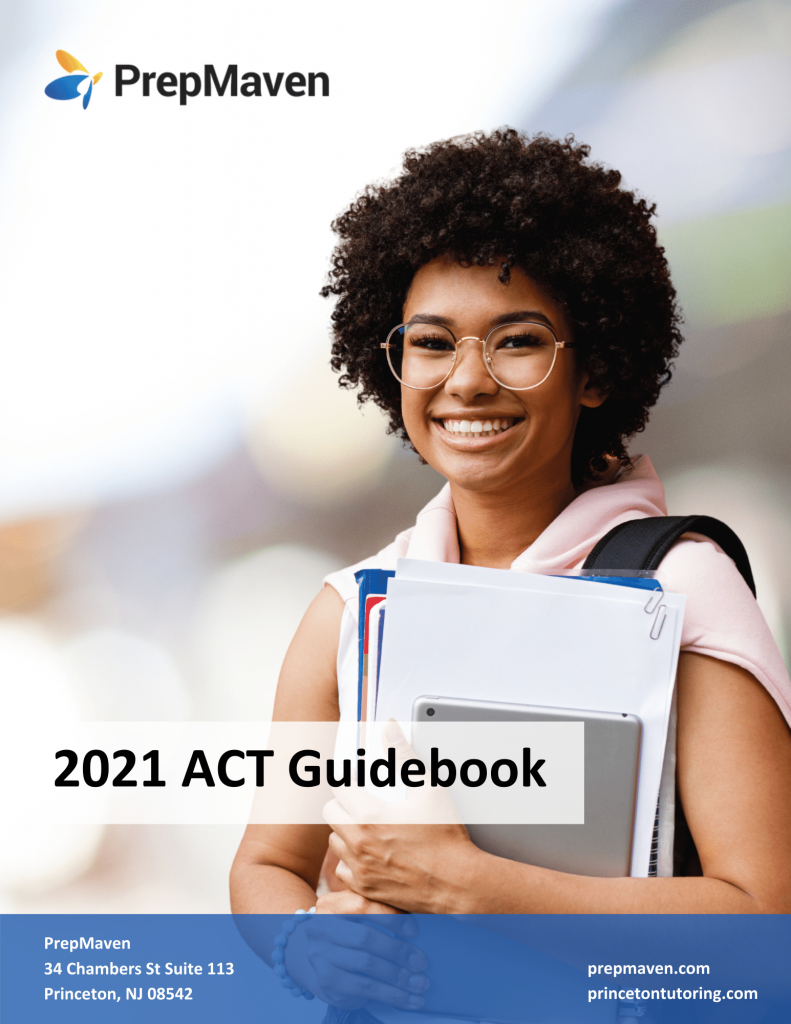 Bonus Material: PrepMaven's ACT Guidebook
Details about ACT scoring, content, testing options, and more
An introduction to PrepMaven's ACT strategies
Information about ACT prep resources
Application essentials for the top U.S. colleges
Here's what we cover in this ACT guide post:
---
Your Complete ACT Guide for 2021
ACT Guide Part 1:
The ACT in a Nutshell
The ACT is a college entrance exam administered by a nonprofit organization also called ACT.
It is a critical component of college admissions, which means that many U.S. colleges and universities require applicants to submit ACT test scores as part of their application.
There is another college entrance exam: the SAT. Colleges accept ACT and SAT scores equally! We compare the two tests and discuss how to figure out which test is right for you later on in this ACT guide (jump there now).
According to ACT, the ACT measures "skills that are most important for success in postsecondary education and that are acquired in secondary education."
Not all colleges require standardized test scores from applicants–many are test-optional. But some may still consider ACT scores for other purposes, including:
Advising and placement
Financial aid and scholarships
Athletic recruitment
What weight do U.S. colleges place on standardized test scores when reviewing applications?
This is a hard question to answer. Most institutions aren't that forthcoming when it comes to discussing what they prioritize in making their admission decisions. There is some data available, however, for certain schools.
In a Common Data Set from 2019-2020, for example, the University of Notre Dame specifies the following:
Standardized test scores are "important" to the admissions decision (but not "very important")
The university does make use of SAT, ACT, or SAT Subject Test scores in admission decisions
The university uses the SAT essay or ACT essay for advising purposes only (but does not require it)
Such data sets are not available for all U.S. colleges and universities. However, it is safe to assume that, if required, SAT or ACT scores can range from slightly to very important in informing the college admissions decision. For more competitive, elite institutions–like the Ivy Leagues–these scores can be very important.
Note: The COVID-19 pandemic has significantly impacted the emphasis that schools now place on standardized test scores. Many schools are modifying their testing policies as a result, either temporarily (i.e., for 2020-2021 admissions only or a pilot period) or permanently. Notre Dame, for example, is test-optional for the 2020-2021 admission cycle. You can find out more about how the pandemic has altered college admissions in our

COVID and College Admissions post

.
The ACT Format
So what's actually on the ACT? There are five sections on the ACT:
ACT English
ACT Math
ACT Reading
ACT Science
ACT Essay (Optional)
The ACT is a timed test, although testing accommodations are available for select students.
Here's the timing and question breakdown for each ACT section:
| | |
| --- | --- |
| ACT Section | Time / Questions |
| English | 45 minutes / 75 questions |
| Math | 60 minutes / 60 questions |
| Break | 10 minutes |
| Reading | 35 minutes / 40 questions |
| Science | 35 minutes / 40 questions |
| Break | 5 minutes |
| ACT Essay (Optional) | 40 minutes / 1 question |
Yes, that fifth and final section, the ACT Essay, is optional! That doesn't necessarily mean you should skip it, however.
One of the biggest challenges students face on the ACT is timing. Completing 75 English questions in 45 minutes, for example, is no easy feat! The same goes for answering 40 questions on ACT Reading on top of reading passages in just 35 minutes.
Additionally, it's important to note from a general strategy perspective that the two very content-heavy sections, English and Math, come first, while the two skills-based sections, Reading and Science, are at the end.
If you're enjoying this ACT Guide, we recommend downloading our ACT Guidebook, a FREE resource for all of our students and families. It includes all of the information in this post and so much more!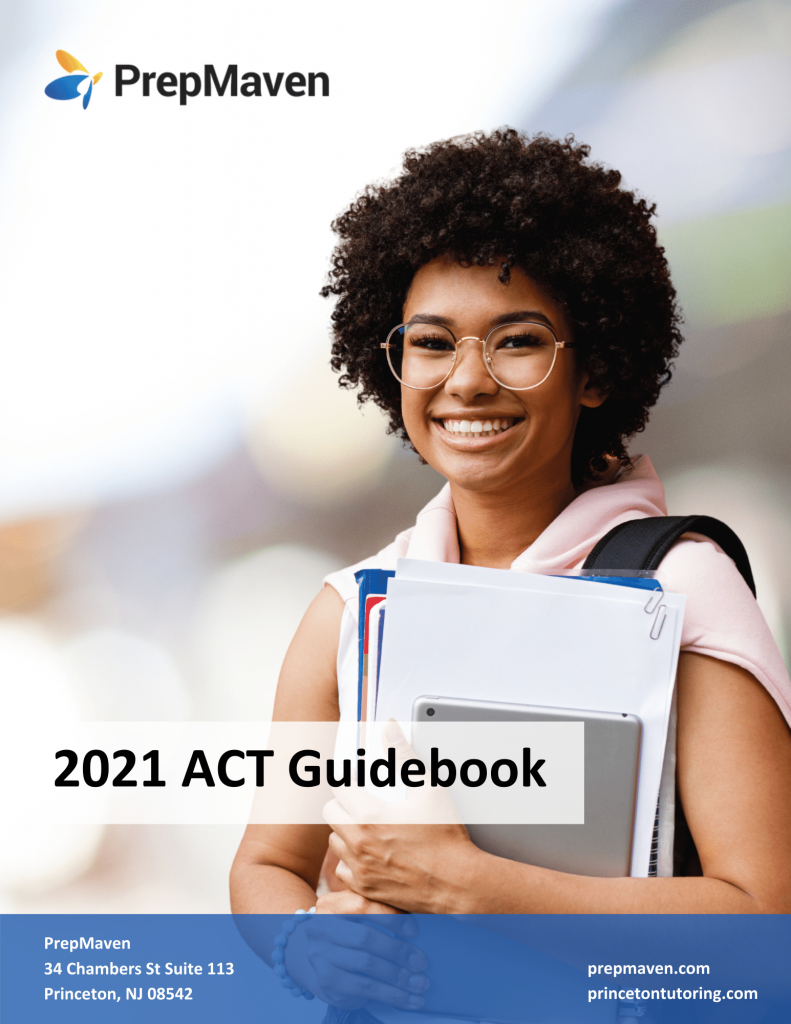 Bonus Material: PrepMaven's ACT Guidebook
Details about ACT scoring, content, testing options, and more
An introduction to PrepMaven's ACT strategies
Information about ACT prep resources
Application essentials for the top U.S. colleges
We'll take a deeper dive into each of the five ACT sections now.
Test 1: English
75 questions, 45 minutes
The ACT English section contains 5 passages with 15 questions per passage. Questions do not appear at the end of each passage, as they do on the Reading section, but rather throughout each text.
On ACT English, students will encounter questions about basic English conventions and writing strategy. Here are the general areas tested:
Punctuation
Verbs
Idioms
Transition words
Concise and clear writing
Pronouns
Conjunctions, prepositions, and modifiers
Vocabulary in context
Author's purpose
Expression and organization of ideas
Pro Tip: Check out our post on the 13 Grammar Rules tested on the ACT to get a head start prepping for those English conventions questions on ACT English!
Test 2: Math
60 questions, 60 minutes
The questions on the ACT Math section are arranged in order of increasing difficulty. This means that, in general, the first third of ACT Math questions are low-difficulty, the middle third are medium-difficulty, and the final third are high-difficulty.
Students who have completed Algebra 2 are likely to be familiar with all content on the ACT Math section. Here are the general principles and content areas tested:
| | | | | |
| --- | --- | --- | --- | --- |
| Triangles, circles, rectangles, polygons | Perimeter, area, and volume | Ratios and proportions | Slope | Combinations and permutations |
| Fractions | Mean, median, mode, range | Charts and two-way tables | Solving expressions and variables | Word problems |
| Probability | Cartesian graphs | Functions | Math vocabulary | Matrices |
| Percentages | Trigonometry | Linear equations | Exponents | Number properties |
However, the ACT may not test this content in a straightforward way!
Test 3: Reading
40 questions, 35 minutes
The ACT Reading section consists of 4 passages of the following genres:
Literary narrative
Humanities
Social science
Natural science
One of these passages will be a dual passage, which will require students to compare 2 smaller passages (Passage A and Passage B).
Every ACT Reading passage has 10 questions.
This is the only section of the ACT that does not require any outside content knowledge! For this reason, students should anticipate approaching ACT Reading from a purely strategic perspective.
What kinds of questions can you expect to see on this section? Here's a list:
Detail
Author's purpose
Inference
Character analysis
Words in context
Literary devices
Test 4: Science
40 questions, 35 minutes
The ACT Science section may sound daunting, but it basically tests the following skills:
Data analysis
Figure and graph interpretation
Analysis of experiments
Scientific knowledge*
*There are about 2-3 questions per ACT Science section that require outside knowledge. However, this knowledge is most likely foundational knowledge students will have learned in high school science classes.
This section consists of 6 "passages." Each "passage" will contain some text and/or graphics in the form of charts, figures, tables, and/or graphs.
There are three passage types:
Experiments (3)
Charts and graphs (2)
Two scientists/theorists (1)
Experiments passages require students to analyze and/or compare scientific experiments or studies, while Charts and Graphs passages typically involve one scientific concept and a few figures. Lastly, students will have to compare and analyze the perspectives or theories of two scientists or theorists.
With ACT Science, it's very easy to get lost in the technical, scientific jargon of each passage. That's why it's so important to zero in on what each question is really asking and to analyze the figures prior to answering each question.
Test 5: Essay (Optional)
1 question, 40 minutes
For the optional ACT essay task, students must analyze an issue and three different perspectives on this issue. They will then have to craft an essay response that discusses their perspective of the issue, including specific evidence and examples.
Want even more details about the ACT, including our best advice for preparing for this test (and earning a great score)? Download our ACT Guidebook for 2021, a FREE resource for all of our students and families.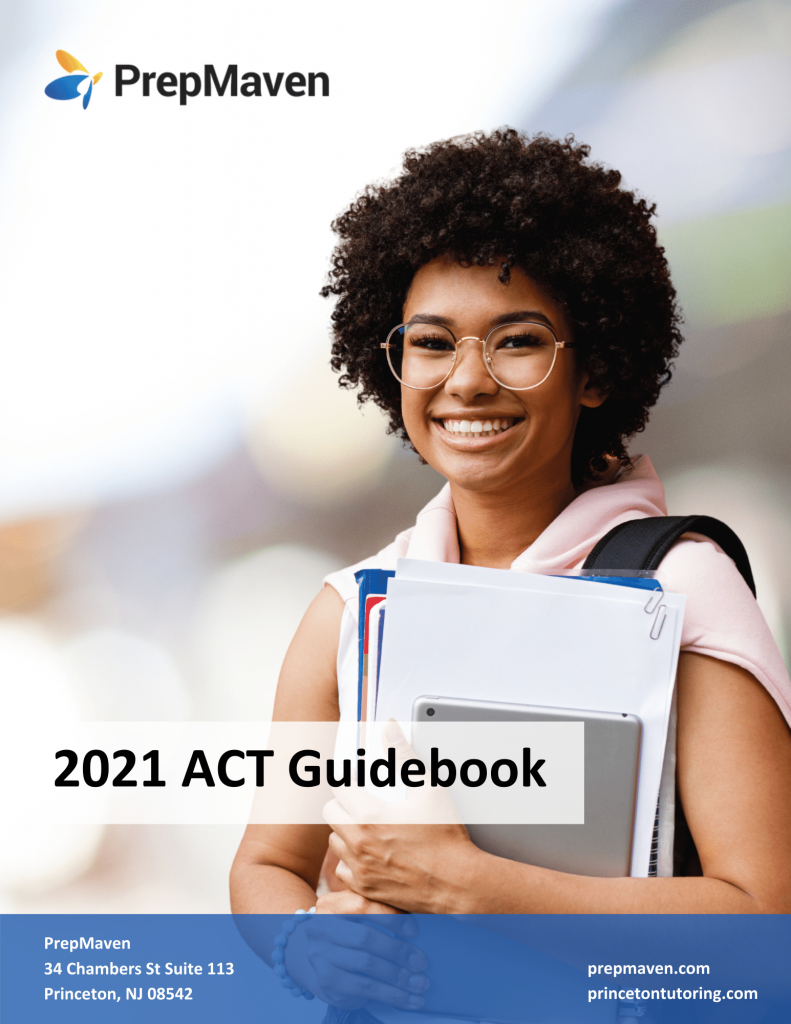 Bonus Material: PrepMaven's ACT Guidebook
Details about ACT scoring, content, testing options, and more
An introduction to PrepMaven's ACT strategies
Information about ACT prep resources
Application essentials for the top U.S. colleges
ACT Scoring
Every ACT section (except the essay) is scored on a scale of 1-36. 1 is the lowest score you can achieve on an individual section, while 36 is the highest score possible.
| | |
| --- | --- |
| ACT Section | Score Range |
| English | 1-36 |
| Math | 1-36 |
| Reading | 1-36 |
| Science | 1-36 |
Students will also receive an ACT total score, also called the composite score. This is the average of the scores received on the four required ACT sections.
Take a look at this sample student ACT score report to see this scoring system in action:
Source: ACT.org
Here, the student's composite score of 21 is the average of the student's individual ACT section scores (19, 18, 24, and 23). The student's ACT essay (also referred to as Writing) scores do not impact this composite score and fall on a range of 2-12.
ACT score reports also include information about a student's "ranking" in the U.S. and that student's home state. These are approximate percentages of recent grads who have taken the ACT in the U.S. and your state and achieved the same score as you or lower. The ACT offers these rankings for your composite score, individual section scores, and STEM/ELA scores.
We take a deeper dive into all of this in our ACT Scoring Guide.
A "Good" ACT Score
What counts as a good ACT score? Naturally, most students assume that because 36 is the highest possible ACT score (both composite and individual), it's a "good" ACT score. While a 36 will definitely add a competitive edge to an application, anything less than a 36 isn't necessarily a bad ACT score.
ACT.org regularly releases a "National Norms" report for ACT scores. This includes data from all ACT test scores reported between 2019 and 2020 (although these scores could be from 2017, 2018, and 2019 class graduates).
The most recent National Norms ACT Report includes the average section and composite scores of those reported between 2019 and 2020. Here's what they are:
| | |
| --- | --- |
| Section | 2019-2020 Average Score |
| English | 20.2 |
| Math | 20.5 |
| Reading | 21.3 |
| Science | 20.8 |
| Composite | 20.8 |
One definition of a "good" ACT score is one that is nationally above-average. In this sense, a composite score of 21 or higher on the ACT could be considered a competitive score!
At the very least, we encourage students who are new to the ACT to aim for a target score that is above national averages, on individual sections and the whole test itself.
Of course, scoring above-average on the ACT is just one interpretation of what it means to do well on the test. There are two other things to keep in mind when defining what counts as a good ACT score:
Average scores of admitted applicants to your school(s) of choice
Your current scores
It can be challenging to pinpoint the precise average scores of admitted applicants to your school(s) of choice. Some colleges make such information public, while others are a bit reluctant to release this information.
The good news is that we've put together the average scores of admitted applicants to the top 499 U.S. colleges and universities, which you can find in our data-backed post on Good ACT Scores for 2021.
Bad ACT Scores: Do They Exist?
We've discussed the good. What about the bad? Is there such thing as a bad ACT score?
Once again, the answer to these questions really depends on your definition of "bad."
Yet from a general perspective, a "bad" SAT score often misses the mark of what ACT.org has called college readiness.
These scores are typically below-average in comparison to the mean. They may also not meet the benchmark scores ACT.org has established in terms of college preparedness, especially with respect to content areas like English and Math.
Here's what ACT.org says specifically about benchmark scores on its website:
Students who meet a benchmark on the ACT have approximately a 50% chance of earning a B or better and approximately a 75% chance of earning a C or better in the corresponding college course or courses.
Here are the benchmark ACT scores for college readiness as of 2020:
English: 18
Math: 22
Reading: 22
Science: 23
First-time ACT students should prioritize meeting and surpassing these benchmark scores.
The ACT vs. the SAT
All U.S. colleges and universities accept ACT and SAT scores equally. So which test should you take?
The answer to that question depends upon your personal strengths. At the end of the day, you'll want to take the test most likely to give you the highest possible score.
You can learn more about choosing your best fit test–as well as 5 easy questions to ask to do so–in our detailed post, Should I Take the SAT or ACT?. We also encourage students to download our 2021 ACT Guidebook, which includes all of the information in this post (and more), absolutely free.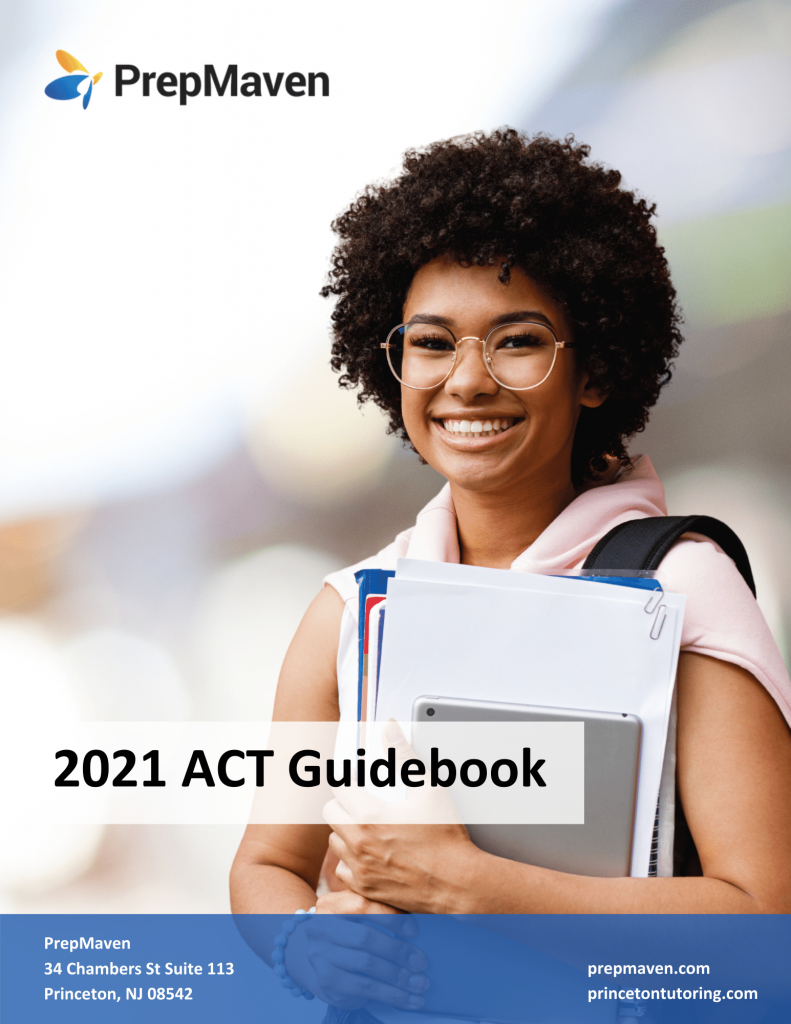 Bonus Material: PrepMaven's ACT Guidebook
Details about ACT scoring, content, testing options, and more
An introduction to PrepMaven's ACT strategies
Information about ACT prep resources
Application essentials for the top U.S. colleges
---
2) ACT Guide:
Preparing for the ACT
Students can prepare for the ACT in a variety of ways. Yet in our many years of helping students succeed on the ACT and earn acceptance into their dream schools, we have learned that effective test prep boils down to three things:
Timeline
Practice
Strategy
The ACT is not like traditional high school exams. Its duration, content, and emphasis on strategy all mean that students should set aside a significant amount of time to prepare for this standardized test.
Timeline
How much time students allocate to ACT test prep has to do with a lot of things, including:
When they take the ACT for the first time
When they take it for the final time
When they intend to apply to college
How many times they take the ACT
Their target ACT score
When should I take the ACT for the first time?
In December 2017, we polled 89 of our tutors, the vast majority of whom were Princeton undergraduates or graduates. 80% of our tutors polled took the test for the first time sometime in Junior year, with Fall and Spring the most popular times.
Determining your first official testing date, however, has a lot to do with your college application timeline, which we discuss in our responses to the next questions. Students should also plan to take the ACT for the first time after they've finished Algebra 2, as much of the test's math content spans this subject area.
What is my latest possible testing date?
Answering this question can be vital for helping students establish a viable test prep timeline. The latest possible testing date is often the last ACT a student can take and still be able to submit official scores to colleges. Most schools will also indicate on their websites latest recommended testing dates.
We also recommend that students check out these 9 sample ACT testing schedules.
When do I intend to apply to college?
Do you intend to submit regular decision applications? Early action? Early decision? A mix of all of the above? Whatever the case, be aware of application deadlines and school policies for final testing dates.
For most schools:
Regular Decision deadline = January 1st
Early Action/Early Decision deadline = November 1st
It usually takes about a month after your testing date before schools receive your scores, so these are the latest recommended testing dates:
December ACT if applying Regular Decision
October ACT if applying Early Action/Early Decision
How many times should I take the ACT?
75% of our polled tutors took the SAT or ACT between 2 to 4 times. The ideal situation is to crush the test on the first try and be done with it. Realistically, you'll probably need to take the test several times even if you're hitting your target scores in practice.
Multiple testing dates are also likely to reduce test anxiety and mitigate potential unforeseen circumstances (i.e., getting sick). Students who take the ACT multiple times can also take advantage of Superscoring, if their schools of choice permit this.
What is my target ACT score?
A target ACT score is essential for effective prep. It gives students a direction and can significantly impact their prep timeline. Students can answer this question by taking a diagnostic ACT, reviewing score ranges of competitive applicants to the schools on their list, and creating a solid ACT study plan.
How much time should I plan between testing dates?
After receiving your scores, you might be super close to your target. In this case, you'll probably want to sign up for the next available testing date. If you feel like you still have a lot of improvement to make, you might want to give yourself a couple more months before re-testing.
If possible, avoid scheduling back-to-back testing dates if they are only a month apart. Ideally, you'll first want to receive your scores back before figuring out the best strategy moving forward.
We recommend planning several months between official ACT testing dates. Be sure to keep in mind potential scheduling constraints, including junior year workload, AP tests, college applications, summer activities, and extracurricular obligations.
How many hours should I plan on studying for the ACT?
Having an understanding of how many hours you plan on studying will help you plan out your study schedule and determine how soon you can take your first test. In general, we recommend:
Minimum of 20 hrs
Target of 40 hrs
Ideal of 80 hrs
Superstars put in 120+ hrs
Let's say you want to get in 80 hours of studying before your first test and want to to take advantage of summer break. A 2-month study schedule might look like:
2 hrs/day
5 days/week
8 weeks
80 hours sound like a lot, but it's more than doable if spread out over a period of time. In this scenario, you would be in great shape to take your first test at the end of the summer/ early fall. We do not recommend showing up cold to your first test without any preparation.
Want even more details about the ACT, including our best advice for preparing for this test (and earning a great score)? Download our ACT Guidebook for 2021, a FREE resource for all of our students and families.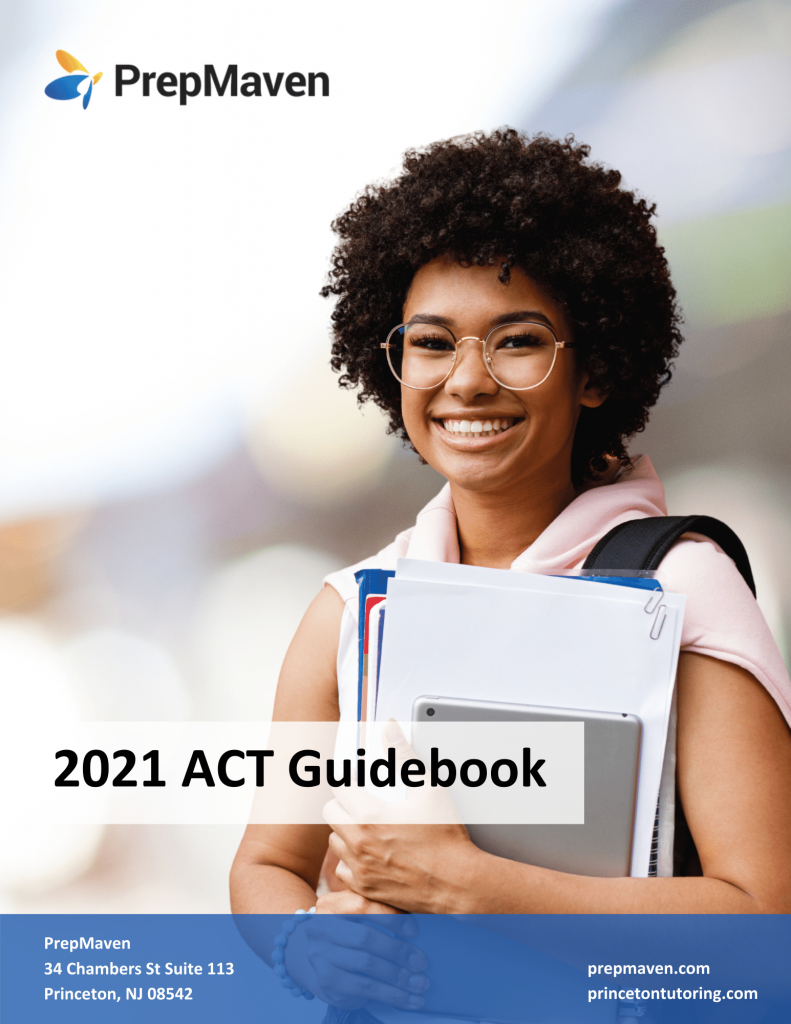 Bonus Material: PrepMaven's ACT Guidebook
Details about ACT scoring, content, testing options, and more
An introduction to PrepMaven's ACT strategies
Information about ACT prep resources
Application essentials for the top U.S. colleges
ACT Practice
Consistent practice is essential for effective ACT prep, especially when it comes to assessing progress, building stamina, and maintaining grasp of content and strategies. Besides setting aside a sufficient timeline for their ACT prep, students should also make sure they have the right resources to set them up for success.
These include official practice tests, other reputable practice materials, and private tutoring and/or group classes.
Official ACT Practice Tests
ACT has released 6 official practice tests over the years. These are excellent resources for every test-taker, because they allow students to apply what they've learned to test-like questions. They also serve as fantastic benchmarks.
Students should start their ACT prep, for example, by taking a practice test, which can serve as a diagnostic of where they stand score-wise. Taking regular practice tests throughout a prep timeline can also be vital for assessing progress and honing specific skills.
Practice Materials
It's vital to prep as close to the source as possible. For this reason, we always encourage our students to utilize ACT resources first and foremost. This includes the following:
The Official Beginner's Guide to the ACT
The Official ACT Prep Guide ($)
With the exception of the Official Beginner's Guide to the ACT and the Official ACT Prep Guide books, all of these resources are free to ACT students.
When it comes to other resources, keep in mind that these are not as likely to be as representative of the official exam (although they can still prove helpful). Use these as a last resort, and be mindful that practice test scores may not be reflective of your current abilities.
We recommend supplementing official ACT practice with targeted content work through various reputable third parties.
Online resources include:
Private Tutoring & Group Classes
We strongly encourage test-takers to enlist the help of experts in preparing for this tough test! There are lots of options out there for this, but we find that our students have the most success when working with a private tutor and/or enrolling in a group class.
Strategy
The ACT is a standardized test, which means that it is predictable in many ways. Otherwise, it wouldn't be considered a fair benchmark in college admissions!
This also means that successful test-takers must rely on strategy as much as content knowledge. This is especially the case for the ACT Reading test, which is entirely strategy-based, and the ACT Science test, which requires outside content knowledge for only 2-3 questions.
The strategies we discuss here are only a few of the many strategies students can use when approaching the ACT, but we've compiled the best ones here.
ACT English
In order to master the ACT English test, students need to be comfortable with the following concepts.
As you can see from this chart, Conventions of Standard English (i.e., grammar) questions will test your knowledge of standard written English grammar, punctuation, and other rules. Learn more about these 13 grammar rules here.
Production of Writing and Knowledge of Language questions will ask you to improve the effectiveness of communication in a piece of writing. These questions will often have a question in front of them, whereas the Conventions of Standard English questions will not.
In general, this often means that Production of Writing and Knowledge of Language questions take more time to complete than English Conventions questions. They often require a firm understanding of context, rather than rote grammar rules, main ideas, and how topics are developed in a passage.
Strategy #1: Read the full text.
Unlike the ACT Reading test, students do not need to have an in-depth understanding of the passages in order to be successful on the English test. That being said, Production of Writing and Knowledge of Language questions will often require students to consider context and main ideas of sentences, paragraphs, or the passage as a whole.
For this reason, skimming can be detrimental to test-takers. Read all of the words of the passage, even if they do not contain any underlined portions. It is also a good idea to keep the big picture in mind as you work through paragraphs and passages.
Strategy #2: Identify which concept the question is actually testing.
Compare the answer choices to one another for clues – how do they differ? Do some answer choices include a plural subject, while others make the subject possessive? If so, this is probably a question focusing on apostrophes.
Once students have identified the guiding principle of a given question, it becomes much easier to identify the error and correct it.
Strategy #3: Prove answer choices wrong.
Remember that for every English Conventions question, there will only be one answer that is grammatically correct. In addition to finding the right answer, it's important to check every other answer and identify why that answer choice is grammatically incorrect.
If students ever feel that there are two or more grammatically correct answers, they need to look closer because they are probably missing something. The ACT loves to include "nearly correct" choices that appear solid at first glance, which is why it's important to check every answer carefully. Students should be able to definitively rule out all but one choice.
The Production of Writing and Knowledge of Language questions can be a little trickier because more than one answer may be grammatically correct, but only one will communicate the author's intention most clearly.
Strategy #4: Shorter is often better.
In general, if more than one answer is grammatically correct, the shortest answer will be the right one. The ACT loves to test wordiness and how to avoid it – in general, shorter is always better.
By extension, if there's ever an answer choice that says "DELETE the underlined portion," students should check this one first. It is not always correct, but it has a high likelihood of being the right answer.
Remember that process of elimination is your best friend. If you're ever stuck on the Production of Writing questions, compare the answer choices to one another to see how they differ. If every piece of information included in an answer choice isn't absolutely necessary, then you're probably better off cutting it out.
Strategy #5: Plug it in.
Finally, before students choose an answer, they should plug it back into the passage to make sure it fits. An answer that makes perfect sense on its own might create an error in the context of the passage.
ACT Math
Strategy #1: Question Order
All questions on ACT Math are worth the same number of points (within each individual section). The questions on ACT Math are arranged (generally) in order of increasing difficulty.
It just doesn't make sense to waste five minutes struggling through a difficult problem (that a student might get wrong anyway!) at the expense of spending that time on easy/intermediate questions a student can definitely get right.
Similarly, it doesn't make sense to rush through the initial easy questions to get to the hard problems if it means making careless errors! Focus attention on where you'll have the most success.
For that reason, don't feel like you have to answer every question on ACT Math in order. In fact, this is what we recommend:
Skip around, prioritizing quick, easy questions first
Then work questions you feel comfortable answering but know will be time-consuming
Finally, attempt any difficult questions (if there is time left)
How do you recognize hard questions on ACT Math? Remember that ACT Math questions are arranged in order of increasing difficulty, so harder questions will appear in the middle and at the end of the test.
As a rule-of-thumb, hard questions also require more than 1 minute to complete. In general, high-difficulty ACT Math questions occur at the end of the test, approximately questions 40-60. If you've spent a full minute on an ACT Math question, pause and re-evaluate. If you can solve the problem in another 30 seconds, go for it. Otherwise, skip it and come back to it later.
Strategy #2: Guessing
While you might not have time to attempt every ACT Math question, never leave a question blank. There are no penalties for wrong answers on the ACT, so make sure to bubble in an answer for every question, even if it's a total guess!
That being said, try to use process of elimination as much as possible to weed out unlikely answers and increase the probability of guessing correctly. Every answer choice ruled out significantly increases your odds of getting a correct answer.
In the event that no answer choices can be ruled out, choose a "Letter of the Day" (i.e. A, B, C, or D) and use that same letter for every guess.
Strategy #3: Be Prepared
Finally, while this may sound obvious, students should come into the test prepared. Save yourself time by memorizing the ACT Math instructions that appear at the start of the test:
Lastly, understand the how-and-when of using calculators. While many students rely on a calculator for computation, it's not always the quickest way to solve a problem (especially on the ACT!). Practice problems with and without a calculator in advance of the test to understand which is fastest for you.
Strategy #4: Know the content.
ACT Math relies heavily on outside content knowledge. Many of these math topics concern Algebra 1, Algebra 2, and Geometry. It's important to note that ACT Math often tests familiar content in unfamiliar ways. That's why it's essential to also consider the next strategy.
Strategy #5: Think like a problem-solver.
The most important strategy for ACT Math is solving problems in the fastest way possible. This does not mean rushing through problems. Rather, it means being a savvy test taker and adapting your strategy for each problem.
Unlike high school math, the ACT doesn't care how students solve the problem. You don't get credit for showing your work (although showing your work can help you avoid careless errors). Choose whichever method is quickest for solving an ACT math problem.
ACT Reading
The ACT Reading test is the only section on the ACT that doesn't require outside content knowledge.
What's more, if you find yourself bringing in outside knowledge to answer an ACT Reading question, that's a sign that you're veering towards a wrong answer choice. All of your information should come from the passage, and the passage alone.
Strategy #1: Think like the test-makers, not a test-taker.
The test-makers design the ACT Reading test to be challenging. They want students to fall for trap answers and use their time inefficiently. They want students to answer questions in predictable ways.
That's why it's important to think strategically on ACT Reading. Be on the lookout for ways that the ACT is trying to trick you–the more you can anticipate these traps, the more likely you are to not fall for them!
Here's one example. The literary narrative passage is always the first passage on ACT Reading. At first glance, this passage sounds easy-peasy. Fiction? Characters? Dialogue? Cool!
But on second glance, the questions associated with this passage are detail-oriented and time-consuming. Many students who start with this passage end up losing a lot of time.
You guessed it: the test-makers do this for a reason. They want you to waste your time on this first passage so you have limited time to get to the others! The predictable test-taker will do this passage first. The savvy test-taker will not.
Strategy #2: Identify where your strengths lie and always play to these.
There is no wrong answer penalty on the ACT. This means that students do not lose points when they answer a question incorrectly. They simply do not gain any points.
For this reason, there's no harm in guessing! Students should never leave answers blank on ACT Reading.
Every question is also worth the same amount of points on each individual section of the ACT. There is no point value difference between an easy ACT Reading question and a hard one.
Make your life easier from the outset by prioritizing what is easier for you in terms of:
ACT Reading passages
Questions
For example, if you consistently have high accuracy on questions associated with Natural Science passages on the ACT Reading test, start with those passages. If you always nail detail questions, do those first for every passage.
Save the harder passages and questions for the end–or for guessing. Beginning with your strengths on ACT Reading is the surest way to guide you closer to a high score.
Strategy #3: Boost your fluency in ACT Reading question types.
It's important to recognize the different types of questions you'll encounter on ACT Reading. This fluency will help you pinpoint your strengths and cater to these. It can also clue you in to the predictability of ACT Reading. It will have the same types of questions every time, after all.
And each question type will have its own predictability, especially in terms of wrong answer choices. Here are the types of questions you can expect to find on ACT Reading:
Words in Context
Function / Purpose
Main Ideas
Detail or Line Reference
Inference
Literary devices
Character analysis
Strategy #4: Recognize typical wrong answer choices.
The more you can learn to recognize typical wrong answer choices, the greater your odds are of avoiding these traps on ACT Reading. Some common wrong answer choices include:
"Extreme" answers, which often include words like never or always
Inferences that go too far beyond the passage
Distortion of details or keywords from the passage
Verbiage that sounds "nice" but can't be backed with passage evidence
References to outside knowledge
Notice a common thread in these? You guessed it — wrong answer choices are wrong because they can't be supported with direct evidence from the passage.
Students should thus get in the habit of identifying evidence in the passage for every answer choice they select.
Strategy #5: Don't get lost in the answer choices.
This is one of the most important ACT Reading tips we pass along to our students. Many test-takers get in the habit of reading through all of the answer choices before coming up with an answer to a question. Don't do this! This increases your odds of getting sidetracked by a "shiny" trap answer.
We recommend reading the question first, researching your answer in the passage, making a prediction, and then eliminating answers that don't match your prediction.
Strategy #6: Divide and conquer on the dual passage.
Don't forget that one of the 4 ACT Reading passages includes a dual passage. This means students will have to read two smaller passages in one, and answer questions about both.
Instead of reading through these two passages before getting to the questions, divide and conquer! Make your life easier by tackling only one passage at a time.
Take a look at the questions
Tackle the passage that has the most questions first
Answer questions for that passage
Tackle the other passage and its respective questions
Complete questions about both passages
This strategy means that you only have to think about both passages at once for the questions that concern both (arguably the harder questions on the dual passage).
Strategy #7: Annotate the passage.
ACT Reading passages are complex, dense, and boring. Maintain focus by annotating when you engage with any passage. Pay attention to main ideas as you work a passage. Jot down the main idea for every paragraph in the margins, circle words you recognize from the questions, and underline anything that feels relevant.
Students should focus less on details. They should prioritize big picture ideas and arguments as they annotate, as ACT Reading questions are most interested in these. These notes can be extremely valuable later on as students answer questions, providing a specific road map for passage ideas (and ultimately answers).
It's equally important to answer questions with these main ideas in mind. In fact, in many cases, it's possible to employ process of elimination based on which answers are in line with the passage's central claim, and which aren't.
Strategy #8: Be literal.
Every correct answer to every ACT Reading question can be found in the passage itself. This means that students should be very cautious if they find themselves making assumptions, huge inferences, or other logical leaps.
Approach questions literally! Work only with what you see in the passage and in the question stem. Be very skeptical of answer choices that lead you away from these two things.
ACT Science
The ACT Science test often gives students a fair amount of grief. Many are intimidated by the test's reliance on data analysis and figure interpretation. What's more, the test is the fourth section, meaning that students are often battling fatigue on top of complex passages.
Here are strategies for succeeding on this difficult test, no matter where your strengths lie.
Strategy #1: Think of this as another Reading section.
At first glance, ACT Science appears to be all about data and technical experiments. To some extent, this is true. But students can and should approach this test as they approach ACT Reading: strategically.
This means taking passages and questions out of order, prioritizing those that are easiest for you personally. When approaching questions, think in terms of main ideas of the experiments or scientific concepts presented in the passage.
When starting your ACT Science prep, familiarize yourself with the test's question and passage types:
Passage Types
Conflicting Scientists
Single Figure-Based Concept
Analyzing Experiments
Question Types
Figure-based
Scientific knowledge
Data analysis
Strategy #2: Annotate the charts and figures before answering questions.
Much as we encourage students to annotate the passages on ACT Reading before diving into the questions, we also recommend annotating the charts and figures in an ACT Science passage first.
When annotating, identify and notate the following:
Trends and patterns in the data
X-axis and Y-axis designations
Units
Chart titles
Main ideas or experiment purposes
Equations
Strategy #3: Don't get lost in the jargon.
It can be really easy to get overwhelmed by the technical details of the ACT Science passages. Yet do your best to look past this jargon and focus only on main ideas, what the questions are asking, and data trends.
You don't have to understand everything about the scientific concepts discussed! You only have to demonstrate your ability to approach charts and figures strategically. Keep this in mind on all passages.
Strategy #4: Don't sweat the scientific knowledge questions.
Some students get hung up on the fact that 2-3 questions on ACT Science test outside scientific knowledge. Yet keep in mind that these questions will likely test basic content students should already know from their high school science curriculum. However, if one does appear and you have no clue how to proceed, select your guessing letter and move on.
Want even more details about the ACT, including our best advice for preparing for this test (and earning a great score)? Download our ACT Guidebook for 2021, a FREE resource for all of our students and families.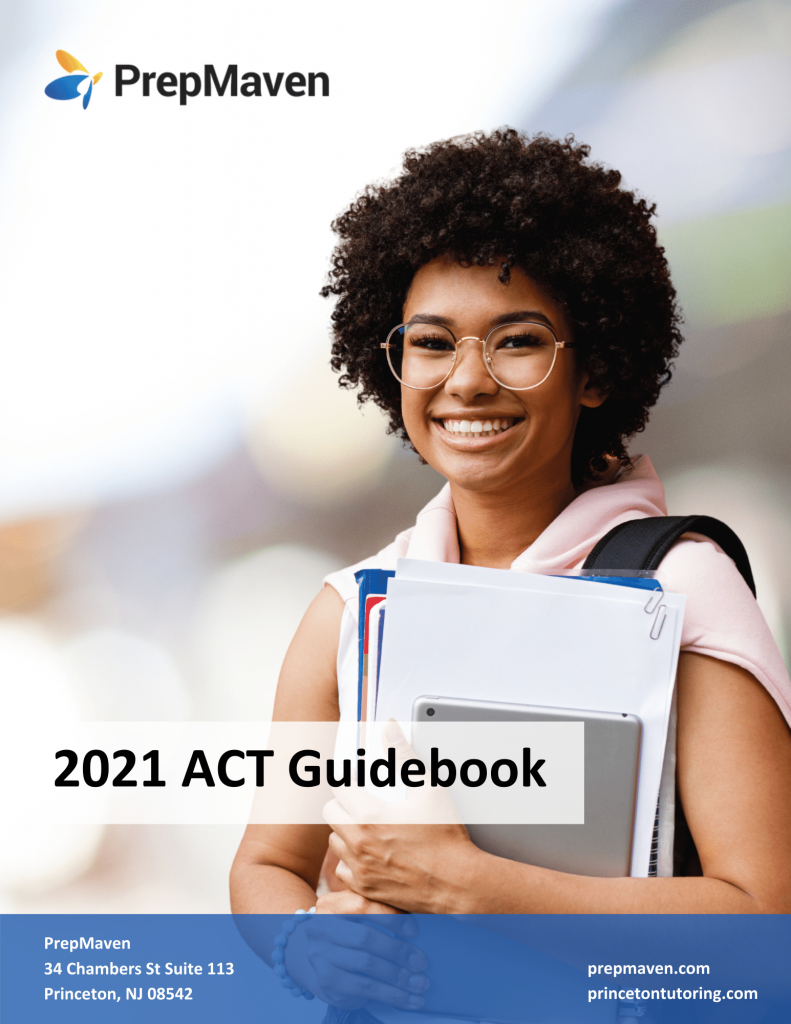 Bonus Material: PrepMaven's ACT Guidebook
Details about ACT scoring, content, testing options, and more
An introduction to PrepMaven's ACT strategies
Information about ACT prep resources
Application essentials for the top U.S. colleges
---
3)
ACT Guide:
Taking the ACT
So far in this ACT guide, we've discussed what the ACT actually is–from its format to its scoring. We've also taken a deep dive into the components of effective ACT test prep. Now it's time to discuss the ins and outs of Test Day itself!
ACT Registration
To register for an official ACT administration, you'll need the following:
Computer with internet
Credit card or other payment (to pay for registration fees)
High school course details
Headshot photo
Here's how you register:
Choose your ACT test date (discussed in the next section) and testing center.
Create a

free MyACT account

and log in.
Provide your full legal name and other identifying information as requested.
Follow the prompts to register for your selected test date and testing location.
Select the ACT Writing test (essay) if applicable.
Upload a headshot photo of yourself.
Check out and print your admission ticket!
Depending upon your circumstances, you might need to enter the following additional registration information:
Your

high school's code

Testing accommodations and English Learner Supports details (if approved)
Fee waiver details (if approved)
ACT's Educational Opportunity Service
When you register for an ACT, you'll be asked if you'd like to sign up for ACT's Educational Opportunity Service. This connects students to colleges and scholarship agencies for recruitment.
This is entirely optional, but can be a good opportunity for students to:
Get discovered by colleges
Find financial aid programs
Broaden their college search
Test Fees
Students do have to pay a fee to register for an official ACT administration. These fees are non-refundable, yet fee waivers and state vouchers are available for eligible students.
Here are the ACT Test Options and Prices for 2021:
| | |
| --- | --- |
| The full ACT (no writing) — includes score submission to 4 colleges | $55 |
| The full ACT (with writing) — includes score submission to 4 colleges | $70 |
*Note: You can get refunded for a writing test fee ($15) if you are absent on test day or decide to switch to a no writing ACT at the last minute.
Additional Fees
| | | |
| --- | --- | --- |
| Service | Fee | Details |
| Late Registration | $35 | Applied if you register or change your test date during the late period for a national ACT test date |
| Standby Testing | $56 | Refunded if you are denied admission to the test center on test day or registration was cancelled due to no photo provided |
| Change Fee | $35 | Includes making a Test Date Change or Test Center Change |
| Score Reports to 5th and 6th College Choices | $13 | Request online before the test date. Refundable on written request if you do not test |
| Additional score reports | $13 | You can request additional score reports online |
| Test information release | $22 | Students can request a copy of their test questions and answers |
Standard ACT Test Dates
The ACT is administered in the U.S. (and U.S. territories and Puerto Rico) on the following national test dates for 2021. More dates for the fall of 2021 are likely to be available soon and/or might change pending the evolving pandemic, which is why we encourage students to check ACT's website for test date updates.
| | |
| --- | --- |
| Test Date | Registration Deadline |
| February 6, 2021 | January 15, no late fees |
| April 17, 2021 | March 12 |
| June 12, 2021 | May 7 |
| July 17, 2021 | June 18 |
Note that registration deadlines are often a month prior to the official testing date. Students can register late for an added fee.
You can make the following changes to your ACT registration via your online account (fees may apply):
Adding or removing the essay
Changing your test date
Changing your test location
Updating your personal information
Adding or changing your college choices
ACT Testing Accommodations
ACT offers testing accommodations designed to ensure that eligible students are not disadvantaged when sitting for the test.
In other words,
"ACT is committed to serving examinees with documented disabilities by providing reasonable accommodations appropriate to the examinee's diagnosis and needs."
The keyword here is certainly "documented." The ACT can be very particular about the documentation needed in order to approve a student's request for accommodations.
Students with "documented disabilities" may be eligible for certain kinds of ACT accommodations. The ACT claims it responds to all requests for testing accommodations in accordance with the Americans with Disabilities Act (ADA). The ADA defines a disability as follows:
"a mental or physical impairment that substantially limits a major life activity compared to the average person in the general population."
Some examples of disabilities that may necessitate ACT testing accommodations include:
Learning disabilities
Psychiatric disorders
Visual impairment
Hearing impairment
Attention-Deficit / Hyperactivity Disorder
Traumatic brain injuries
Autism Spectrum disorders
Speech and language disorders
Specific medical conditions
According to ACT, your student may be eligible for accommodations if:
The condition is professionally diagnosed AND substantially limits one or more major life activities
Requests are appropriate and reasonable for the documented disability
We break down everything you need to know about requesting ACT testing accommodations in another post.
---
Work with an expert ACT tutor in 2021
In this ACT Guide, we've walked you through the ins and outs of the ACT, from what the test actually is to how to prepare for it. Now you have a great foundation for beginning your ACT prep!
To accelerate that prep, we encourage students to turn to the ultimate guide: a PrepMaven ACT tutor.
The ACT is a very specific test that is unlike any high school exam out there. Success on the ACT often boils down to gaining a deep understanding of the test itself and following through with a methodical preparation plan, which requires time and expert guidance.
Working one-on-one with an ACT tutor is the fastest and most effective way of preparing for the ACT–and getting that much closer to a competitive score.
At PrepMaven, we're here to match students with the very best tutors in the industry, many of whom are Ivy League graduates. Learn more about ACT private tutoring with PrepMaven today!
---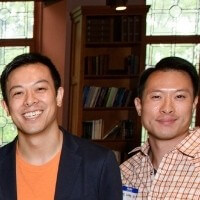 Greg & Kevin
Greg and Kevin, Princeton graduates (and brothers) with over 20 years of education experience, are co-founders of PrepMaven and Princeton Tutoring. They apply research-backed problem-solving skills to the test prep and college preparation process. They also place a heavy emphasis on personal development, character, and service for successful college preparation.