ACT Testing Accommodations: Everything You Need to Know
Most four-year U.S. colleges and universities require applicants to submit standardized test scores with their applications.
Test-optional schools do exist. Yet even these schools may use the SAT or ACT for merit scholarships, athletic recruiting, and academic advising.
For students with learning challenges and/or disabilities, these tests can constitute the most challenging component of college admissions. 
The ACT, in particular, is known for its tight time limits and dense material. Some test-takers may simply not be able to get through the content in the given time in a way that reflects their true academic potential.
Luckily, ACT testing accommodations exist. These enable eligible test-takers to sit for the ACT under specific conditions, such as extended time, testing over multiple days, or visual/audio assists.
It can be tricky navigating the ACT accommodations process. We're here to demystify the process, however, and give parents and students the information they need to request ACT testing accommodations.
Here's what we cover:
---
What are ACT Testing Accommodations?
The ACT is one of two standardized tests used in the college admissions process. It differs significantly from the SAT, but there's one thing these two tests have in common: timing constraints.
We call these tests "marathons" for a reason. Here's what ACT test-takers must endure in a little under four hours:
English (75 questions, 45 minutes)

Math (60 questions, 60 minutes)

Reading (40 questions, 35 minutes)

Science (40 questions, 35 minutes)

Essay, optional (1 question, 40 minutes)
Students with learning challenges and/or other disabilities may struggle to complete all of these sections in the time allotted. 
The traditional pencil and paper format of the ACT could also pose obstacles, depending on student needs.
For this reason, the ACT offers testing accommodations. These are designed to ensure that eligible students are not disadvantaged when sitting for the test.
In other words,
"ACT is committed to serving examinees with documented disabilities by providing reasonable accommodations appropriate to the examinee's diagnosis and needs."
The keyword here is certainly "documented." The ACT can be very particular about the documentation needed in order to approve a student's request for accommodations.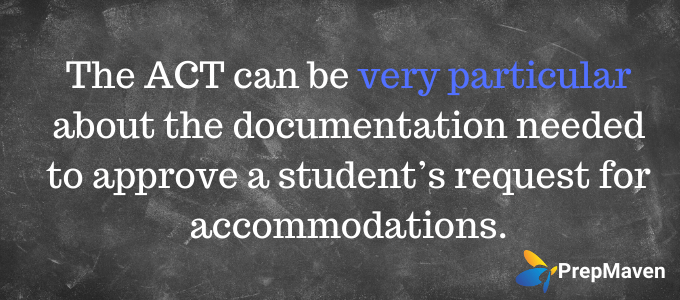 ---
Is My Student Eligible for ACT Accommodations?
Students with "documented disabilities" may be eligible for certain kinds of ACT accommodations. 
The ACT claims it responds to all requests for testing accommodations in accordance with the Americans with Disabilities Act (ADA). The ADA defines a disability as follows:
"a mental or physical impairment that substantially limits a major life activity compared to the average person in the general population."
Some examples of disabilities that may necessitate ACT testing accommodations include:
Learning disabilities

Psychiatric disorders

Visual impairment

Hearing impairment

Attention-Deficit / Hyperactivity Disorder

Traumatic brain injuries

Autism Spectrum disorders

Speech and language disorders

Specific medical conditions
According to the ACT, your student may be eligible for accommodations if:
The condition is professionally diagnosed AND substantially limits one or more major life activities

Requests are

appropriate

and

reasonable

for the documented disability
"Professional diagnosis"
Applicants must meet the ACT's criteria for diagnosis documentation. We discuss the criteria for this documentation below. (Jump there now.) 
Qualified professionals must provide these diagnoses. This means that the diagnosing professional's name, title, and credentials must appear on all documents.
"Substantially limits one or more major life activities"
This is a rather vague stipulation, but the ACT is primarily interested in documentation that proves a disability's specific limitations. 
Under its documentation criteria, the ACT describes these limitations as "adverse effects on learning or other major life activities." 
"Requests are appropriate and reasonable"
Most often, students who apply for ACT testing accommodations are already receiving similar accommodations at their high school. If this is the case, a student will likely already meet these criteria.
Students who aren't currently receiving accommodations will still have to prove why they're needed now (and why they weren't in the past). 
---
Types of ACT Testing Accommodations
According to its website, the ACT will provide testing accommodations to test-takers "based on the examinee's diagnosis and needs." 
Basically, these fall into two categories: National and Special testing accommodations.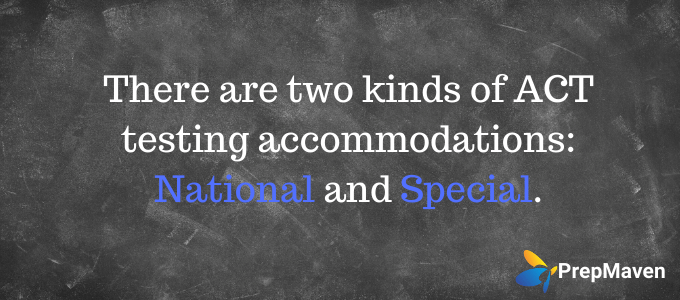 National Testing Accommodations
National testing accommodations on the ACT can be administered at a designated test center on standard, national test days. These include: 
1) 50% extra time
Students may earn extra time on the ACT as a whole at time and a half.
(I.e., an ACT English section, typically tested at 45 minutes, will be tested at 67.5 minutes with this accommodation)
2) In-center testing accommodations
These include assistance marking answers in the ACT test booklet, wheelchair accessibility, large-print testing materials, special seating, and use of a sign language interpreter to sign ACT test instructions. 
3) English Learner support
Students who are not proficient in English can request English Learner supports on the ACT. 
These include extended time (no longer than 50%), a word-to-word bilingual dictionary without definitions, test directions in the student's native language, and/or testing in a familiar environment and/or small group.
Special Testing Accommodations
Special testing accommodations aren't available at standard testing centers on standard test days. Students who qualify for these will take their ACTs on specially designated days at specific locations.
These include:
Extended time beyond 50% (i.e., double time)
Testing over multiple days
Alternate test formats (audio, braille, read out loud)
Extended time for the ACT essay
Use of a computer or scribe for the ACT essay
Here is the calendar for the 2019-2020 National and Special ACT testing dates. Notice how the ACT permits a "testing window" to allow for the allocation of different testing locations and resources for special testing conditions.
| National Test Date  | Special ACT Testing Window  |
| --- | --- |
| September 14, 2019 | September 14 – 29, 2019 |
| October 26, 2019 | October 26 – November 10, 2019 |
| December 14, 2019 | December 14 – 29, 2019 |
| February 8, 2020 | February 8 – 23, 2020 |
| April 4, 2020 | April 4 – 19, 2020 |
| June 13, 2020 | June 13 – 28, 2020 |
| July 18, 2020 | July 18 – August 2, 2020 |
---
Requesting ACT Testing Accommodations
We strongly recommend that families work directly with their student's school personnel when requesting ACT testing accommodations, as the process can be very rigorous.
Doing so is also the most convenient, especially if a student is already receiving accommodations through their school. 
It is important to note that just because you receive accommodations at school doesn't mean that you'll qualify for accommodations on the ACT. 
Here are the steps for requesting ACT testing accommodations:
Create an ACT account
Register for an ACT test
Select "need for accommodations"
Designate the type of accommodations needed (i.e, "Special" or "National")
Once you've followed these steps, the ACT will send an email with specific instructions as to how to request accommodations through your school.
Students should then forward this email to their school personnel, including a signed consent form. After this, your school will submit the official request for accommodations–including all that documentation–to the ACT.
School officials use the Test Administration and Accommodations System (TAA) to submit requests for accommodation, including documentation. This is also the portal where they receive decision notifications.
Decision notifications include the ACT's reasoning for approving/denying a request.
Note: your school official must submit accommodation requests before the registration deadline for your desired test date.
---
Documentation Guidelines
Documentation is the single most important part of requesting ACT testing accommodations. For this reason, we encourage all of our families to read the documentation criteria carefully!
Your student's school personnel will also be valuable when it comes to gathering the appropriate documentation.
Here's an example of what is required for a student with visual impairment:
Diagnostic results from a complete ocular examination (within the last year), including a specific diagnosis and full record of the exam

Detailed history of treatment, including evaluations and therapy notes

Results of a "measure of reading" (if requesting reading accommodations)

Statement of the types of vision accommodations needed (extended time, vision breaks, large-print format testing materials, etc.)

Statement as to whether the condition is "stable" or "progressive"
Notice how this list includes diagnosis documentation and accommodations documentation. Both are needed!
Here are the ACT's criteria for diagnosis documentation in general:
Must be written by a qualified professional

Refers to a specific diagnosis

Is/are current

Includes comprehensive assessments/evaluations

Describes the limitations this disability poses on testing performance

Includes medical and educational history

Indicates how/why accommodations are needed
Parents and school personnel can also contact the ACT with specific questions about getting accommodations.
---
What Happens if I'm Not Approved?
If the ACT doesn't approve your request for testing accommodations, don't worry. All is not lost! 
The ACT will provide its reasoning for denying a request in its decision notification. This should be fairly revealing.
In most cases, students may simply need to provide more relevant, specific documentation or additional information (such as teacher surveys). Work with your school to provide this and resubmit the request.
In other cases, it is possible to submit a new request, following the same steps and ensuring you meet the ACT's documentation criteria. 
Whatever the case, it's vital to keep working with your school personnel. They will be your allies as you navigate this complex (and often confusing) process!
---
Final Thoughts
Requesting ACT testing accommodations can feel like a daunting process. 
Yet by working closely with your student's school and following the ACT's documentation guidelines, it is possible to acquire those accommodations your student needs.
It's also worth mentioning that ACT testing accommodations are quite different from the SAT's testing accommodations. The same goes for the process of requesting these. Keep this in mind as you navigate the standardized test component of college admissions.
In the meantime, we're always here to provide assistance with the test prep side of things. Ready to get closer to that dream ACT score? We can help!
Check out our ACT test prep services here.
---
Kate
Kate is a graduate of Princeton University. Over the last decade, Kate has successfully mentored hundreds of students in all aspects of the college admissions process, including the SAT, ACT, and college application essay.
---
CHECK OUT THESE RELATED POSTS