What Does It Mean to SAT Superscore?
Every fall and winter, thousands of high school students will submit their SAT scores to the colleges of their choice.
Some of these students will superscore their SAT score reports when submitting to the schools on their list. Other students will make use of Score Choice.
What does it mean to superscore the SAT? What is Score Choice? Most importantly, which SAT score submission option is best for you?
In this post, we discuss the following:
---
What is Superscoring?
Some U.S. universities and colleges superscore the SAT. In a nutshell, this means that these schools only officially consider a student's highest SAT section scores.
Given that most SAT test-takers sit for the exam at least twice, this can be a valuable tool for college applicants.
Here's an example of SAT superscoring in action.
Ery takes the SAT in November 2018 and scores a 580 (Verbal) and 610 (Math). She takes the SAT in May 2019 and scores a 620 (Verbal) and 590 (Math).

Ery decides to superscore her results for eligible colleges on her list. These colleges will see all of her SAT scores, but they will only officially review the 620 (Verbal) and 610 (Math) section scores, her highest across the two exams.
Keep in mind that most colleges that superscore the SAT will still require students to submit all of their SAT score reports. They will, however, only officially review the highest SAT section scores.
Note: Superscoring is not a CollegeBoard tool, while SAT Score Choice is. We'll discuss this more later.
Some students worry that taking the SAT two or three times may reflect badly on their college applications.
This couldn't be farther from the truth! Most students take the SAT at least twice, and many experience a score increase the second or third time around. We discuss the best ways to achieve realistic score increases in our SAT Goal Setting Guide.
There is no evidence to suggest that taking the SAT more than once impacts the college admissions decision.
---
Which Colleges Superscore the SAT?
Not all college superscore the SAT. Plus, those that do may have additional requirements for score submission.
The most common requirement is that students still submit all of their SAT scores in order to be eligible for superscoring–no matter how many times they have taken the test.
Thus, it's vital to check a college's application requirements before submitting scores. These are almost always specified in detail on the school's website.
It's also possible to review a university's SAT score policies by using BigFuture, a CollegeBoard tool.
Simply enter a school of choice into the BigFuture search bar, select "Applying" on the left-hand side of the school profile, and click "Application Requirements."
Here's the profile that appears for Pomona College.
If you scroll down and select "Application Requirements," you'll see how Pomona reviews SAT scores.

Notice how Pomona College accepts a student's "highest section scores across test dates." This means that Pomona superscores!
This is by no means a comprehensive list, but here are a handful of competitive colleges that do superscore the SAT:
Pomona College

Duke University

Swarthmore College

Amherst College

Boston University

Brown University

Vanderbilt University

Stanford University

Wesleyan University

Dartmouth College

Vassar College

Harvard College

Claremont McKenna College

Georgetown College

US Naval Academy

University of Chicago

Boston College

Pepperdine University

Reed College
Note: The COVID-19 pandemic has significantly impacted how colleges are reviewing standardized test scores for the 2020-2021 admissions cycle. We discuss this more in our posts on COVID and College Admissions and Test-Optional Schools for 2021.
---
What is Score Choice?
What is Score Choice? How does it differ from superscoring?
With Score Choice, an entirely free service, students get to choose which SAT scores they send to colleges on their list. That's right: you can select your best score report and send that one (and that one alone) to colleges.
This doesn't mean you can individually submit the best SAT section scores achieved on separate SATs.
You will have to submit a single, full score report from one test date with Score Choice.
If you don't opt for Score Choice, all of your SAT scores will be sent to the universities you have applied to. You do not have to use Score Choice.
Just like superscoring, keep in mind that some schools may still require applicants to submit all SAT scores. For example, here's what Princeton University says under its "Standardized Testing" portion of its admissions portal:
We allow applicants to use the score choice feature of the SAT and accept only the highest composite score of the ACT, but we encourage the submission of all test scores.
Review school score use policies ahead of time to make sure. The CollegeBoard is not responsible for knowing these policies, as it states on its website. Most colleges will have this information on their websites.
---
Score Choice vs. Superscoring
What's the biggest difference between superscoring and Score Choice? The key difference lies in what scores colleges officially review.
With Score Choice, a college only reviews the single SAT score report a student submits from a single test date.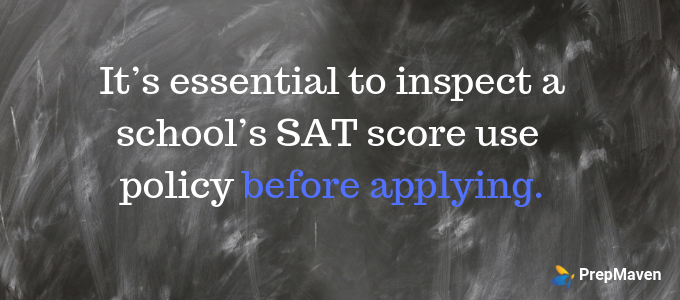 With superscoring, a college may view all of a student's SAT scores. However, it will only officially review the highest section scores across test dates.
Not all students will have both options for every college. In fact, many colleges will simply require students to submit all official test scores, even if they only officially review the highest section scores. Regardless, it's essential to inspect a school's score use policy before applying.
---
Next Steps
The best way to feel confident in the SAT score submission process is to maximize your score in the first place.
This ensures that even if a college doesn't superscore the SAT, you'll be prepared to submit your most competitive SAT scores!
What can you do to achieve that high SAT score? We recommend working with a private tutor or enrolling in an SAT test prep program. Like any test, the SAT requires time, dedication, and practice.
We also recommend that students sit for the SAT at least twice. This can maximize any test prep program and guarantee the best possible score, regardless of a college's SAT score use policy.
At Princeton Tutoring, we're proud to offer over 20 years of experience in helping students succeed on the SAT. Learn more about our SAT offerings here!
---
Kate
Kate is a graduate of Princeton University. Over the last decade, Kate has successfully mentored hundreds of students in all aspects of the college admissions process, including the SAT, ACT, and college application essay.
---
CHECK OUT THESE RELATED POSTS