Your Complete Guide to the SSAT for 2023
Bonus Material: PrepMaven's FREE SSAT Guide
The Secondary School Admissions Test (SSAT) is an important part of secondary school applications. If you're applying to private school in the U.S., you'll likely to submit SSAT scores when doing so.
The SSAT is a challenging standardized test for many reasons. That's why we created this post — so that you can have confidence at every step of the SSAT test-taking journey, from wrapping your head around what the test is all about to actually taking it.
In this guide to the SSAT, you'll learn the basics about the test, how to prepare, and what to expect on Test Day.
We also give readers access to PrepMaven's SSAT Guidebook, which includes all of the information in this post and much more. It's absolutely free and you can grab it below!
Bonus Material: PrepMaven's SSAT Guidebook
Details about SSAT scoring, content, testing options, and more
An introduction to PrepMaven's SSAT strategies
Information about SSAT prep resources
Application essentials for the top U.S. private high schools
Here's what we cover:
---
1)
SSAT Basics
What is the SSAT and Who Needs to Take It?
The SSAT is one component of most secondary school applications. It is a standardized test focused on the following skills:
Verbal
Math
Reading
Writing
The Enrollment Management Association (EMA) administers the SSAT at three levels:*
Elementary Level for students in grades 3 and 4
Middle Level for students in grades 5-8
Upper Level for students in grades 8-11
*Students take the test that corresponds to the grade they are currently in, not the grade they are entering. The three different SSAT levels are designed to test material appropriate for each student's respective grade level.
According to the EMA, "the SSAT is not an achievement test or a measurement of personal characteristics. It is one component of a complete application." It is written and reviewed by independent school educators and content and testing experts.
Most students applying to U.S. private schools must submit SSAT scores as part of their application. However, schools are likely to place different emphases on SSAT scores in the admissions process.
What's on the SSAT?
No matter which level SSAT test you take, the sections are always the same: a Writing Sample section and Quantitative, Reading, and Verbal multiple-choice sections.
Here is a birds-eye view of the Upper-Level SSAT's structure and timing:
| | | |
| --- | --- | --- |
| Section | Number of Questions | Duration |
| Writing Sample (unscored) | 1 | 25 minutes |
| Break | — | 5 minutes |
| Quantitative 1 | 25 | 30 minutes |
| Reading | 40 | 40 minutes |
| Break | — | 10 minutes |
| Verbal | 60 | 30 minutes |
| Quantitative | 25 | 30 minutes |
| Experimental (unscored) | 16 | 15 minutes |
You can find a detailed breakdown of each section of the SSAT in our What's on the SSAT? post. For now, here are the highlights for each!
SSAT Writing Sample
This section is unscored but sent to admission departments for review. It helps give admission officers a sense of a student's writing abilities. Upper-Level SSAT test-takers will have the choice of writing a persuasive essay or creative story in 25 minutes based off of two prompts.
Here are two sample persuasive prompts typical of an Upper Level SSAT writing sample:
What does it mean to be a "well-rounded" student?
What is, in your opinion, the most pressing social issue today? How would you resolve it?
Here are two sample creative prompts:
She could not believe her eyes.
They knew it was time to turn back.
You can learn more about the SSAT Writing Sample–and get access to free SSAT Writing Sample prompts–in this post here.
SSAT Quantitative 1 & 2
The SSAT features multiple-choice questions that span a range of math topics. Questions are designed to be solved without a calculator (students are not allowed to use one).
In its official online practice portal, the SSAT provides a list of topic categories for practice. These are a good indication of the topics that will surface on the actual test.
Upper-Level:
Algebra
Computation
Geometry
Number Sense
Pre-Algebra
Statistics and Probability
Middle-Level:
Algebra
Data Analysis
Geometry
Measurement
Number Concepts
Number Conversion
Pre-Algebra
Statistics & Probability
Want more information about SSAT Quantitative? Check out our detailed post on SSAT Math and what to expect.
SSAT Reading
There are approximately 8 SSAT reading passages. Each is about 250-350 words in length, and there are generally 4-6 questions per passage. About half of the passages are narrative and half are argument-based.
Passage genres include:
Literary fiction
Humanities (biography, art, poetry)
Science (anthropology, astronomy, medicine)
Social studies (history, sociology, economics)
SSAT Reading questions test your reading comprehension on both a general and specific level. Question types include:
Main ideas
Details
Inference
Words in context
Author's purpose
Author's tone and attitude
Evaluation of author's attitude and opinions
Evidence-based predictions
We discuss more in our Introduction to SSAT Reading and SSAT Reading Strategies from the Experts.
SSAT Verbal
The SSAT Verbal section contains 60 multiple-choice questions, divided into Synonyms and Analogies sections of 30 questions each.
In the Synonyms section, students must choose the answer that has the closest meaning to the capitalized word. Here is an example Synonyms question:
An analogy is a comparison of two things. On an SSAT Analogies question, these two things will have a very specific relationship. Students must determine what this relationship is, and select the answer choice that most closely features that same relationship.
Here is a sample Analogies question:
Dive deeper into this section in our SSAT Verbal Introduction and SSAT Verbal Strategies from the Experts.
Experimental Section
This section is not scored and features questions from the different multiple-choice sections. It is intended to test the reliability of future SSAT questions.
Scoring on the SSAT
We demystify SSAT scoring in a separate post. For now, here are a few essential takeaways for students and parents new to the test.
1) Your SSAT score consists of 3 scored sections.
These include:
Verbal
Quantitative
Reading
There are 2 additional unscored sections: a Writing Sample and Experimental section. The Writing Sample is the first section of the SSAT, while the Experimental section is the last.
2) There is a wrong answer penalty on the SSAT.
On the SSAT, test-takers receive 1 point for every correct answer. If you leave a question entirely blank, you neither lose nor gain points. However, if you answer a question incorrectly, you lose a 1/4 point.
3) Students earn a percentile ranking for each SSAT section.
Your raw score is the number of questions you get right on a section minus 1/4 point for each incorrect answer. This raw score is converted to a scaled score between 500 and 800. Then this scaled score becomes a percentile ranging from 1 to 99.
This percentile compares performance to that of first-time test-takers of the same grade/gender who have taken an SSAT on a standard test date in the U.S. / Canada in the past three years (not including this year). This group of test-takers is called the "norm group," and this norm sample is unique for every SSAT the test-makers score.
Most schools have an average SSAT percentile that they consider in the admissions process. Many look at your percentile score when reviewing your application.
We want to point out that a 50th percentile score on an SSAT section isn't a big red F for failure: it's right in the middle of the pack! In technical terms, it is the median score within the designated norm group.
Here's an example of percentiles in action:
If you scored in the 50th percentile overall, you performed better than 50% of the test-takers in the "norm group." The same goes for the individual sections: if you ranked in the 70th percentile on the Verbal section, you performed better than 70% of students in the norm group on the Verbal section.
Remember that scaled scores and percentiles are calculated based on data from a unique norm group. Because every test's norm group is different, it is difficult to precisely pinpoint what raw/scaled score you need to get a certain percentile ranking! EMA actually admits this on SSAT.org:
"The same scaled score on the SSAT may have a different percentile rank from year to year or even from test to test, and the SSAT percentile ranks should not be compared to those of other standardized tests because each test is taken by a different group of students."
Here's an example. Let's say that Darla is a rising 9th grader who has taken the SSAT twice to date. Here are her raw and scaled scores and percentile rankings for the SSAT Math section.
| | | | | | | | |
| --- | --- | --- | --- | --- | --- | --- | --- |
| | # Qs | #Correct | # Wrong | # Blank | Raw Score | Scaled Score | %ile |
| 1st Test | 50 | 40 | 5 | 5 | 38.75 | 776 | 92 |
| 2nd Test | 50 | 38 | 10 | 2 | 35.5 | 761 | 88 |
On the second test, Darla got twice as many questions incorrect as she got wrong on the first test. Yet this only translated to losing four percentile points. From another perspective, however, getting only two more questions right meant Darla broke the 90th percentile range on her first test.
Our conclusion?
Because percentile rankings are essentially out of a student's control, the best bet is to focus on maximizing the raw score of each section. Doing so is the safest means of increasing a student's likelihood of earning a higher percentile on each section. We also strongly encourage SSAT students to take the official SSAT several times, given that test difficulty is likely to fluctuate from exam to exam.
Your SSAT Score Report
Student scores become available on the SSAT website within two weeks of the test date. Log in to the student version of your SSAT account to view your scores.
When you do so, you will first see a score overview page that looks like this:
You may be wondering what the "T Scaled/V Scaled/Q Scaled/R Scaled" columns mean. These refer to a student's scaled total SSAT score (T), Verbal score (V), Quantitative score (Q), and Reading score (R). Don't worry about these too much, as scaled scores are mainly intermediaries to get to that percentile score, which schools are most focused on.
There is a little more information we can get out of the SSAT score report.
Simply expand the menu and click "View Score Report." This gives students their scaled scores, percentiles ("SSAT Reference Information"), and a listing of right, wrong, and unanswered questions in each section.
This report also includes a brief breakdown of question types for each section (i.e., "Main Idea" vs "Higher Order" for Reading).
What's a "Good" SSAT Score?
If you score in the 50th percentile on any SSAT section, you will achieve the "median" SSAT score for that test. And if you score higher than the 50th percentile, you perform better than the median.
A good starting place for SSAT test-takers is to surpass the median SSAT score for each individual section.
But what counts as a "good" SSAT score?
Our answer: it depends.
Each student's talents, interests, and goals are entirely unique. What's more, a "good" SSAT score is likely to fluctuate depending on the institution a student is applying to.
We can still make some general conclusions, however, to guide students in their SSAT test prep journey. Find our thoughts on a "good" SSAT score here.
Additional Resources
Bonus Material: PrepMaven's SSAT Guidebook
Details about SSAT scoring, content, testing options, and more
An introduction to PrepMaven's SSAT strategies
Information about SSAT prep resources
Application essentials for the top U.S. private high schools
---
2)
Preparing for the SSAT
One of the most difficult things to figure out is how to actually prepare for the SSAT! In many cases, it's the first standardized test students take in the context of school admissions.
The good news, however, is that the SSAT is a standardized test. This means that the content is predictable, even if it is unfamiliar and highly strategy-based. It also means that students can and should take the time to learn the test so they can walk into that Testing Center with confidence.
Effective SSAT prep boils down to the three following components:
Time
Goals
Practice
These three things all help students master the three aspects of the SSAT that set it apart from other tests: duration, content, and strategy.
When Should I Start Preparing for the SSAT?
We encourage students to start preparing for the SSAT as soon as possible, yet in general, we suggest allocating at least three months prior to an official test date for adequate preparation.
Yet a percentage of our students choose to start preparing 1+ years beforehand. Doing so can enable students to more effectively build vocabulary, prepare for tested material not covered in school, and develop skills specific to standardized testing.
While many students take the test only once, most of the students we work with will sit for the SSAT at least twice to maximize the potential for score increases. Some private schools also "superscore," meaning that they review a student's highest scores across multiple test dates.
SSAT Prep Resources
Great resources for your SSAT prep can be difficult to find, especially as EMA has released a very limited supply of official practice materials.
We've compiled a full list of reputable SSAT prep resources we recommend our students utilize when preparing for this test. Here are the highlights:
1) Official SSAT Practice Online*
The Enrollment Management Association doesn't release a ton of materials, but their Official SSAT Online Practice is ideal for students preparing for the Middle and/or Upper-Level SSAT. An SSAT Practice Online account includes 3 full-length practice tests, 15 section tests, quizzes, on-demand content, and more.
2) Official SSAT Guide Books*
If you'd rather work from a physical book, we recommend that students purchase an Official SSAT Guide Book (Middle or Upper Level). Each book includes 3 full-length practice tests with answers and explanations, which are exactly the same as those offered online through the SSAT Practice Online package.
3) Tutorverse Upper-Level SSAT Practice Questions
Tutorverse is a third-party test prep company, but that being said, we do find the practice questions in this text to be more reflective of SSAT questions than other materials. This book comes with more practice questions than 10 official SSAT tests, spanning all content areas on the SSAT (Verbal, Reading, Quantitative, and Writing).
4) Success on the Upper-Level SSAT Course Book
Students seeking a supplementary text to official SSAT or Tutorverse content should consider this text by Test Prep Works. It includes content instruction, suggested strategies, drills, practice questions, and one full-length practice test.
5) PrepMaven's SSAT Prep Resources
We've compiled a wide variety of SSAT prep resources for our students and families, including valuable strategies, practice questions, and more.
Creating an SSAT Study Plan
As we've already mentioned, we encourage students to allocate at least three months for effective SSAT prep. How should you fill those three months? Create an SSAT study plan that aligns with your goals and timeline.
1) Identify Your Testing Date & Type
Begin by identifying the first official SSAT testing date and type. EMA now offers multiple testing options and dates, which can you learn more about in our post on SSAT Testing Options.
2) Take a Diagnostic Exam & Establish a Target Score
Taking a diagnostic SSAT effectively introduces students to those components that make this standardized test so different from standard exams: duration, content, and strategy.
It also establishes a baseline score for all sections, giving students a clearer sense of what stands between them and their target score. Diagnostic score reports can additionally highlight content areas for further work, essential strategies, and timing issues.
3) Determine Your Resources & Study Tools
Effective SSAT studying requires effective resources. Take the time prior to jumping into your prep to assemble the study tools guaranteed to give you success! We've already outlined SSAT prep resources available to students. Tutors or test prep experts can also be helpful, specifically to aid in strategy development.
4) Set Aside Weekly Time
Effective SSAT prep requires consistent time and effort. Treat your prep as you would any high school class, and devote weekly time to homework and practice.
5) Take Regular SSAT Practice Tests
Regular practice tests give students the surest means of enforcing the strategies they've been developing on their own. It can also build physical and mental stamina – not to be underestimated on Test Day! We recommend taking a practice test every 3-4 weeks prior to your official test date.
6) Establish Consistent Goals
Your SSAT study plan should include realistic, specific, and actionable goals. Begin by setting a goal SSAT score after you've taken your first diagnostic exam. Then set smaller, individual goals throughout your practice to help you reach this goal score.
Here are some examples:
Scoring 80% accuracy on all geometry questions on Quantitative 1 & 2
Getting Synonym questions 1-10 100% correct
Working through 80% of the Reading passages with high accuracy
Creating an effective outline for an SSAT Writing Sample prompt
Additional Resources
---
3)
Taking the SSAT
When Should I take the SSAT for the First Time?
Many SSAT test-takers will take the SSAT for the first time in September, several months before they submit applications to secondary schools. The September administration is the first in the academic year testing cycle.
However, students who wish to have more opportunities to take the SSAT may take their first official exam in June.
While the vast majority of students take the test only once, most of the students we work with will sit for the SSAT at least twice to maximize the potential for score increases. Some private schools also "superscore," meaning that they review a student's highest scores across multiple test dates.
Historically, the standard SSAT has been offered eight times at testing centers per academic year (August 1 – July 31) in the following months:
September
October
November
December
January
February
April
June
Yet as of August 2020, there are three current SSAT testing options, which have dramatically increased the available SSAT testing dates:
Computer-Based SSAT at a Prometric Testing Center
Paper-Based SSAT
SSAT Flex Tests are also an option. Flex Tests occur on any date that is not a standard SSAT administration date. They can occur at member schools or special testing locations, called "educational consultants."
There are a few reasons why a student may wish to take a Flex Test. They may:
have testing accommodations that require a special testing situation
prefer a non-traditional testing environment (i.e., small group or individual)
be unable to sit for any of the standard SSAT test administration dates
Member schools are those secondary schools that provide on-site SSAT Flex Testing. Your schools of choice may or may not provide Flex Tests on their premises–we recommend calling to see if they do!
If your school(s) of choice do(es) not offer on-site SSAT Flex Testing, you can work with an educational consultant to register for a Flex Test at their approved SSAT Flex Test center. Educational consultants are approved professionals who provide on-site SSAT Flex Testing and, in many other cases, other admissions services.
Here's what Learning Associates, an educational consultant that offers SSAT Flex Testing in Morristown, New Jersey, says about Flex Tests:
Learning Associates is an approved SSAT Flex Test center. This means we can administer the SSAT in our office on dates we establish, outside the prescribed test dates. Some clients prefer the Flex Test because of the very small setting and greater scheduling flexibility. If your child has accommodations approved by the SSATB, those will be incorporated in our testing. Appointments can be made through our office.
Students can only take one SSAT Flex Test per calendar year. Any other SSATs they sit for must be standard administration.
It can also be pretty confusing navigating the registration process for SSAT Flex Tests. We walk you through the ins and outs of this process in our detailed post on SSAT Flex Testing.
The Character Skills Snapshot
There's more to the SSAT than just the test itself. Students have the option of taking the SSAT Character Skills Snapshot, an additional online assessment that is meant to give schools a "richer holistic view" of an applicant.
Here's what SSAT.org says about the Snapshot on its website:
It measures your student's view of his/her character skill development and is meant to complement more traditional cognitive assessments such as the SSAT. The Character Skills Snapshot gives admission teams additional information and illuminates areas where their schools can help your student grow, thrive, and shine.
Also, according to SSAT.org, the SSAT Character Skills Snapshot tests a wide range of character traits, including (but not limited to) the following:
Teamwork
Social Awareness
Resilience
Self-Control
Openmindedness
Initiative
Intellectual engagement
This online assessment takes approximately twenty minutes to complete, and can be completed in one sitting at home. Students who are in grades 5 through 11 applying to grades 6-12 are eligible to take the Snapshot.
SSAT.org admits that the Snapshot may not be representative of the full scope of a student's character:
The Snapshot is meant to provide a snapshot in time of your student's view of his/her character skills – it is not a fixed, absolute measure.
While we agree that it's pretty challenging to assess a person's full character in twenty minutes, the Snapshot can provide potentially valuable information not otherwise able to be gleaned from other parts of an application.
You can check out the Character Skills Card for more details here, or read through our post on what to expect with the SSAT Character Skills Snapshot.
SSAT Testing Accommodations
SSAT testing accommodations are designed to give every student a fair shot at demonstrating their academic potential on the test. According to the SSAT.org, testing accommodations are
"necessary practices and/or procedures which are intended to provide equitable access to the test for students with disabilities by limiting or eliminating the effects of a student's disabilities on their performance."
Students must fulfill two criteria for SSAT testing accommodations. They must:
Have an "identified disabling condition or impairment"
Be substantially limited by this condition or impairment in performing "major life activities"
We've written a lengthy post that walks families through the types of SSAT testing accommodations, how to request them, and other frequently asked questions.
Additional Resources
Navigating the SSAT can be challenging, especially for first-time test-takers. That's why we created our free SSAT Guidebook for 2021, an excellent resource for families starting the secondary school admission process.
Bonus Material: PrepMaven's SSAT Guidebook
Details about SSAT scoring, content, testing options, and more
An introduction to PrepMaven's SSAT strategies
Information about SSAT prep resources
Application essentials for the top U.S. private high schools
---
Work with an expert SSAT tutor in 2023
In this SSAT Guide, we've walked you through the ins and outs of the SSAT, from what the test actually is to how to prepare for it. Now you have a great foundation for beginning your SSAT prep!
To accelerate that prep, we encourage students to turn to the ultimate guide: a PrepMaven SSAT tutor.
The SSAT is a very specific test that is unlike any middle school exam out there. Success on the SSAT often boils down to gaining a deep understanding of the test itself and following through with a methodical preparation plan, which requires time and expert guidance.
Working one-on-one with an SSAT tutor is the fastest and most effective way of preparing for the SSAT–and getting that much closer to a competitive score.
At PrepMaven, we're here to match students with the very best tutors in the industry, many of whom are Ivy League graduates. Learn more about SSAT private tutoring with PrepMaven today!
---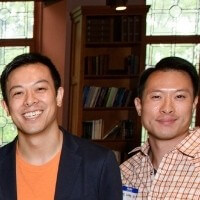 Greg & Kevin
Greg and Kevin, Princeton graduates (and brothers) with over 20 years of education experience, are co-founders of PrepMaven and Princeton Tutoring. They apply research-backed problem-solving skills to the test prep and college preparation process. They also place a heavy emphasis on personal development, character, and service for successful college preparation.