What is a Good SAT Score? Your 2020 Guide
Most SAT test-takers await their score reports with a mix of anxiety and anticipation. 
Will that report reveal a good SAT score? A bad SAT score? A wildly exceptional SAT score?
More importantly, will these scores get you into your dream school?
Standardized test scores are an essential component of most college applications.
Yes, there are some test-optional schools out there. Yet test scores give every college a benchmark for assessing college readiness, scholarship eligibility, and athletic recruiting.
A "good" SAT score may feel like a relative phrase, especially for first-time SAT test-takers. What is a good SAT score? What can you do to reach it? 
We answer these questions (and many more!) in this comprehensive SAT scoring guide.
Here's what we cover:
---
A Word About SAT Scoring and Percentiles
Before we discuss the components of a competitive SAT score, it's important to understand how scoring on the SAT works in the first place.
Scoring on the SAT
The new SAT contains 5 sections:
Evidence-Based Reading

Writing & Language

Math (No-Calculator)

Math (Calculator)

Essay (optional)
When students receive their SAT score reports, they receive three scores:
A total score (also called the composite), which ranges from 400 to 1600

. 

The Verbal section score, which combines student scores on the Evidence-Based Reading (EBR) and Writing & Language tests on a scale of 200 to 800

.

The Math section score combines student scores on the two Math tests (No-Calculator and Calculator). Students can achieve anywhere from a 200 to an 800

.
The SAT Essay score does not impact a student's composite or Verbal section scores. It is scored separately across three categories and does not result in a composite score.
SAT Percentiles
When students receive their SAT score reports, they will also receive percentile rankings. These refer to the percentage of test-takers in a comparison group a student has out-performed.
There are two comparison groups: SAT users (actual SAT test-takers from the classes of 2017 and 2018) and a "nationally representative sample."
Students receive three percentiles:
SAT composite percentile

Verbal section percentile

Math section percentile
The composite percentile refers to the SAT composite: a student's total score on the exam.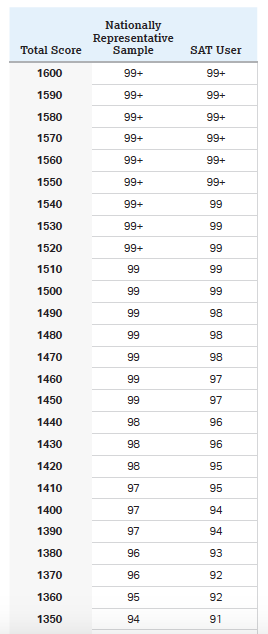 A student who scores 1350 on the SAT, for example, will likely have a composite percentile of 94 (nationally representative sample) and 91 (SAT user percentile). This means that this student out-performed roughly 91-94% of SAT test-takers in these two comparison groups.
The Verbal section percentile and Math section percentile reflects the percentage of students a test-taker outperforms on these individual sections. 
According to this chart, a student who scores 550 on SAT Verbal scores higher than 65% of the nationally representative sample, or 56% of SAT users.
---
Average SAT Scores: 2019
Every year, the College Board releases a comprehensive report on SAT student performance. This report always includes mean SAT scores, including section and composite scores.
In 2019, the average SAT composite score was 1059 out of 1600. The average SAT Verbal section score was 531 (out of 800) and the average SAT Math section score was 528 (out of 800).
Normal Distribution
SAT scores are normally distributed.  This means that the bulk of students' composite SAT scores hover around the test's median of 1000. Far fewer scores appear on the higher or lower end of the SAT score range between 400 and 1600.
This also means that some score jumps may be more impactful than others.
For example, a student who improves her score from 1020 to 1120 automatically moves from the 43rd percentile to the 62nd percentile! 
A student who improves her score from 1380 to 1480, however, only moves from the 93rd percentile to the 98th percentile.
What This Means In Terms of Questions
How many questions do you have to get correct on the SAT to earn an average score?
Every SAT exam is scaled for difficulty in a process the College Board calls "equating." We discuss this more in our guide to scoring on the SAT.
Because no two SATs are alike, it's difficult to translate the 2019 average SAT scores into total correct questions. It is possible to generalize, however, which we have done in the following table.
| Section | Average 2019 Score | Average Questions Right |
| --- | --- | --- |
| Verbal (Evidence-Based Reading + Writing & Language)  | 531 | ~48-54 questions right (out of 96) |
| Math (Calculator + No Calculator) | 528 | ~24-30 (out of 58) |
| Total | 1059 | ~74-85 questions (out of 155) |
Data based on raw score conversion tables for College Board Official Practice Tests 1-8.
Notice that average SAT performance boils down to getting just over 50% of all questions correct. 
---
What is a Good SAT Score On a National Scale?
There are two perspectives when it comes to a "good" SAT score: percentiles and average scores themselves.
Percentiles
An SAT score–composite or section–always comes attached to a percentile, which indicates the percentage of comparison students an individual test-taker out-performed. 
The middle-of-the-road or median SAT composite percentile is the 50th. Students in this percentile range out-performed 50% of all test-takers and under-performed 50% of all test-takers. Students with a 1080 SAT composite are in this 50th percentile.
What does this mean?
Students who score higher than 1080 on the SAT are above average. These students also hold a 51% or higher SAT percentile.
Most would agree that "above average" qualifies as "good." It may not be "excellent," but it's still surpassing the national average!
Thus, a great SAT score on a national scale is at least 1080 (or above). As a point of reference, in 2018, students in the 75th SAT percentile scored about 1215. This is nearly 400 points away from a perfect score, and yet it is a higher score than 75% of all test-takers achieved! 
Average Sectional Scores
Most students also consider sectional SAT scores when qualifying that "good" score. 
Given the 2019 data on SAT student performance, scoring higher than 531 on Verbal and 528 on Math automatically gives a test-taker above-average score status.
In fact, many first-time test takers use these mean sectional scores as starting points for their individual test prep journeys.
Once again, "above average" in the context of the SAT means doing better than the majority of SAT test-takers. This could mean scoring anywhere between 532 and 800 on the Verbal sections or 529 and 800 on the Math sections! 
---
What is a Good SAT Score For You?
We do want to emphasize that "good" is a highly relative term. In the context of college entrance, one student's "good" SAT score could be vastly different than another student's.
A 'good SAT score' is the one that is right for you given your college aspirations.
If a student is aspiring to attend a highly selective institution, for example, a "good" SAT score is likely one competitive with successful applicants' (often surpassing the 90th percentile). 
Plenty of universities specify score ranges and percentiles of successful applicants on their websites (although some are not public with this information).  Most do so by specifying the 'Middle 50,' or the  25th and 75th percentile of accepted students' SAT scores–this is not to be confused with SAT score report percentiles! 
Here's a sampling of the Middle 50s from various elite institutions:
| College | 25th Percentile Verbal Section Score  | 75th Percentile Verbal Section Score | 25th Percentile Math Section Score | 75th Percentile Math Section Score |
| --- | --- | --- | --- | --- |
| Stanford University | 690 | 760 | 700 | 780 |
| Vanderbilt University | 710 | 770 | 730 | 800 |
| Amherst College | 700 | 770 | 700 | 790 |
| Pomona College | 690 | 760 | 680 | 770 |
| Princeton University | 710 | 780 | 720 | 790 |
| Brown University | 705 | 780 | 700 | 790 |
| Barnard College | 660 | 760 | 650 | 740 |
Source: The National Center for Education Statistics IPEDS (2017)
When researching competitive applicant SAT scores, keep in mind range.
Successful Vanderbilt applicants, for example, often have an SAT Verbal section score of 710-770. Successful Barnard College applicants have an SAT Verbal section score between 660 and 760.
Some institutions also have test score and/or GPA cut-offs for scholarship considerations. Review these requirements ahead of time to identify score ranges for eligible applicants.
In short, that competitive SAT score is the one that will complement–not detract from–the strongest aspects of your college application. What's more, it is often in line with the scores of other competitive applications to specific schools.
---
What is a Bad SAT Score? (Does it Exist?)
We've talked about the good. What about the bad?
Is there such a thing as a bad SAT score?
Once again, this depends on your definition of "bad." To simplify things, however, a "bad" SAT score often misses the mark of what the College Board has called college and career readiness.
These scores are typically below-average in comparison to the mean. They may also not meet the benchmark scores the College Board has established in terms of college preparedness, especially with respect to content areas.
These benchmark scores vary according to grade (from 8th grade to 11th grade). For the purposes of this article, we'll focus on the benchmark scores for college and career readiness. These are as follows:
Evidence-Based Reading and Writing:

480

Math:

530
Students who meet these benchmarks will see their scores represented in the green range when they receive their SAT score reports. Scores below these benchmark scores will appear as either red or yellow, depending on how far below the scale they are.
First-time SAT students should prioritize meeting these benchmark scores and, indeed, surpassing them!
---
Achieving That Good SAT Score
What does it take to achieve that stellar SAT score?
Preparation, preparation, preparation.
The SAT is vastly different from traditional high school tests. Much like a second language, it requires dedication, immersion, and time to understand and eventually master. 
To launch your SAT test prep journey, begin by establishing your initial goal score. We talk a lot about how to do this in our goal-setting guide.
It's also important to give your test preparation time. The SAT is not a test that students can cram, and nor should it take a side-burner in a student's college application process. Allocate a generous timeline for sufficient SAT test prep, and stick to it! 
Build that college list.
Crafting a list of colleges of interest can help students identify ballpark SAT score ranges for competitive entry.
It can also inform other aspects of the college application, such as supplemental essay topics, scholarship opportunities, and optional application components.
Take a diagnostic SAT.
If you have not yet taken the PSAT, now is the time to assess your standing. Taking a diagnostic practice SAT can give students a greater understanding of their personal great score. 
Plus, it's an essential starting point for effective test prep! Students have the opportunity to take a diagnostic SAT and establish their benchmark scores through PrepMaven's highly-rated SAT tutoring program.
Book your free SAT strategy consultation here!
---
Kate M.
Kate is a graduate of Princeton University (B.A. in English Literature and Interdisciplinary Humanities) and Boston University (M.F.A in Creative Writing). Over the last decade, Kate has successfully mentored hundreds of students in all aspects of the college admissions process, including the SAT, ACT, and college application essay. She is a Master tutor at Princeton Tutoring.
---
CHECK OUT THESE RELATED POSTS