What is the PSAT? A Princeton grad explains why this "practice" test can matter
Bonus Material: Try a sample of the new PSAT
The PSAT, or the "Preliminary SAT," is a standardized test taken by US students in the fall of their junior year, and sometimes in their sophomore year as well.
Many students don't realize that the PSAT is a chance to win major scholarships! Students have won full-ride scholarships to college through scoring highly on the PSAT. Top scores can also help with admissions to highly competitive schools, like the Ivy League.
I was in the top 1% of scorers on the PSAT years ago, and this helped me win over $240,000 in academic scholarships offered by top schools like the University of Chicago. My PSAT score also helped me win admission to every college where I applied, including Ivy-League schools like Princeton. I'm sharing this information here because many families don't realize that the PSAT has the potential to significantly impact college options for students.
What is the PSAT, and how can high-performing students take advantage of its scholarship-winning potential? We'll answer all your questions here.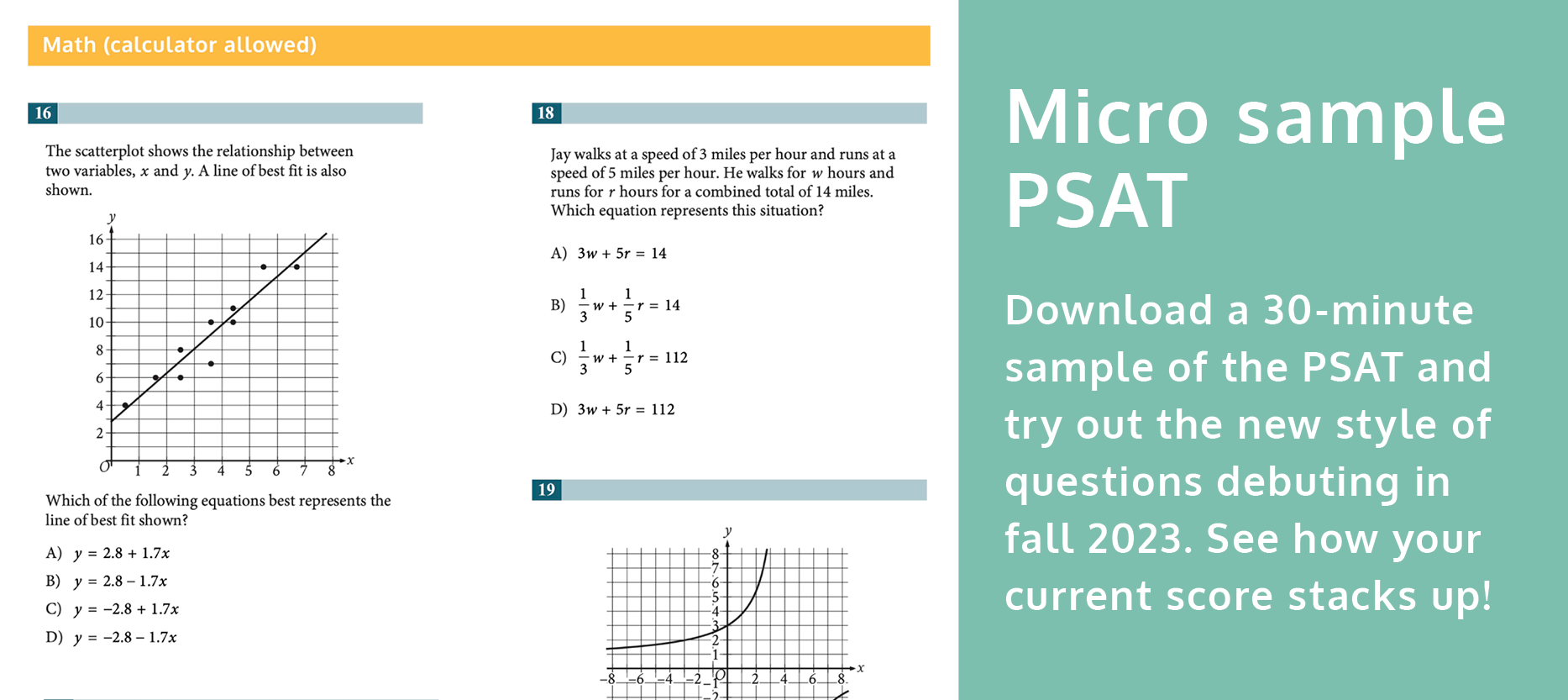 Jump to section:
What is the PSAT?
What's on the PSAT?
How is the PSAT different from the SAT?
How is the PSAT scored?
Interpreting the PSAT score report
Does the PSAT matter?
How to use the PSAT to win scholarships through National Merit
What's a good score on the PSAT?
How to take the PSAT
Next steps
---
What is the PSAT?
Many people have heard of the SAT and the ACT. These are the two main standardized tests used to apply to colleges in the US. Both tests are accepted equally for admissions purposes at colleges and universities, and these days the tests are taken by roughly equal numbers of students. Read more about how the SAT and the ACT compare here, and how to convert SAT and ACT scores here.
(Wondering whether tests still matter with the new test-optional policies? Yes, tests still matter. Even if the schools on your list are now test-optional, at the vast majority of schools strong test scores will still help your chances of admissions, and can be used to qualify for scholarships or special programs.)
The PSAT/NMSQT, or Preliminary Scholastic Aptitude Test and National Merit Scholarship Qualifying Test, is the "practice" SAT.
Most students take the SAT in their junior or senior year of high school. Typically the peak time for SAT testing is in the spring of junior year, although testing earlier can make the process less stressful for students.
The PSAT, on the other hand, is taken in the fall of junior year. Some students might also take the PSAT the fall of their sophomore year, but this score cannot count for the National Merit competition.
High scores on the PSAT can earn students awards from the National Merit program: Commended, Semi-Finalists, Finalist, or Scholar. Students can win a variety of scholarships directly through this program, and many schools also award additional scholarships to National Merit students. Some schools even give automatic full-ride scholarships!
National Merit status is also a strong statement for college admissions, and many colleges compete to recruit these top students.
Because of this competition, the PSAT isn't just a "practice" SAT — for top scorers, it's also a chance to win big.
Download a 30-minute sample of the PSAT to try it out today!
---
What's on the PSAT?
Like the SAT, the PSAT is designed to measure general college readiness. It has four sections covering reading comprehension, clear writing, grammar, and math.
The new digital PSAT
Big changes are coming to the SAT and the PSAT in the coming year. The College Board has launched a new version of the SAT, which will begin from March 2023 for international students and from March 2024 for students testing within the US.
Of course, the PSAT is the "preliminary" SAT, so the PSAT will change along with the SAT!
Students testing in fall 2023 will be the first to experience the new digital PSAT.
Old PSAT test format:
| | | |
| --- | --- | --- |
| Section | Length (minutes) | Number of questions |
| Reading | 60 | 47 |
| Writing & Language | 35 | 44 |
| Math | 70 | 48 |
This new digital PSAT will be significantly different. Several types of questions will change. As the name suggests, the test will be administered digitally using a tablet or laptop. In addition, the test will be adaptive, which means that the questions will adjust in difficulty to the student's level. If the student performs more strongly, the test will give harder questions that will lead to a higher score.
That means that many published PSAT prep books and resources are now out-of-date. Students who are preparing for the PSAT should make sure that they are preparing for the 2023 version of the test!
(Some resources still call the version of the PSAT and SAT created in 2016 the "new" SAT, but that is now the "old" SAT.)
An experienced test prep tutor can help students make sure they're practicing the correct version of the test and using the most up-to-date strategies.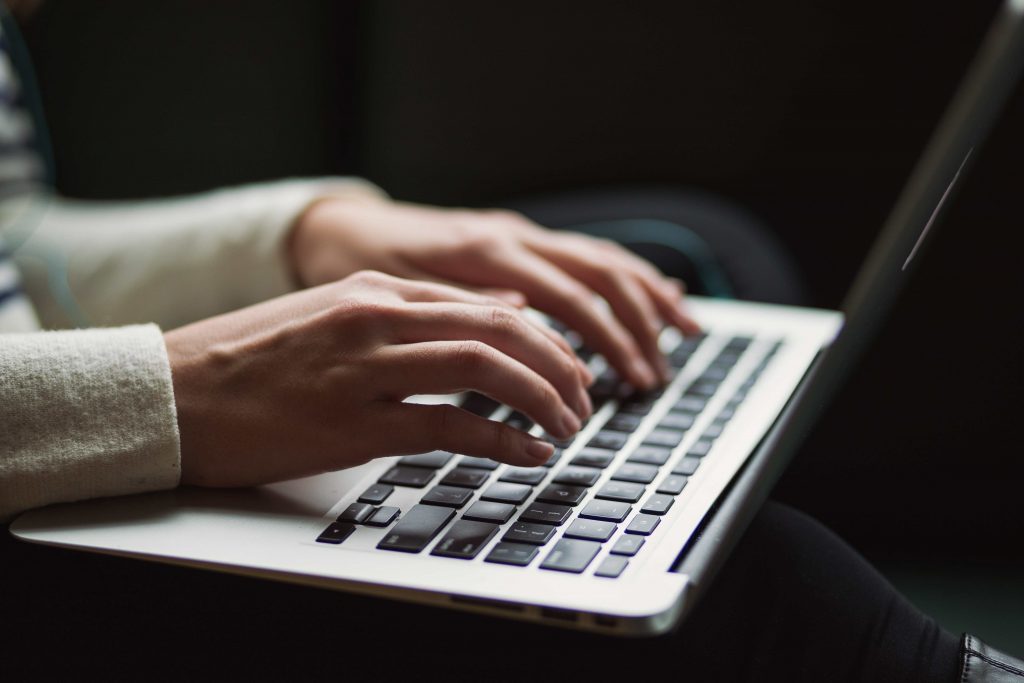 Here, we'll cover the subjects tested by the PSAT, describing the new digital PSAT.
Reading
One of the skillsets covered by the PSAT is reading comprehension and evidence-based reasoning. This is one of the areas of the test that will change most significantly with the new 2023 version.
On the new 2023 PSAT, students will find many short passages, each with one question about the purpose of the text, the use of particular vocabulary words in context, textual analysis, and so on. (This is different from the old PSAT, which presented long passages, each with 10–12 questions.)
Download a short sample of the test here.
Writing and Language
On the old PSAT, Reading and Writing & Language were two separate sections, the scores for which were then combined for half of the total SAT score.
On the new 2023 PSAT, all of the verbal content will be combined together in the new Reading & Writing sections. There will be two parts; the first will be of mixed difficulty, and then the second part will be easier or harder depending on how the student performed on the first part.
That means that students will encounter questions about grammar, clear writing, and the effective use of language alongside questions about reading comprehension and textual analysis.
Students will need to know how to use punctuation correctly and the rules of English grammar. They will also need to be able to select the "best" version of a sentence. Download our short sample of these questions here.
Math
The other half of the test comprises math questions from concepts typically learned in Algebra I, Algebra II, and Geometry. Some common types of problems feature linear functions, operations with exponents, quadratic functions, probability, trigonometry, and the geometry of angles, triangles, and circles.
Students will need to solve each problem in about one minute. To see a few examples of the hardest math questions, check out our detailed walkthrough of 16 challenging SAT math problems and try our quiz with 20 of the all-time hardest questions.
On the new digital PSAT, students will be allowed to use a calculator on all of the math questions. Like the verbal half of the test, the math portion will be adaptive; a student's performance on the first half of the math questions will determine whether they receive an easier or harder set of questions in the second half.
Wondering what these PSAT questions look like? We've carefully created a short sample PSAT, which can be downloaded for free here.
---
How is the PSAT different from the SAT?
The SAT and the PSAT are two important tests made by the College Board, which also makes the AP tests that many students take each year in May to earn college credit for advanced coursework in high school. (High scores on AP tests are also a great way to demonstrate your academic achievements to colleges.)
The College Board also makes standardized tests for students starting in 8th grade. Some schools may use their full testing program:
| | | |
| --- | --- | --- |
| 8th grade | PSAT 8/9 | Taken in school, used to track student progress. |
| 9th grade | PSAT 8/9 | Taken in school, used to track student progress. |
| 10th grade | PSAT 10 | Taken in school in May, used to track student progress. The test is the same as the PSAT/NMSQT, but it can't be used to qualify for the National Merit competition. |
| 11th grade | PSAT/NMSQT | Taken in school in October, used to track student progress and to compete for the National Merit competition. |
| 10th-12th grade | SAT | Used for college admission. Some students will take it in school, but many students also register individually and take it on a Saturday. |
| 9th-12th grade | AP subject tests | Advanced Placement tests (in May each year) can be taken to earn college credit and demonstrate advanced level for college applications |
The PSAT 8/9 and PSAT 10 are both used to track students' progress towards college readiness. These tests are taken in school by roughly half of the nation's students during the school day.
The PSAT is a little bit shorter and a little bit easier than the SAT, but otherwise it's the same test with the same format. Many students find that it's a useful tool for gauging their current level of preparation for the SAT.
In fact, PSAT scores can be used to guide the next stages of SAT prep. Our expert tutors routinely start SAT preparation by discussing a student's performance on the PSAT. The PSAT can also be useful for uncovering issues with test anxiety that can lower a student's scores compared to at-home practice. Knowing about these issues earlier can allow students and instructors time to build a roadmap for success and develop targeted strategies for SAT test day.
Only the SAT and the AP subject tests can be taken privately by students. The other earlier tests are organized by schools. If your school doesn't use the PSAT 8/9 or PSAT 10, don't worry! These tests aren't used for scholarship applications or college admissions.
If your school doesn't use these earlier tests, students may want to do additional preparation before the PSAT so that the test is familiar and students can feel confident. Schedule a free test-prep consultation with our team to learn more about what would be best for you or your student.
---
How is the PSAT scored?
The PSAT is scored similarly to the SAT, but with slightly lower numbers. The two sections, Math and Evidence-Based Reading & Writing, are each scored on a scale from 160–760. This means that a "perfect" PSAT score is 1520. (The SAT sections are scored from 200–800, so a perfect SAT score is 1600.)
The score will depend on how many questions students answer correctly. On the current PSAT, each correct answer on each section counts as one point towards a student's raw score. The new digital PSAT launched in fall 2023 may calculate scores slightly differently — the College Board hasn't yet announced the exact mechanics of how they will calculate scores with the new adaptive style of testing. On the new adaptive PSAT, higher-performing students will get a harder version of the test, so the scoring calculations will have to be more complex to take this into consideration.
On the PSAT, there are no penalties for incorrect answers. One strategic consequence of this is that students should never leave a question blank. Even if they're completely stumped, it's always strategic to guess!
Along with their PSAT score from 320 to 1520, students will also receive percentile rankings. The percentiles show how students performed compared to other students. For example, scoring in the 65th percentile means that a student scored better than 65% of other students.
Students will receive two different percentile rankings for their PSAT score. The first compares how students did to other students taking the PSAT. This tends to be a more competitive group of students, since students who are taking the test are more likely to be on a college track. The second percentile ranking (the "Nationally Representative Sample") compares how students hypothetically performed compared to typical US students in their grade, regardless of whether they took the test.
Students will also receive subscores and cross-test scores that can provide additional insight into areas of strength and weakness.
The cross-test scores for Analysis in History/Social Studies and Analysis in Science range from 8 to 38. For example, the Analysis in Science subscore will indicate how well students can handle reading about science, analyzing graphs and charts about science, and solving math word problems about science.
The subscores range from 1 to 15 and indicate student abilities in specific areas like Command of Evidence, Words in Context, Expression of Ideas, Standard English Conventions, Heart of Algebra, Problem Solving and Data Analysis, and Passport to Advanced Math.
An experienced tutor will be able to help students use these PSAT subscores to develop a customized plan for SAT preparation. Because the SAT has the same subscores and types of questions, the PSAT can be a very helpful tool for crafting a roadmap for SAT practice. Our Ivy-League SAT tutors are experts in using this data to improve student success on the SAT.
The College Board will make sure that scores are scaled fairly across different testing dates. They use a process called "equating" to account for any slight differences in the test difficulty from year to year.
---
Interpreting the PSAT score report
The PSAT is administered in mid-October each year, and scores are typically available online by early December. (Check the College Board website for the exact date.) Students may also receive a paper copy of their scores in school or mailed home to their parents.
The online PSAT score reports will look like this: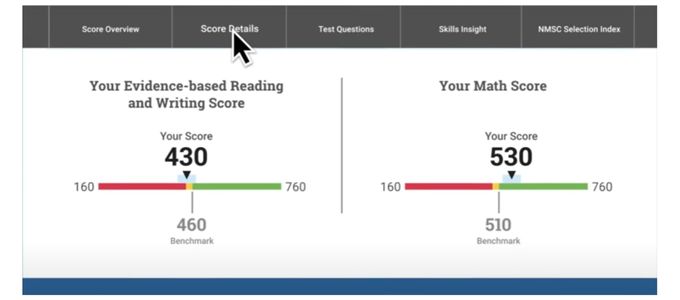 The College Board uses a color-coded system indicate "college readiness" benchmarks:
Green = meets or exceeds benchmark
Yellow = approaching benchmark
Red = needs to strengthen skills
These benchmarks indicate whether students have the basic skills to take and succeed in college coursework. They do not indicate the average PSAT test scores or a competitive PSAT score for scholarship competitions, but they're a good starting place.
Students will also be able to view benchmarks for each section and each subscore of the PSAT. These are very useful tools for SAT prep, so make sure to share this information with your SAT tutor!
Because the PSAT scores give a rough approximation of how a student might do on the SAT without any further study, students can use their PSAT scores to begin crafting a balanced college list of colleges where they would be a competitive applicant. If their scores aren't high enough for the colleges where they want to apply, then students will know to spend more effort preparing for the SAT.
---
Does the PSAT matter?
It depends!
For the majority of students, it's fine for the PSAT to simply be a "practice" SAT. In and of itself, the PSAT is not used for college admissions, and colleges will not see PSAT scores.
It's a good chance for students to get familiar with the test structure and question types they'll see on the SAT. A PSAT score also lets students know approximately what scores they'll achieve on the SAT at their current level of preparedness, and make test prep plans accordingly.
Taking practice tests is a cornerstone of test prep, and the PSAT is a chance to take a "practice SAT" that includes the features of a real test day — the nerves, the small distractions in the room, the official forms at the beginning of the test, and so on. That makes it a great trial run for the SAT, which is a key component of college admissions!
Students can also elect to make their PSAT scores visible to college recruiters. Students who score well will start receiving lots of college brochures in the mail, which can be fun and motivating. In this way, students may also learn about specific programs or scholarships that appeal to them.
However, for a small number of students, the PSAT can matter much more. This is because the PSAT is also the qualifying test for the National Merit Scholarship Program. The National Merit Program gives scholarships to top students across the US. To qualify for recognition, students need to be in at least the top 3% of scorers for recognition, with competition for most awards limited to the top 1%.
For this reason, if students are typically in roughly the top 5% of whichever annual standardized tests they take through their school, it can be worth it to take the PSAT more seriously! The National Merit awards are widely known and can be a big boost for college admissions, in addition to the monetary value of the prizes.
If you're not sure if you're likely to be a National Merit contender, try taking a practice PSAT or practice SAT. If your initial scores are in 95th percentile or above, then yes, you should definitely take the junior-year PSAT seriously.
In addition to college scholarships, the PSAT may be relevant to admission to private high schools. Some elite prep schools (like Phillips Exeter Academy or the Hotchkiss School) also use the PSAT as an alternative to the SSAT or ISEE for admission to grades 11–12 or a postgraduate year.
For students who want to spend the last year or two of high school at a prep school, it can be much more convenient to use the PSAT compared to the SSAT or ISEE. Not only are PSAT study materials much more widely available than for the SSAT or ISEE prep school admissions tests, but any PSAT preparation will also prepare students directly for the SAT.
---
How to use the PSAT to win scholarships through National Merit
As we've mentioned several times now, one of the main reasons why students want to succeed on the PSAT is to win recognition through the National Merit competition.
The National Merit Scholarship Program is one of the most widely-known and prestigious scholarship competitions in the US.
Administered by the National Merit Scholarship Corporation, a private, not-for-profit organization, the National Merit Program recognizes high-achieving students across the country.
The contest begins in the fall of a student's junior year, when they take the PSAT through their high school. Approximately 1.5 million 11th grade students take the PSAT and, by doing so, automatically enter the National Merit Scholarship Competition.
(Note that while some students may take the PSAT as a sophomore, 10th-grade scores are not eligible for the National Merit competition.)
The following year (in September of their senior year), 34,000 students across the country receive a Letter of Commendation recognizing high achievement on the PSAT. These students scored in approximately the 97th or 98th percentile on the PSAT. Commended students are not eligible to continue on in the competition, but this is a great award to include in college applications, and they may be eligible for some special scholarships provided by corporate and business sponsors.
At the same time, 16,000 students are notified that they have achieved Semifinalist status. These are the very highest scorers in each state, roughly the 99th percentile of students taking the PSAT.
The 16,000 Semifinalists are then invited to submit applications for the National Merit Scholarships. These applications are a little like college applications: they include high school transcripts / GPA, extracurriculars, and an essay. Semifinalist students also need to be nominated by their schools as strong students and members of their community.
In February of their senior year, 15,000 of the Semifinalists advance to Finalist status. This is an amazing achievement, and is a definite boost on college applications!
Finally, roughly half of the Finalists are awarded scholarships and become National Merit Scholarship winners. There are three types of scholarships:
The 2,500 highest-achieving students are awarded a one-time prize of $2,500 directly from the National Merit Scholarship Corporation.
More scholarships are awarded by approximately 340 different corporate sponsors. In order to be eligible for one of these, typically a student has to both be a Finalist and also have a parent who is employed by one of the sponsors. The prizes range from $2,500 to $5,000 one-time or $1,000 to $10,000 annually.
Many colleges and universities will also offer a scholarship to students who are both admitted and also achieve Finalist status. Prizes range from $500 to $2,000 annually.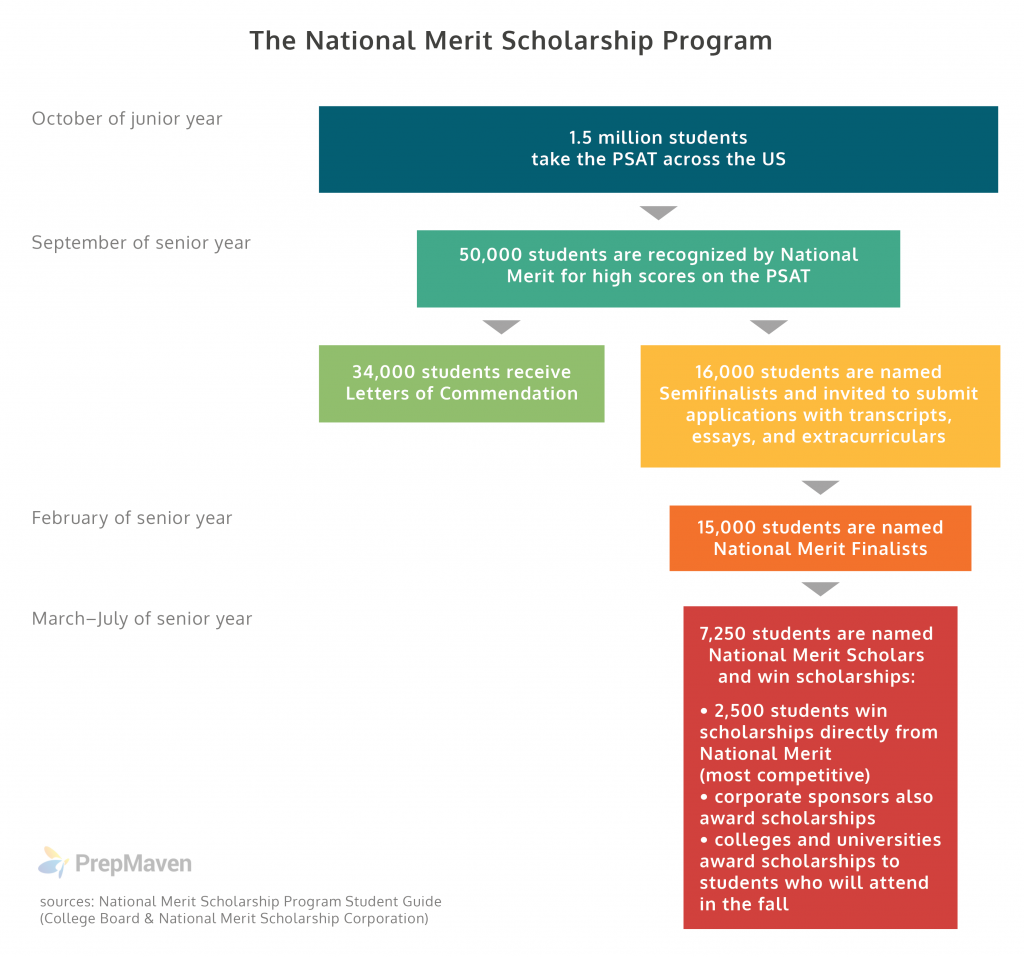 Of course, these are only the scholarships that are offered via the National Merit Program. There are many other colleges that offer larger scholarships to National Merit Finalists. Schools tend to compete to see how many of the National Merit Finalists they can attract, and some will even offer full-ride scholarships or guaranteed admission to National Merit students.
Some schools offering full-ride scholarships to National Merit students include:
University of Texas at Dallas — in addition to free tuition, UT Dallas also gives National Merit students room and board, a $4,000 per semester stipend, and a one-time $6,000 stipend for international study
Florida International University — their international business program is ranked #2 in the nation
University of Alabama — full tuition for five years for undergraduate and graduate studies, four years of on-campus housing, a $3,500 annual stipend for four years, $2,000 for summer research or international study, and $2000 book scholarship
University of Oklahoma — full tuition for five years (undergraduate and graduate), $5,500 freshman housing scholarship, $5,500 annually for fees, books, room and board, $5,000 cash stipend, $1,000 technology and textbook stipend, $1,000 research and study abroad stipend
Fordham University
University of Maine
Oklahoma State University — they offer free tuition for five years, a $5,500-per-year scholarship for room and board, and $19,000 in additional scholarships
University of South Florida
Washington State University
University of New Mexico
While most scholarships are only available to National Merit Finalists, some scholarships may also be awarded to National Merit Commended Students!
In short, for high-achieving students there can be a lot of money on the line with the PSAT! And while schools like Harvard or Stanford might not offer scholarship money for National Merit (in fact, there are no merit scholarships at Harvard and the other Ivies), it will definitely help with admissions.
That's why we advise students in the 95th percentile and above to take it seriously. If that might apply to you, set up a free test prep consultation with our team.
---
What's a good score on the PSAT?
The definition of a "good" PSAT score is subjective, really.
Each section on the PSAT is scored on a scale from 160–760. This means that a "perfect" PSAT score is 1520: 760 Math and 760 Evidence-Based Reading & Writing, are each scored
The College Board has set "benchmarks" to college readiness for each of their tests. For the PSAT/NMSQT, those numbers are 460 for Reading & Writing and 510 for Math. Students need to hit those benchmarks in order to be "ready" for college.
According to 2020–21 data, the average PSAT score in the US is slightly higher than those benchmarks, or 1010 (source).
The cutoff score for National Merit Commended status varies each year, but generally students need to score about 1400.
(Note: the National Merit Scholarship Corporation compares your PSAT scores with those of other students in your state using its own Selection Index, which falls on a scale between 48 and 228. This is calculated by adding each of the three section scores (Math, Reading, and Writing) together and then multiplying by 2. The upshot of this is that your Math score counts less in the eyes of National Merit than it does for your straight-up PSAT or SAT score, where your Reading and Writing scores are averaged. Yes, we know it's confusing. We're going to just talk about PSAT scores here, but read here for more about the Selection Index cutoff scores for each state.)
The cutoff score for National Merit Semifinalist status depends on the state. To be competitive for National Merit Semifinalist status, students need to score about 1400 on the PSAT in less competitive states like Wyoming, Montana, and North Dakota . . . or about 1470 on the PSAT in more competitive states like Connecticut or New Jersey. Check out the cutoff scores for each state here.
A PSAT score is a good predictor of a student's SAT score if they don't do any further studying or preparation.
In order to be a competitive applicant for the Ivy League, students will need SAT scores of at least 1450: higher than 730 Math and higher than 710 Reading & Writing.
If we broaden that list to the top 50 colleges and universities in the US, students need SAT scores of 1390 (700 Math and 690 Reading & Writing) to be competitive.
Learn more about average SAT scores at different schools here.
If your PSAT score still falls below those cutoff scores, don't worry! It's absolutely possible to raise your scores through studying and practice. We find that most of our students see a score raise of 100–300 points on the PSAT and SAT after working with our tutors.
---
How to take the PSAT
Whereas the SAT can be taken most months of the year, the PSAT is only offered once a year in mid-October.
The PSAT is taken through the student's school, and there's often no cost to students since fees are paid by the schools.
Students typically register for the PSAT through their school.
It's possible for homeschooled students to sign up for the PSAT at a nearby school; families should contact the school at least four months in advance to register.
---
Next steps
Download a sample of the new PSAT to try out the PSAT with the new style of questions (launching fall 2023)!
Then make a plan for PSAT preparation. If you're an ambitious student who often scores in the top 5% on standardized tests, you'll want to take the PSAT seriously, since you have a serious chance of winning impressive scholarships.
If you're not in the top 5%, you can approach the PSAT more like a practice SAT — but you still may want to prepare for it so it's a positive experience, and so that you can get the most out of the practice.
Because the PSAT is nearly the same as the SAT, any prep for the PSAT also prepares students for the SAT.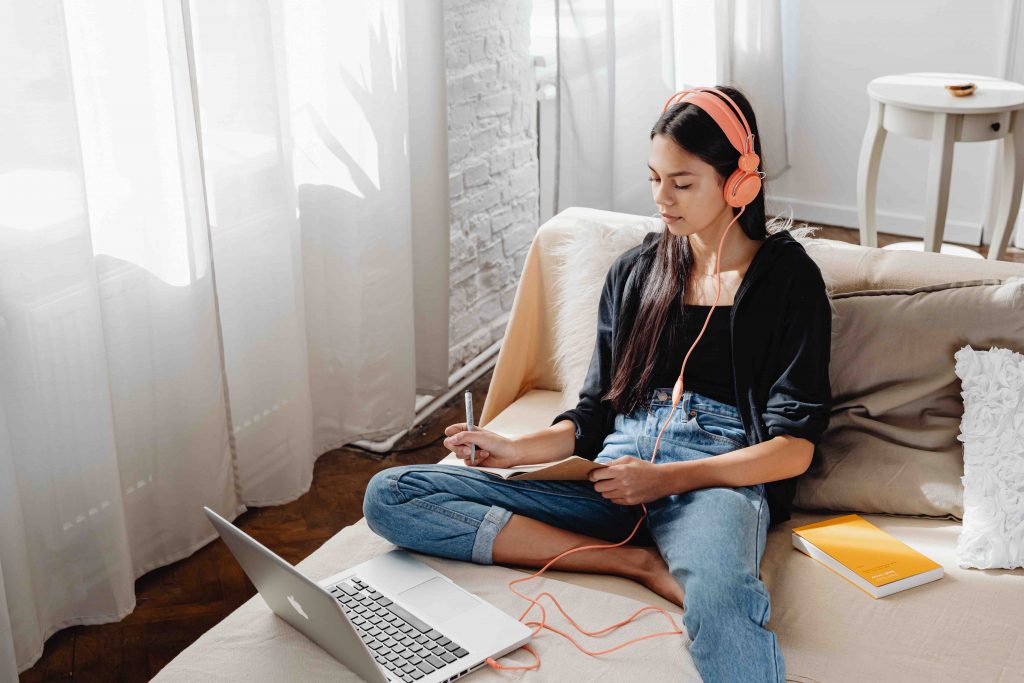 If you've already taken the PSAT, know that it's absolutely possible to raise your score on the SAT with the right practice and preparation!
A PSAT or SAT tutor can introduce the test format and de-mystify the test for students and families. A good tutor will make sure that students are using the best available resources for studying and practice.
A good tutor takes a lot of the stress out of the PSAT and SAT process and makes sure students are practicing effectively. Tutors can provide students with targeted study materials and guide students in using them correctly.
In addition, there are many strategies and tricks that can make the test easier. Unlike some self-directed courses and books, a good PSAT and SAT tutor can share these tricks with students and guide them through implementing test strategies.
Students who achieve their goal score earlier in high school can relax and not worry about testing at the end of their junior year (the most important year for academic transcripts, and when many students are focused on AP tests) or in the beginning of their senior year, when most students are working on college essays.
To be matched with the perfect-fit tutor and start one-on-one PSAT and SAT tutoring today, set up a quick free consultation with our team.
---
Related Articles
What is the PSAT?
National Merit PSAT Scores
The Best PSAT Tutoring
What is a Good PSAT Score?
The 12 Best SAT Prep Courses for 2022
Average PSAT Scores
When should you take the SAT or ACT?
Average SAT Scores: The Latest Data
Hardest SAT Math Questions
The Best SAT Online Tutoring
The 13 SAT Grammar Rules You Need to Know
SAT vs ACT: Everything You Need To Know
The SAT QAS: How to Use One of the Most Powerful Score-Boosting Tools
Converting SAT to ACT Scores (and vice versa)
When should you take the SAT or ACT?
Bonus Material: Try a sample of the new PSAT
---
Emily
Emily graduated summa cum laude from Princeton University and holds an MA from the University of Notre Dame. She was a National Merit Scholar and has won numerous academic prizes and fellowships. A veteran of the publishing industry, she has helped professors at Harvard, Yale, and Princeton revise their books and articles. Over the last decade, Emily has successfully mentored hundreds of students in all aspects of the college admissions process, including the SAT, ACT, and college application essay.