What's on the SSAT? Your Guide to the Test
Bonus Material: PrepMaven's SSAT Guidebook
The Secondary School Admission Test (SSAT) is now a standard component of private school admissions.
The vast majority of applicants take the test only once. But that doesn't mean the SSAT is not worth studying for! Adequate preparation can result in a competitive SSAT score.
Competitive SSAT scores can give secondary school applications that highly coveted "edge."
If you're beginning your SSAT test prep journey, your first question may very well be, "What's on the SSAT?" We're here to give you the foundation you need for your study!
We also give our readers access to our free SSAT Guidebook, which provides extensive guidance for families navigating this test for the first time. Grab this now below.
In this post, we cover:
---
The SSAT: The Basics
Just like most standardized tests, the SSAT follows a predictable format broken into sections testing different skills and abilities.
However, there are slight variations in the content depending on what grade you are in.
So the first thing to understand is what level SSAT test you are taking!
The SSAT offers three different levels:
Elementary Level for students in grades 3 and 4

Middle Level for students in grades 5-8

Upper Level for students in grades 8-11
Students take the test that corresponds to the grade they are currently in, not the grade they are entering.
It doesn't matter that you might be taking the same test as students in higher grade levels. Your scores are always ranked against those of other students in the same grade.
The three different SSAT levels are designed to test material appropriate for each student's respective grade level.
No matter which level SSAT test you take, the sections are always the same: a Writing Sample section and Quantitative, Reading, and Verbal multiple-choice sections.
(Note: the Elementary Level SSAT will not be covered in this article.)
---
The SSAT Test Format
Here is the official section and timing breakdown of the Upper Level Test from SSAT.org (Middle Level is the same):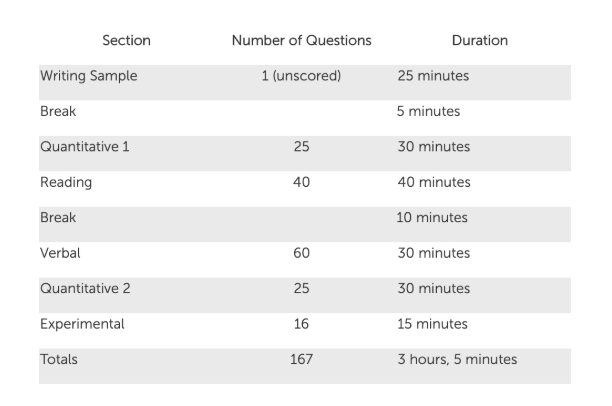 Source: SSAT.org
Now let's walk through the test, taking a closer look at each section. When relevant, we'll note the differences between the Upper and Middle Level tests.
SSAT Writing Sample
Time: 25 minutes
Format: Free response, pick one of two prompts
This section is unscored but sent to admission departments for review. It helps give admission officers a sense of your writing abilities.
Upper Level: You have the choice to write a persuasive essay or creative story

Middle Level: Both prompt choices are creative essays
Here are two sample persuasive prompts typical of an Upper Level SSAT writing section:
What does it mean to be a "well-rounded" student?
What is, in your opinion, the most pressing social issue today? How would you resolve it?
Here are two sample creative prompts:
She could not believe her eyes.
They knew it was time to turn back.
SSAT Quantitative 1
Time: 30 minutes
Format: 25 multiple choice questions
The SSAT features questions that span a range of math topics. Questions are designed to be solved without a calculator and you are not allowed to bring one!
Here is a sample SSAT quantitative question:
In its official online practice portal, the SSAT provides a list of topic categories for practice. These are a good indication of the topics that will show up on the actual test.
Upper Level:
Algebra

Computation

Geometry

Number Sense

Pre-Algebra

Statistics and Probability
Middle Level:
Algebra (far less extensive scope of topics than Upper Level)

Data Analysis

Geometry

Measurement

Number Concepts

Number Conversion

Pre-Algebra

Statistics & Probability
The SSAT practice portal has sub-lists of topics within each section, and there are a few additional topics that come up frequently across various practice resources.
SSAT Reading
Time: 40 minutes
Format: 40 multiple choice questions, broken into approximately 7 passages
SSAT reading passages are each about 250-350 words in length, with 4-5 questions per passage. About half of the passages are narrative and half are argument-based.
Here is the SSAT's list of passage genres you might see represented:
Literary fiction

Humanities (biography, art, poetry)

Science (anthropology, astronomy, medicine)

Social studies (history, sociology, economics)
Source: SSAT.org
Let's go straight to the source again for the SSAT's list of question types you may see.
We'll also pull some sample questions from an Ivy Global practice test to really bring these question type descriptions to life.
| Question Type | Example |
| --- | --- |
| Main Ideas | Which statement best expresses the main idea of the passage? |
| Detail | The Wood River Valley is unique because… |
| Inference | The reader can infer that the Wood River Valley… |
| Words in Context | In paragraph 2, "geography" most exactly refers to… |
| Author's Purpose | The author compares the Wood River Valley to the Grand Canyon because both… |
| Author's Tone and Attitude | The author's tone can best be described as… |
| Evaluation of Arguments & Opinions | The author suggests that the Grand Canyon… |
| Make Evidence-Based Predictions | Which of the following would be the best title for this passage? |
Basically, SSAT Reading questions test your reading comprehension on both a general and specific level.
The one little piece of outside knowledge you may need (which the SSAT.org did not include on its list) is a basic understanding of literary devices. Students should be familiar with the most common ones, such as simile, metaphor, and personification.
SSAT Verbal
Time: 30 minutes
Format: 60 multiple choice questions, divided into Synonyms and Analogies sections of 30 questions each
Synonyms
In this section, you are simply provided with a word and must choose the answer that has the closest meaning.
Here is an example synonyms question:
Analogies
An analogy is a comparison of two things. On the SSAT, these two things will have a very specific relationship.
Students must determine what this relationship is, and select the answer choice that most closely features that same relationship. Here is a sample Analogies question from an SSAT Verbal section: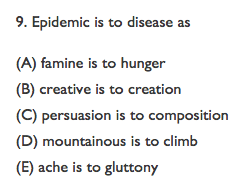 Quantitative 2
Time: 30 minutes
Format: 25 multiple choice questions
This section is the same as Quantitative 1, just a second round of it!
Experimental Section
Time: 15 minutes
Format: 16 multiple choice questions
This section is not scored and features questions from the different multiple-choice sections. It is intended to test the reliability of future SSAT questions.
What does this all add up to?
All in all, including breaks between sections, you'll be in the testing room for about 185 minutes (3 hours, 5 minutes) when you take the Middle or Upper Level SSAT.
That's a lot of time! Because the SSAT is somewhat of a marathon, it's important to boost your stamina by taking consistent practice tests.
---
Download PrepMaven's SSAT Guidebook
As you can see, each section of the SSAT tests very different skills. It might seem like a lot to process all at once, but if you break each section apart as you study, you'll start to feel more comfortable over time.
We also encourage readers to download our FREE SSAT Guidebook.
Here's what you'll get with this guidebook:
Over 85 pages of comprehensive, user-friendly details about the SSAT
Information about the SSAT and private school informations
Guidance for preparing for and taking the SSAT
Introductory strategies and content for all 5 sections of the SSAT
A list of test prep resources available to SSAT test-takers
And so much more!
---
Jess Welsh
Jess is a Princeton graduate who majored in English and minored in Visual Arts (Film). She has worked as an SAT/ACT/AP/SSAT/ISEE/HSPT tutor as well as a college counselor and loves getting to know students through her work. When not tutoring, she enjoys reading, writing, running, adding to her classic rock music collection, and exploring the West!
---
CHECK OUT THESE RELATED POSTS