College Essay Workshop
Live & Online
Summer 2021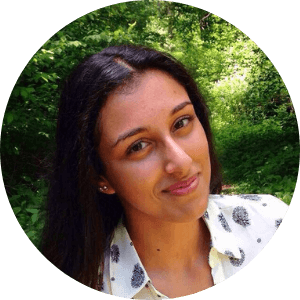 This workshop was helpful beyond anything I thought it would be.

I would highly recommend this workshop to all those who are struggling to write their college essay and those who need that foundation in order to write one.

[My essay] changed dramatically and I am very grateful.
Complete an amazing college essay in only 4 weeks.
–>   Go from blank page to completed personal statement in 4 weeks
–>   Work LIVE with one of our most requested instructors
–>   End up with a college essay that your student is proud of and excited about
Schedule:
| | |
| --- | --- |
| Thu  7/1/21 | 1:30 to 3 pm ET |
| Thu 7/8/21 | 1:30 to 3 pm ET |
| Mon 7/12/21 | 1:30 to 3 pm ET |
| Thu 7/15/21 | 1:30 to 3 pm ET |
| Mon 7/19/21 | 1:30 to 3 pm ET |
| Thu 7/22/21 | 1:30 to 3 pm ET |
| Mon 7/26/21 | 1:30 to 3 pm ET |
| Thu 7/29/21 | 1:30 to 3 pm ET |
Scheduling conflict? No worries. You'll have access to a recording of the sessions. *Schedule subject to change
How It Works:
–>   Each week, you'll meet in live group workshops
–>   Between classes, you'll watch instructional videos and complete writing assignments
–>   During live classes, we'll deliver lessons, review sample essays, and answer your questions
Most students are writing inefficiently.
Compelling college essays combine deep introspection with engaging storytelling and strong writing skills — they are  completely different from the typical high school academic essay.
Since 2005, we've helped hundreds of students receive admissions to all of the top colleges.
During this period, we've worked with only 1 student who required only minor feedback and polishing of her essay.
Teachers, school counselors, and parents are great resources, but they might be too busy. Or they might not be experts on the nuances of the college essay.
The number one thing our students struggle with is… not knowing how to start.
Admissions officers commonly advise "Be Yourself". This is good advice, but it's too vague to be helpful.
The student process can often look like:
Stare at a blank page

Procrastinate

Start a draft, t

hrow it out, and re-start

Procrastinate

Second-guess the topic

Get anxious

Maybe cry a little bit

Finally pull something together at the last-minute that is passable
It doesn't have to be this painful.
Introducing… PrepMaven's College Essay Workshop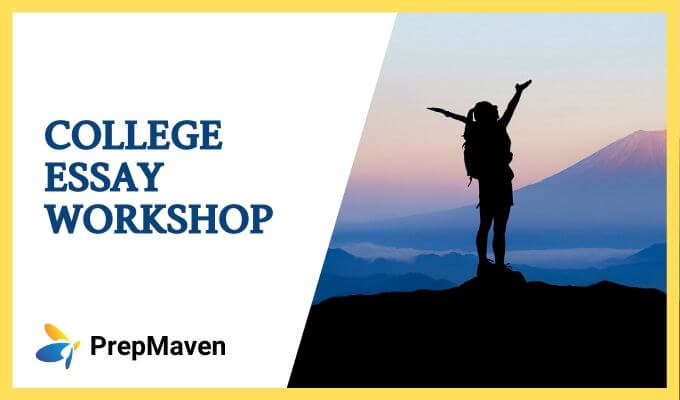 Our 4-week LIVE Workshop is led by an expert and guides students through every stage of the college essay writing journey.
Note – This is a live course. You will be working live with our instructor and other students.  Between classes, you'll access video lessons for additional support. 
Here's a sampling of what students will learn:
The specific qualities of a compelling, successful essay (

PrepMaven's 7 Principles

)
The

tools

to implement our 7 principles
How to select a

winning topic

using our multi-step brainstorming method
How to develop an

effective story structure

Powerful editing and revising techniques

to transform a rough first draft into a polished piece of work

At the end of the 4-week workshop, your student will come away with 3 things:
1.  A draft of the common app personal statement that he/she will be proud of*
2.  A plan for how to tackle the most common supplemental essay prompts
3.  A rewarding and transformative experience
*This draft will either be 100% completed or nearly completed. Students must participate and put in the work to get the most value out of this class. We will assign homework and drafts/edits to be completed between sessions. Expect between 2 to 6 hrs of homework per week.
Schedule:
| | |
| --- | --- |
| Thu  7/1/21 | 1:30 to 3 pm ET |
| Thu 7/8/21 | 1:30 to 3 pm ET |
| Mon 7/12/21 | 1:30 to 3 pm ET |
| Thu 7/15/21 | 1:30 to 3 pm ET |
| Mon 7/19/21 | 1:30 to 3 pm ET |
| Thu 7/22/21 | 1:30 to 3 pm ET |
| Mon 7/26/21 | 1:30 to 3 pm ET |
| Thu 7/29/21 | 1:30 to 3 pm ET |
Scheduling conflict? No worries. You'll have access to a recording of the sessions. *Schedule subject to change
Students will work with Annie, a Harvard-educated HOLLYWOOD SCREENWRITER who sold her first screenplay while in college
Annie graduated from Harvard University with an honors degree in English, focusing on creative writing.
She now lives in Los Angeles and works as a professional screenwriter and expert tutor and essay consultant with PrepMaven/Princeton Tutoring.
She sold her first screenplay while still in college and was named to the 2013 Young and Hungry List.
She has completed film projects for a variety of film studios and production companies, including CBS Films, Netflix, Anonymous Content, and AwesomenessTV.
"Amazing" and "Awesome" are common adjectives used by parents to describe Annie.
Thank you for everything! You are amazing.
I cannot thank you enough for working so well with Jasmine! I might need advice from you and will reach out by phone for further plans.
Thank you Annie! You are awesome!!
Hello Annie, Thank you for the last tutoring session and very informative, detailed feedback. You must be a great tutor/ teacher to quickly assess all his needs in all areas!
Annie has been amazing.
We'll cover everything you need to craft an amazing personal statement + get started on the supplemental essays
Over the course of 4 weeks (8 classes/ 12 hours), students will cover all of the following:
WEEK 1

What is the college essay and what are admissions officers looking for?
Qualities of a successful college essay with case studies
The brainstorming process: how to begin
Gathering your best essay topics
Selecting the winning essay topic

WEEK 2

Exploring your chosen essay topic further
Structuring your college essay: different models for different topics
Creating an outline for your first draft
Honing this outline and taking the steps to write that first draft
Workshop collaboration & peer review
Independent reflection

WEEK 3

Writing and reviewing the first draft
The college essay revision process
Workshop collaboration & peer review
What makes an introduction compelling?
How do I end my college essay?
"I" statements
Writing and reviewing the second and third drafts
Independent reflection

WEEK 4

The finish line approaches!
Workshop collaboration & peer review of additional drafts
Style, grammar, and mechanics with the close-to-final draft
Successful college essay checklist
Supplemental essays–how to approach these and select topics in the wake of writing your personal statement
Each student will also receive these BONUSES:
✔

  Video Library — Enrolled students will have access to our college essay video tutorials.
✔  Supplemental Essay Strategies — In addition to helping students craft personal statements, we'll also offer strategic guidance about how to approach supplemental essays.
✔  Discounted Additional Support — Enrolled students will be eligible for discounted 1:1 rates with our essay consultants.
✔  Waitlist Priority — Our essay consultants often get booked up and have waitlists. Workshop students will be given priority on these waitlists.
Our students have an overwhelmingly positive experience.
We're confident yours will too.
Before attending this workshop, I didn't really know what I should write about and had trouble getting started, but I left the workshop with a clear idea and draft of what I wanted to say.

Personally, the free writing, the in-depth review of an essay, and exercises that involved brainstorming facts about myself were the most helpful in identifying the specific moments and lessons I wanted to capture in my essay.

Working with the instructors was stress-free because they are easily approachable and were genuinely interested in helping me tell my story to an admissions officer.

They were honest and kind in their feedback and I placed a lot of confidence in their opinions, and I would definitely recommend working with them for help with your essay and all other steps in the college application process.
The workshop gave me many resources that helped with structuring an essay and some exercises which really helped with finding good ideas to write about.
It makes the essay much less intimidating, more like writing a particularly expressive story than a school essay. Coming from someone who does not much like writing this made writing the piece kind of fun.
Although no kid wants to do "homework" in the summer it was quite reasonable and VERY helpful to keep me on track.
Before this workshop, I really didn't have any approach to the essay. I mostly was just writing haphazardly and not following a set structure. I had no guidance.

After attending this workshop, my approach completely changed. I now had a set of guidelines and a path as to how to properly compose my college essay to the best it could be.
How much does it cost to enroll?
We have near-perfect ratings, 50,000+ hrs of 1:1 & classroom teaching experience, and are a trusted resource with a strong reputation.
Over 75% of our families are referrals or repeat customers.
Our co-founders, Kevin and Greg, are brothers and Princeton University graduates who work closely with our instructors.
To work with our top counselors will cost ~$4,000 for the equivalent amount of class time.
Instead, our workshop is only $395.
Our goal is for you to complete the college essay in 4 weeks.
This won't be hard if your son/daughter attends class with an open mind and is willing to spend 2 – 6 hrs/week on homework and edits.
Secure your spot soon!
Prefer to work 1:1 with one of our expert consultants? Please contact us to confirm availability. We'll then give you a ring to learn more about your student, see if we're a good fit, and discuss next steps.
Schedule:
| | |
| --- | --- |
| Thu  7/1/21 | 1:30 to 3 pm ET |
| Thu 7/8/21 |  1:30 to 3 pm ET |
| Mon 7/12/21 |  1:30 to 3 pm ET |
| Thu 7/15/21 | 1:30 to 3 pm ET |
| Mon 7/19/21 |  1:30 to 3 pm ET |
| Thu 7/22/21 |  1:30 to 3 pm ET |
| Mon 7/26/21 |  1:30 to 3 pm ET |
| Thu 7/29/21 |  1:30 to 3 pm ET |
Scheduling conflict? No worries. You'll have access to a recording of the sessions. *Schedule subject to change