Work 1-On-1
with Kevin
The Best SAT & ACT Instruction in Princeton, NJ
Princeton Grad

Graduated from Princeton University with Honors
Education Expert

Co-founder of Princeton Tutoring and PrepMaven
Likes Numbers
Engineering major and former partner of a quant hedge fund
Secret Talents
Former figure skater turned brazilian jiu jitsu practitioner
 More About Your Instructor
Kevin is a test prep and college admissions expert who has been working privately with students for the past 10+ years. He has a 100% satisfaction rate.
His typical hourly rate is $375/hr.
However…
In order to make his services more affordable and accessible, he will be offering discounted packages for students who want to work with him one-on-one.
Take advantage of this amazing opportunity to work with the most qualified instructor in the Princeton, NJ area.
What did I like about the program? YOU GUYS! Right from the get go you guys were funny and welcoming.

- JP

Funny and Welcoming

Kevin and Greg were the best teachers: they were approachable, personable and engaging in their teaching.

- Sofia

The Best Teachers
4 Week Program

FOR:  Students who want more in-depth help and personalized advice
LOCATION:  Online or In-Person (Princeton, NJ)
WHAT YOU'LL GET:  Work with Kevin over the course of 4 weeks. You'll meet with him for four 90 minute sessions for in-depth targeted work. Kevin will customize a study plan so you will know exactly what to do and when between sessions. He will also follow up with you during the week to ensure you are on the right path.
WHO WILL YOU WORK WITH?  Kevin (limited availability)
PRICING:  $1495 for the SAT, ACT, SSAT   (Discounts available for multiple packages. Contact us for more info)
QUESTIONS?  Contact Us
Why PrepMaven for Test Prep?
You will not find better quality instruction in Princeton, NJ. Affordably priced.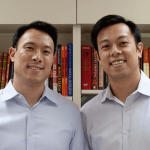 Local and Family-Owned!
We are based in Princeton, NJ and co-founded by brothers and Princeton graduates Kevin Wong and Greg Wong!
10+ Yrs of Education Experience

Since 2005. We've helped thousands of families from all area schools through our sister company, Princeton Tutoring.
Happy Clients and Rave Reviews

300+ testimonials. Perfect 5 star reviews on Google and Yelp. Over 50% of our families are referrals.
Unparalleled Instructors
Group classes are taught by our co-founder, Kevin. You will not find this level of instruction anywhere else in the area.
Frequently Asked Questions
1. How much will my score improve?
If you put in the work between sessions, your score will improve. How much? Depends… Some students improve several hundred points. We've had a student who improved so much that the College Board thought he cheated! Generally, the higher your baseline score or the more prep you've already done, the less you will improve. If you're already scoring 1500 or above,  there is a good chance you will still improve further… but you may want to re-consider using that time for your other classes or extracurriculars!
2. I've booked a session. Now what?
Kevin will reach out to you to gather more information, answer any questions you might have, and schedule the first session.
3. Why does my receipt show "Princeton Tutoring"?
Princeton Tutoring is our sister company and our payments are currently processed through the same system.
4. What is your refund policy?
Refunds are available for packages that are purchased but not yet booked. Credit card processing fees might apply.
5. What if I'm late to my session?
We have a hard stop at the scheduled end time, so please do your best to be on time!
6. What happens if I have to re-schedule a class?
Please allow 24 hours or more before scheduled tutoring sessions to make cancellations. Otherwise, we reserve the right to count these sessions against your session total. No shows will be counted against your session total.
7. Where do we meet?
Sessions will be held in-person in Princeton, NJ or online using video conferencing software. If we meet online, we'll provide a link to join the video call. You'll want to test things out before the session begins. Please make sure you have a good internet connection, a microphone, and a working webcam (optional)!
Disclaimer: SAT is a trademark registered and/or owned by the College Board, which was not involved in the production of, and does not endorse, this product. ACT is a registered trademark of ACT, Inc.