Your Guide to Using the Common App Additional Information Section
Bonus Material: PrepMaven's Supplemental Essay Spreadsheet
The Common App has an Additional Information section, which is entirely optional.
Many of our students ask us about this section, especially in light of the new (optional) COVID-19 essay question for 2020-2021 admissions.
Should students say something in the Common App additional information section?
And if so, what should they say? What shouldn't they say?
In this post, we walk students how to approach this section. We also provide examples of things to say if you choose to include something.
Readers also get access to our Supplemental Essay Spreadsheet, which includes essay prompts and relevant information for the top 50 selective colleges in the U.S. Grab it now.
Here's what we cover:
What is the Common App Additional Information Section?
The Common App Additional Information section appears under "Writing" listed in the left-hand screen menu.
Students will find two questions under the "Additional Information" header, which comes after their Personal Essay and Disciplinary History section:
These two questions are entirely optional, although students need to select "yes" or "no" for both.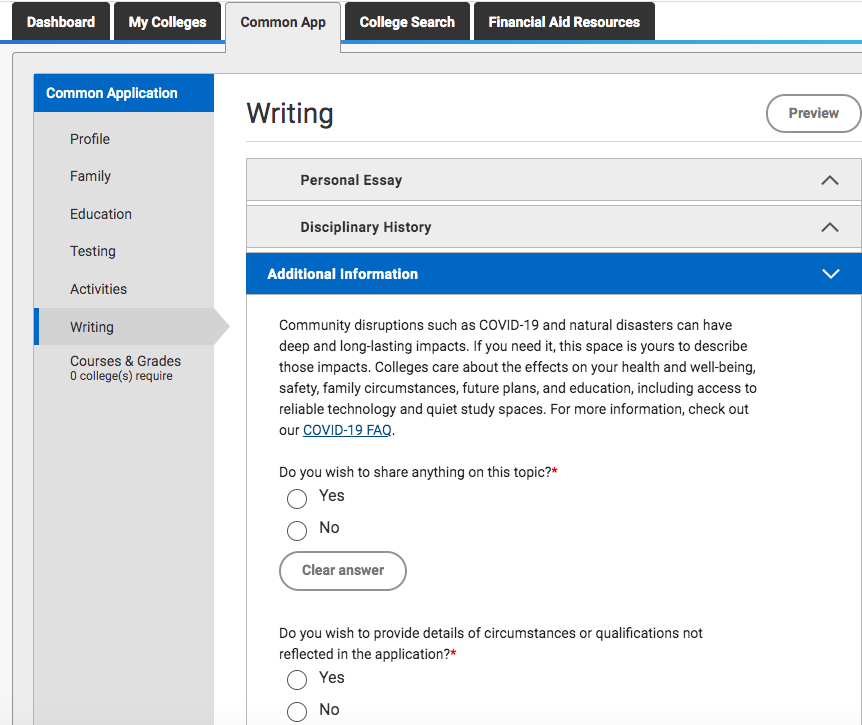 Students have up to 650 words to respond to this additional information question if they so choose.
We want to emphasize that students don't have to put anything in this Additional Information box! It is not a requirement, and a lack of response here is not likely to sway an admissions decision one way or the other.
However, it could be used to applicants' advantage under select circumstances, and we are all about helping students create competitive college applications.
In the next section, we discuss the 3 things students can consider saying in the Common App Additional Information section.
What You Should Include
in the Common App Additional Information Section
1. Details that might be missing from the rest of your application
We realize that this is a broad statement, but it's in line with what the question is asking here. The prompt mentions "details of circumstances or qualifications not reflected in the application."
Students should only use this section if what they include provides new details that aren't already apparent elsewhere.
This means information that falls outside of the following:
Your activities list and/or resume
Personal essay
COVID-19 essay response
Supplemental essay responses
Transcript
Test scores
Any other supporting documents (i.e., graded academic papers or creative portfolios)
This might seem challenging.
But it's always worth asking: is there anything that you feel is missing outside of your application as a whole? What haven't you yet said about who you are as a scholar, leader, and individual? Is there anything in your application that didn't get the space it's due?
Sometimes answers to these questions come down to personal and/or exceptional circumstances.
Some details that might fit the bill here (if you haven't already discussed them) include:
Health issues or medical conditions
Learning differences or disabilities
Physical disabilities or differences
Access to education, especially if limited for specific reasons
Unemployment in your family (especially if not COVID-19 related)
Note: If you've participated in paid work in your high school years and/or acted as a caregiver in your home, you should actually reference these in your Activities list.
Here is an excerpt from a sample response that would fit these qualifications:
I was diagnosed with epilepsy when I was a child. While I have been able to monitor my symptoms for the most part with medication and various treatments, my health condition has sometimes limited my capacity to pursue athletics, extracurricular activities, and a more rigorous academic schedule.
2. Clarifications or necessary elaborations
Thinking of the "qualifications" part of the Common App Additional Information question, you might want to make some clarifications here about your personal qualifications.
For example, maybe you conducted some fantastic independent research for an honors course at your school or a private study, but you haven't had space in this application to discuss the nuances of this research for whatever reason (outside of supplemental essay prompts).
The Additional Information section is a great space to provide this brief elaboration.
Perhaps you volunteered for a local non-profit organization in a way that felt particularly meaningful, but you couldn't quite squeeze in the relevant details in your Activities list or other supplemental essay. Time to put those details here, especially if they offer a clearer picture of this experience (and what you learned from it).
The same goes for any noticeable gaps in your transcript or Activities list not likely to be addressed by your guidance counselor. (Your guidance counselor should be the one to address dips in grades and general COVID-19 impact on your school system.)
For example, maybe personal finances prevented you from enrolling in a college preparation course your junior year. Or perhaps access to transportation played a big role in influencing your minimal participation in a specific activity.
These are important details admissions officers are likely to value as they read your application.
Here is an excerpt from a sample response that would work here:
My opportunity to pursue an independent study project with Professor Reid allowed me to expand upon research completed in my AP Psychology course. Under Professor Reid's guidance, I examined the neurological implications of addiction.
3. Information likely to help admissions officers in their decision-making process
This might sound like a general point, which is why we encourage readers to check out our post on what college admissions officers look for when they read your application.
But it is important to think of the word "help" here. Admissions officers have a big job in front of them, and they receive thousands of highly competitive applications every year. The more you valuable information you can give them to aid in their decision-making process, the better!
What you include in this section should add value to your application as a whole. It should demonstrate more of your potential to be a great student at this school, given what it clarifies, elaborates, or explains.
In short, It should distinguish you from other applicants.
What Not to Say
in the Common App Additional Information Section
Yes, it is possible to misuse the Common App Additional Information section! We've seen it happen before.
This is, in general, not a place for any of the following:
Repeated or redundant information
Another 650-word essay
Excuses or complaints
Remember to consider everything that admissions officers will be looking at, including those parts that you won't necessarily see, like letters of recommendation and guidance counselor statements.
Your response here should not repeat what these parts already detail, in any way.
This is also not an opportunity to include a 650-word essay! Many colleges ask for supplemental essays as a way to encourage additional creative writing and reflection; that is not the goal of this question here.
Lastly, this is not a place to complain about anything or provide excuses for gaps in your transcript or academic history. If you do need to address such gaps, do so in a way that is honest and emphasizes your attempts to overcome this gap.
Download Our Supplemental Essay Spreadsheet
The Common App Additional Information question is just one of extra questions students will likely have to answer when submitting their applications.
That's why we put together our Supplemental Essay Spreadsheet, which includes the supplemental essay prompts for the 50 most selective U.S. colleges and universities.
With this spreadsheet, you'll get:
The supplemental essay prompt(s) for the most selective 50 U.S. colleges / universities
Word limits for each prompt
Application deadlines for each (early and regular)
---
Kate
Kate is a graduate of Princeton University. Over the last decade, Kate has successfully mentored hundreds of students in all aspects of the college admissions process, including the SAT, ACT, and college application essay.
---