College Applications Are the Worst — Here's Why That's a Good Thing
It's that unforgettable time of year: college application season. 
For many students, submitting college applications will be the most stressful and hectic experience they've ever had!
Never before have they had to deal with so many forms, deadlines, and obligations. 
The college application essay, often the most daunting part of applications, is also likely to feel a touch foreign, given its emphasis on authenticity and personal narrative. 
These essays often mean agonizing over huge, existential questions like, "What is the greatest challenge you've ever faced," or, "What captivates you and why?" 
Students must also ask teachers for recommendation letters, respond to supplemental essay prompts, gather transcripts, submit ACT and SAT test scores, and navigate application submission fees.
We couldn't understand this stress more, given that we've worked with students at all stages of the college application journey.
But we do want to say that there's a silver lining to all this madness!
Here it is: this period is also an amazing opportunity for personal growth. After all, when else are students forced to seize control of and steer their lives in such a hands-on way? 
Keep reading for our in-depth reflection, as well as relevant real-life examples from several Princeton students!
---
College Applications: The Benefits
The New York Times recently published a great article about precisely this silver lining. 
Observing her own daughter's ordeal, writer Kelly Corrigan points out that "regardless of outcome, the college application process itself can force the kind of growth parents dream of." 
As graduates of Princeton University who still spend a great deal of time near the campus, we see evidence of this growth in many of our tutors and other Princeton undergraduates we meet. 
One of the things that stands out about successful students is their clear-eyed understanding of themselves. They have a sense of their strengths and limitations, but when confronted with a challenge or a goal they'd like to achieve, they are also able to come up with a strategy to push themselves, and expand their limits, to achieve that goal. 
Corrigan goes on to elucidate a number of reasons why, exactly, the college application process catalyzes personal growth, including the following.
Advanced decision-making early on in life
In the college application process, students are forced to make difficult decisions on their own. These include what schools to apply to, what to include in their application, and whether to go for early decision or not. 
As Corrigan writes,
"SAT or ACT? When to take it and how many times? City school or the rolling hills of some rural outpost? Greek, Greek-lite or anti-Greek? … Decision fatigue is real." 
Those who are able to push through the fatigue learn persistence and will be rewarded for it. 
Just look at the example of Katherine, a Princeton University student from Missouri. She says few people in her area knew much about the SATs.
However, she wanted to apply to Princeton, and when she learned that the application required SAT scores, she figured out how to take them, studied for the test, and successfully submitted scores that were high enough to get in.
Plus, these students are more likely to cultivate a deep capacity for self-awareness. Very few other processes in life require students to so clearly and decidedly figure out what they want!
Thinking about money in a serious way
Unless their parents are able and willing to pay for college outright, chances are that applicants will spend many hours wading through financial aid forms, answering questions about their family finances, and debating the pros and cons of more expensive, private institutions vs. more affordable public universities. 
And they are forced to learn coping mechanisms for dealing with one of the hugest side effects of fretting over money: the stress!
Preliminary professional development
Navigating such a complicated process as college applications teaches valuable project management skills. 
Being able to wade through so much paperwork, so many steps, and so many institutions — transcripts, recommendation letters, personal statements, application fees, financial aid forms, etc. — and being able to do it all within a deadline is the kind of skill you only learn by doing. 
Your ability to navigate such complicated processes sets you up for success later in life, when you'll have to navigate more paperwork, deadlines, and bureaucracies. Believe it or not, filling out college applications have a lot more in common with paying taxes, setting up bank and retirement accounts, and applying to jobs or grants than most students realize.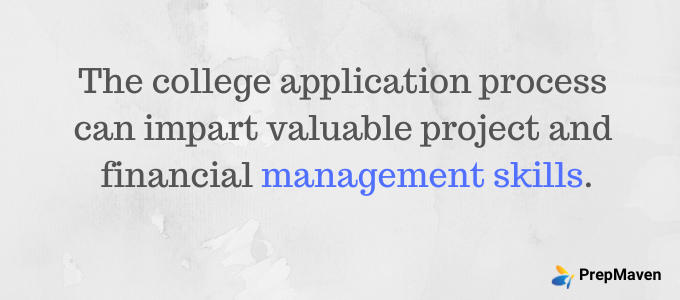 We come across this propensity for planning, scheduling, and managing in many successful students.
In fact, Jasmine is one of many Princeton students who have told us it's been the key to her academic success.
Throughout high school, she "started things early and did a lot of planning." She "knew about busy weekends, out of town track meets, and large events before they happened so that [she] could adequately prepare for them."
And Erica, another Princeton student, spent high school teaching herself techniques for getting through a great deal of work:
"For me, what helped was keeping a schedule. Like: 'I'm going to spend 7-8 doing Spanish homework, then 8-11 writing this paper, then 11-1 doing my lab report,'" she says. "Even if you don't write it down and just keep it in your head, it's very useful."
She also taught herself ways to self-motivate.
"Try to enjoy or be interested in what you're learning," she says. "Just doing mental tricks like that can help a lot. If you're getting bogged down with work, give yourself incentives. Watch an episode of your favorite tv show after X hours of work, tell yourself that you can get ice cream only after you finish your essay, etc."
An opportunity for valuable self-discovery
Corrigan also mentions the benefits of the self-reflection that the college application essay prompts urge. 
Most students deeply explore the nuances and complexities of their character, aspirations, challenges, and past experiences when writing their essays and making these decisions.
Consider the high level of self-awareness demonstrated by Shanaz, a Princeton student.
When it came to her common-app essay, she says,
"I wanted to show a perspective I held for much of my life that couldn't be seen on the rest of my application. After many drafts, I wrote about how much I really did not know, in spite of all my AP classes and grades. I wanted to demonstrate that I was aware of how small I was in this vast world, but also how excited I was to explore and learn new things."
(And by the way, while self-reflection sounds like a serious exercise, it doesn't have to be a torturous one. Shanaz also added, "To make my essay more fun, I drew upon parallels between my life and Jon Snow's from Game of Thrones!")
Other students also grapple with "college fear," an umbrella term for the anxiety some students face at the prospect of applying to, choosing, and eventually attending the college of their dreams. Naturally, behind this fear is that anxiety of rejection.
Yet, even in light of this, plenty of college applicants learn how to keep that fear in perspective and shoot for those "reach" schools regardless.
We consider Jim a good model for conquering fear. He didn't realize throughout high school that he suffered from ADHD, and also felt insecure compared to his older sister, who excelled academically. He says:
"I spent a lot of my childhood starting and stopping. I picked up the guitar and I was good at it at first, but when it came to the point where improvement meant hours of practice, things dropped off. This same cycle occurred a few times. I was generally okay at things when I first picked them up, but the steeper part of the learning curve would throw me off."
However, those experiences didn't stop Jim from continuing to push himself, experiment with his approach, and learn more about himself in the process.
"The most important lesson I learned growing up was what it takes to be really good at something," he says. "Through rowing and my increased academic commitment in high school, I finally began to learn that doing something at a high level requires a high level of work and dedication. This understanding has been hugely valuable to me as I work my way towards adulthood."
---
The Benefit of College Applications: Final Thoughts
Ultimately, Corrigan notes, "making decisions, weighing fiscal demands, understanding yourself, managing a hundred to-dos, overcoming your worst fears — this is the stuff of greatness. This is, in fact, exactly the way to get the life you want." 
Any student who can get through all that is, no matter where they end up, probably going to be A-okay. 
Need more convincing? Consider Maia, a Princeton student who also extolls the importance of learning agency over one's life. 
If she could go back in time, she says the advice she'd give to her younger self is, "to exert greater control of my life. I barely remember specific events from [freshman and sophomore year] because I was passive in my routine. It wasn't until junior and senior year when I started questioning things, reaching out to people, and making my own priorities. This caused me to excel greater athletically, academically, and socially."
Of course, if you need support throughout this admissions journey, we are here to help. From test prep to college essay guidance, we are well-equipped to help our students succeed. 
Book your free consultation now!
---
Greg & Kevin
Greg and Kevin are brothers and the co-founders of PrepMaven and Princeton Tutoring. They are Princeton engineering graduates with over 20 years of education experience. They apply their data and research-backed problem-solving skills to the test prep and college preparation process. Their unique approach places a heavy emphasis on personal development, character, and service as key components of college admissions success.
---
CHECK OUT THESE RELATED POSTS