SSAT Prep Resources: Your Guide
Most students seeking admissions to a private school will have to take the SSAT.
The Secondary Schools Admissions Test may feel like a daunting part of the application process, and for good reason! The test itself spans a broad range of content, including Math, Verbal, Reading, and Writing.
Like most standardized tests, the SSAT also favors the strategic test-taker who can move quickly through the timed sections.
We encourage all prospective SSAT test-takers to set aside adequate time to prepare for this challenging test. But when it comes to SSAT prep resources, the pickings can be relatively slim and costly!
These include materials released by the Enrollment Management Association, which produces the SSAT.
At PrepMaven, we know the value of solid practice materials, especially when it comes to tests like the SSAT. We're excited to share with you the SSAT prep resources we feel will set students up for success.
Here's what we cover in this post:
---
What Makes the SSAT Different (from Other Tests)
Much like other standardized tests, the SSAT is really unlike any test students experience in the classroom. It differs from standard elementary and middle school tests in three ways:
Duration
Content
Strategy
Duration
The SSAT is a veritable marathon of an exam! Students must prepare to sit through 3 hours and 5 minutes of intensive material with only 15 minutes of breaks.
They must also become fluent in answering a large number of questions in a short amount of time, a skill very rarely developed in middle school classrooms.
Here's a breakdown of the SSAT format and duration:
| SSAT Section | # Questions | Duration |
| --- | --- | --- |
| Writing Sample | 1 | 25 minutes |
| Break | n/a | 5 minutes |
| Quantitative 1 | 25 | 30 minutes |
| Reading | 40 | 40 minutes |
| Break | n/a | 10 minutes |
| Verbal | 60 | 30 minutes |
| Quantitative 2 | 25 | 30 minutes |
| Experimental Section | 16 | 15 minutes |
| Total | 167 | 3 hours, 5 minutes |
Content
While some content on the SSAT aligns with what students have already learned in school, especially when it comes to SSAT Math, some of it may feel foreign.
For example, the SSAT Verbal section requires students to complete 30 Synonym and 30 Analogies questions, which largely test vocabulary and the ability to identify relationships between ideas. Some middle schools encourage students to build vocabulary through the study of Latin and Greek word parts, for example, but this is not a required component of most curricula.
Even the SSAT Math section might test familiar content in unfamiliar ways, requiring students to rely more on strategy and logic than rote mathematic principles.
In some cases, students may encounter math principles on the SSAT that they have not yet learned in school, such as exponential equations, radical expressions, and scientific notation.
Take a look at this SSAT Math question here as an example of the way the SSAT tests familiar content: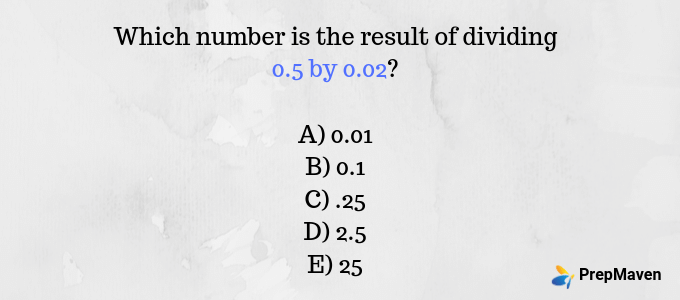 This question is essentially testing a student's ability to complete long division using decimals. But notice how the language of the question itself requires a bit of translation to make this clear! Rather than simply saying "Divide 0.5 by 0.02," the SSAT complicates matters, obscuring a basic math principle with tricky wording.
Strategy
As we discuss in our post on SSAT scoring, students earn 1 point for every correct answer on the SSAT and lose 1/4 point for every wrong answer.
However, if a student leaves a question blank, they neither lose nor gain points. This is why we encourage many of our SSAT students to implement a guessing strategy on the SSAT as a whole. A solid guessing strategy means knowing when to guess on a question and when to leave it blank.
Here's an example the demonstrates this.
Guessing Strategy Example
Let's compare two students: Guessing Gabby and Skipper Sam.
They both took a Reading section and answered 25 out of 40 questions correctly. Gabby guessed on any questions she was unsure of, whereas Sam skipped them. Sadly for Gabby, it was not her lucky day, and all the questions she guessed were incorrect.
When we look at their scores, here's what results.
Gabby: 25 questions correct, 15 incorrect -> 25 – 15/4 -> 21.75 raw score -> ~43 percentile
Sam: 25 questions correct, 0 incorrect -> 25 – 0 -> 25 raw score -> ~57 percentile
While both students got the same number of questions right, Sam came away with a 14% higher percentile score, all because she skipped questions she didn't know!
But that's not the only strategic component of the SSAT. The test rewards students who are strategic in other ways, too. Successful students may use specific elimination strategies on Verbal questions, for example, or active reading techniques on SSAT Reading.
This is a departure from traditional classroom tests, which often assess students' mastery of content rather than strategy.
---
3 Components of Effective SSAT Prep
So, the SSAT is unlike any other test you've taken in elementary or middle school. How do you prepare for it effectively?
Effective SSAT prep boils down to the three following components:
These three things all help students master the three aspects of the SSAT that set it apart from other tests: duration, content, and strategy.
Time
We'll discuss the timeline and goal-setting aspect of SSAT prep in more detail in a forthcoming post. In general, however, students should establish a generous timeline for their SSAT prep to give themselves the time they need to master the "language" of the SSAT.
What does this look like?
We recommend that students allocate at least three months of dedicated SSAT prep prior to an official SSAT exam. We also encourage students to sit for at least two official SSATs to maximize their potential for a score increase.
Goals
Usually, these months of prep begin with taking a diagnostic SSAT practice test, which can be valuable for establishing target scores, initial goals, and test prep trajectory. As we discuss in our post about SAT Goal Setting, test prep goals should be related to:
Average SSAT scores of admitted applicants to your school(s) of choice
Your diagnostic SSAT scores (your starting point)
Many students ask us what a "good" SSAT score is. We always answer this question by directing families to their schools of choice. Many secondary schools post information about competitive SSAT scores on their websites.
Otherwise, a quick call to an admissions office can clarify what goal SSAT scores your student should be working towards.
Additionally, we encourage students to think about maximizing their current raw SSAT scores as a means of obtaining a realistic target score. We discuss this in detail in our Scoring on the SSAT guide and What's a Good SSAT Score? post.
Practice
Consistent practice is the key to mastering strategy, content, and timing on the SSAT. The most successful SSAT students are those who regularly apply their learning through practice tests, homework, and timed drills.
When it comes to these practice materials, it's important to choose authoritative SSAT prep resources. Unfortunately, there aren't a lot of these resources out there, but some do exist. We discuss these in the next section of this post.
---
The Best SSAT Prep Resources Out There
What are the best SSAT prep resources available to test-takers? Here are our recommendations.
1) Official SSAT Practice Online*
When it comes to test preparation of any kind, we always encourage students to practice as close to the source as possible. This means working through materials released by the test-writers themselves, if these are available.
The Enrollment Management Association doesn't release a ton of materials, but their Official SSAT Online Practice is ideal for students preparing for the Middle and/or Upper-Level SSAT.
Here's what comes with an SSAT Practice Online account:
A mini SSAT practice test (free)
3 full-length practice tests
15 section tests
4th full-length test (additional purchase)
Quizzes
Access to on-demand content
Other free resources
You do have to pay for the Practice Online. Currently, a one-year subscription (without the fourth practice test) is $69.95. That fourth practice test is an additional $19.99.
2) Official SSAT Guide Books*
If you'd rather work from a physical book, we recommend that students purchase an Official SSAT Guide Book (Middle or Upper Level).
Each book includes:
One of these texts is $59.95. The practice tests included in these books are exactly the same as those offered online through the SSAT Practice Online package.
So, which should you choose?
As the SSAT is administered on paper, we always encourage students to have a physical SSAT resource on-hand. However, the SSAT Practice Online can be useful for students who enroll in remote tutoring and/or wish for extra practice via quizzes.
3) Tutorverse Upper-Level SSAT Practice Questions
Tutorverse is a third-party test prep company, but that being said, we do find the practice questions in this text to be more reflective of SSAT questions than other materials.
Plus, there are a lot of them! This book comes with more practice questions than 10 official SSAT tests, spanning all content areas on the SSAT (Verbal, Reading, Quantitative, and Writing). This is the text we recommend our students purchase to complement their work with one of our SSAT experts.
This Tutorverse text does not include any strategies or instructional material. It contains only practice SSAT questions.
4) Success on the Upper-Level SSAT Course Book
Students seeking a supplementary text to official SSAT or Tutorverse content should consider this text by Test Prep Works. It includes content instruction, suggested strategies, drills, practice questions, and one full-length practice test.
While not comprehensive, this book will give SSAT students a great resource for building fundamentals, especially when it comes to basic strategies and content review.
5) IvyGlobal
IvyGlobal provides educational services to a wide range of students, including those preparing to take the SSAT. We find IvyGlobal's practice SSAT content to be quite reliable and reflective of official content, especially in comparison to content released by other third-party education companies.
Students can purchase workbooks in SSAT English and Math as well as a book of IvyGlobal SSAT practice tests. It is also possible to download free SSAT practice content on IvyGlobal's website.
6) The Princeton Review
For students seeking a more self-guided approach to preparing for the SSAT, the Princeton Review's Cracking the SSAT and ISEE workbook may be a great supplement. This text includes targeted strategies, quizzes, and practice exams, all delivered in an upbeat tone.
Be sure to select the most recent edition (i.e., the 2020 Edition) as the Princeton Review releases new SSAT workbooks every year.
---
Other Valuable SSAT Prep Resources
Remember: the SSAT tests specific content in addition to strategy and comprehension. The SSAT Math section, for example, is the most content-heavy of all the test's sections, so it's wise to supplement your SSAT prep with some straight-up content work!
Here are some great online resources for math content:
Success on the SSAT Verbal section requires a solid working vocabulary. Expand your word bank by making use of these Verbal resources:
Merriam Webster's Vocabulary Builder ($)
Membean ($)
---
Next Steps
The most effective SSAT test prep keeps in mind what makes this test unique: duration, content, and strategy. It also makes use of authoritative resources, including practice tests and content instruction.
We do recommend that students make use of official SSAT content when prepping for the test, but it is also possible to supplement preparation with other tools, especially when it comes to content review.
Of course, the best way to set your SSAT prep up for success is to work with professionals! We are always excited to match SSAT students with experts as they navigate this component of secondary school admissions.
Book your free SSAT consultation today!
---
Kate
Kate is a graduate of Princeton University. Over the last decade, Kate has successfully mentored hundreds of students in all aspects of the college admissions process, including the SAT, ACT, and college application essay.
---
CHECK OUT THESE RELATED POSTS